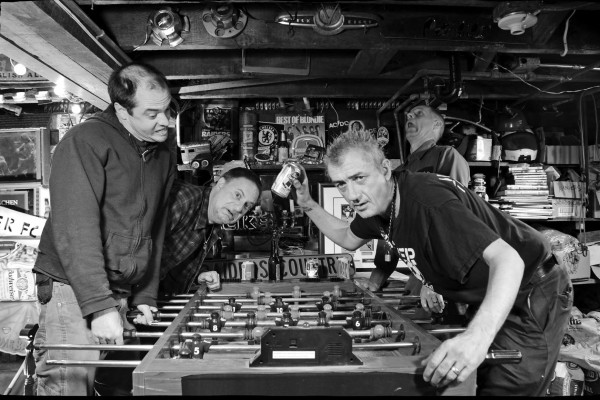 Today, Punknews is absolutely THRILLED to announce the new album by Kicker!
Kicker is the UK 82 stylized, punx-as-hell band that includes veteran punkers galore- Dave Ed of Neurosis holds down the bass, Mauz of Dystopia shreds the guitar, Toby of Submachine plays drums on the record, and on vocals is one of the biggest treasures of punk rock: Pete the Roadie! Pete has roadied for everyone from Subhumans to Amebix to Fugazi to Jello Biafra and despite living in the woods of Nor-Cal for 20 years, still is a true English punk rocker, through and through. You'd be hard pressed to find someone that loves punk as much as Pete, and he's been doing it since '78!
The band will be releasing their second album, Rendered Obsolete, on September 9 via Tankcrimes Records/Pirates Press records. You'll be able to pre-order here, very soon. (The record follows the fantastic Not You from 2012). SKINNER illustrated the cover art and Andrei Bouzikov handled art for inside the jacket! The band will have a "Grey Hair" vinyl. Tankcrimes will have "Dave's Hair" vinyl. Pirates Press will have a killer tricolor vinyl.
We are excited to debut the first single, "Full English." Speaking to Punknews about the track, Pete said, "We are older Punx, right? We don't write songs about rioting no more, we write songs about breakfast." You can hear the song, see the album cover, and check out tour dates below!
| Date | City | Venue |
| --- | --- | --- |
| September 7 | Seattle | The Crocodile (Raukous / Kicker / Subhumans) |
| September 8 | Portland | Hawthorne Theater (Raukous / Kicker / Subhumans) |
| September 9 | Eureka | TBA (Raukous / Kicker) |
| September 10 | Oakland | Oakland Metro Operahouse (Raukous / Kicker / Subhumans) |
| September 11 | Reno | PB&J's (Raukous / Kicker / Subhumans) |
| September 12 | Santa Cruz | Catayst Atrium (Raukous / Kicker / Subhumans) |
| September 13 | Fresno | Strummers (Raukous / Kicker / Subhumans) |
| September 14 | Ventura | The Garage (Raukous / Kicker / Subhumans) |
| September 15 | San Diego | Brick by Brick (Raukous / Kicker / Subhumans) |
| September 16 | Santa Ana | The Observatory (Raukous / Kicker / Subhumans) |
| September 17 | Los Angeles | Los Globos (Raukous / Kicker / Subhumans) |