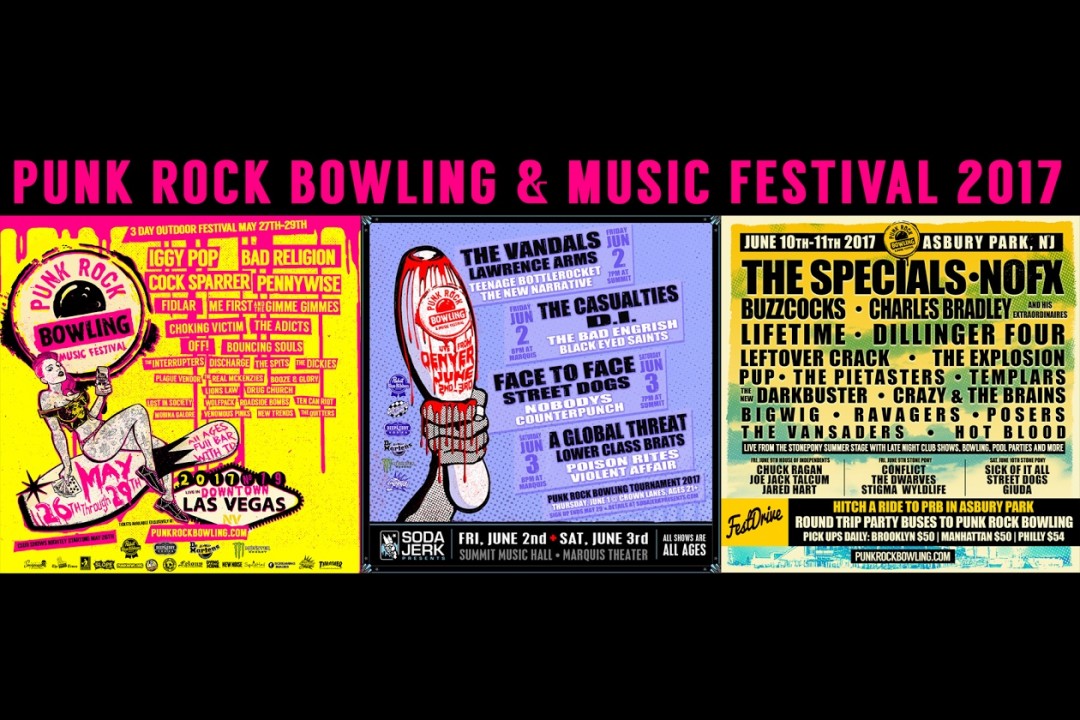 One of the cool things about Punk rock Bowling is that they always bring out a fair share of the cool, new bands. But, they also always are sure to pay respect to the legends. An this year, we are getting a set from THE legend himself, Iggy Pop! To that end, we've put together a list of cool long-running bands that we think you should see at Punk Rock Bowling. By all means, add your picks in the comment section below!
The Bouncing Souls
The Bouncing Souls is no stranger to the Punk Rock Bowling stage. These Jersey shore punks have been playing the festival for years and it is no surprise that they returned this year to play in Vegas. The band always plays a great mix of fan favorites from their extensive classic discography and new jams from their latest release, that will leave you singing at the top of your lungs next to the new best friend you just met from the pit. -Sam Barrett
Choking Victim
I have seen Leftover Crack countless times. I totally missed out on seeing Star Fucking Hipsters and regret it a ton. I never thought I that I would get a chance to see Choking Victim though. I was lucky enough to catch them last year in Santa Ana, California. Holy crap was that an amazing show! The fact that they are playing Punk Rock Bowling this year will definitely be a major highlight of the festival because it has been close to two decades since they originally broke up and who knows how much longer the band will keep performing? Regardless CV is doing a great service to their fans for getting back together and playing their classic crack rock steady tunes, which many of us never thought would happen. So don't screw this one up! Don't miss Choking Victim! This may be your only chance. -Ricky Frankel
Dillinger Four
Dillinger Four has returned for another year of festivities with Punk Rock Bowling, but this time for the East Coast. These Minnesota pop punk rock veterans to PRB have been stirring up artfully humorous lyrics with catchy riffs and hooks for years, plus their playful stage banter is definitely worthy of a comedic award (with or without clothes on). All I can say is get ready for all the all the sing-along, drunken sways and head bobbing to a smattering of your favorite D4 tunes. -Sa, Barrett
The Dwarves
What a time to be a The Dwarves fan. The band is now solidly in their "born again" phase which means that they exist in a multitude of permutations all at once. Will you get to see HeWhoCannotBeNamed kick out his Sweet-meets-Stooges riffs? Will you get to see Nick Oliveri howl like a banshee? Will you get to see The Fresh Prince of Darkness mix his Dead Boys guitar growl with pop affectations? The fact is, the Dwarves are reborn an in the middle of a renaissance wherein they blend together all their eras and function as the best version(s) of themselves. This is a band that destroys it live… sometimes literally. Plus a new album is on the horizon… -John Gentile
Iggy Pop
Part of what makes Punk Rock Bowling such a great experience is not just seeing a huge amount of bands that I love all in one place, but I also really enjoy seeing bands that I never have gotten a chance to see or missed when they toured Southern California. Iggy Pop fits into both of those categories for me. Seeing "The Godfather Of Punk" live and in person has been on my list of shows to see for quite a while and I have feeling this performance in particular will be nothing short of epic. -Ricky Frankel
The Lawrence Arms
Other than the announcement for their War On Christmas shows that took place in December, we haven't heard too much from The Lawrence Arms in a while. That is probably because we got the first Falcon record in ten years in early 2016 (which was fantastic). I have only seen TLA perform live once a few years ago and it was a really great show. I think we are all due for more Larry Arms this year. The fact that they are playing a club show at Punk Rock Bowling this year will be a huge treat, but the fact that they are playing along side The Menzingers quite possibly will be the craziest club show of the festival. How will it not be incredible? -Ricky Frankel
Me First and the Gimme Gimmes
It goes without saying that punk rock is very (super) serious business. But what's a poor punk to do when you just want to let your mohawk down, take a breather from endlessly fighting *the* establishment, and cut a rug to Top 40's hits without fear of judgement from your infinitely punx peers? Me First and the Gimme Gimmes has got your back—combining the talents of Fat Wreck Chords heavy-hitters from Lagwagon, Swingin' Utters and No Use for a Name, the Gimme's manage to make the uncouth, sacrilegious world of popular radio "tunes" accessible to all through their punk-as-fuck covers. 'Cuz, sometimes, oh punks!--punks just wanna have fun!-Stevie Allen
NoFX
Have you heard the latest NOFX album? They are in the middle of a renaissance. After cleaning up their acts a little, they have come back refreshed, reinvigorated, and ready to kick ass. First Ditch Effort was the band's finest, and sharpest, album in years and if they bring half of that firepower to PRB, their set will be something to behold. Few bands have truly emphasis the many facets of punk as singularly as NoFX. -John Gentile
OFF!
Like a bullet from a barrel, Off! starts with a bang and finishes with a "what-the-fuck-just-happened". Time is of the essence when 99% of songs come in under 2 minutes and Keith, Dimitri, Steven and Mario waste no time making sure you get your money's worth. Furious from the start, and leaving hardly any room to catch your breath along the way, Morris carries himself with a confidence earned only from decades of experience while sounding and acting as though he's fresh out the gate and larger than life. If you're in the market for an intensity overload—look no further.. -Stevie Allen
The Specials
Two-tone legends do not get bigger than The Specials! This is the band that not only cut three classic, incalculably influential albums, but they single handedly created an entire genre, scene, and clothing style. AND they are still kicking out the ripping jams! The Specials are legends that demonstrate just why they are legends with every show. Pick it up, pick it up! -John Gentile