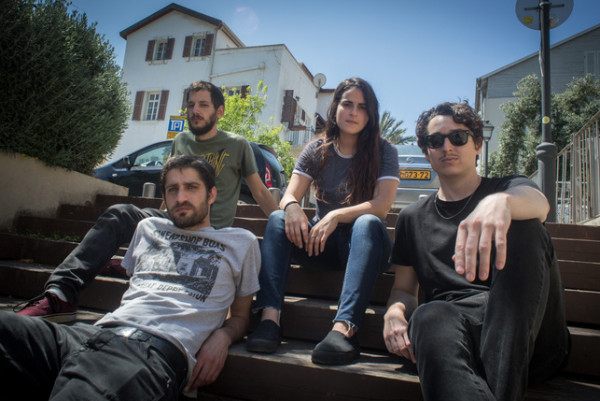 If you follow the European festival scene even just a little bit (or attend them), chances are that you have seen Tel Aviv, Israel's Not On Tour in a line up be it Sbäm Fest, Brakrock Ecofest, FFUD Fest or Punk Rock Holiday. Or perhaps you saw them open for bands like the Descendents, Strung Out or Useless ID. To many of us in North America, the band is a hidden gem for those who love melodic punk rock with songs filled to the brim with unrelenting guitar riffs and huge, anthemic vocals. Just listen to their latest full-length, 2015's Bad Habits and you will immediately become a believer. Punknews editor Ricky Frankel spoke to lead singer Sima Brami and bassist Nir Klein about their style of punk rock, the punk scene in Tel Aviv, some of their more special shows, what they have planned for the not-so-distant future and more.
Photo Credit: Arthur Landa
You have a very powerful and dynamic singing style. Did you have vocal training or do you have a natural talent for it?
Sima Brami: Thank you. I was in a choir at school from fourth grade til sixth grade. We had squeaky voices. It was fun. I was good at it I suppose, but I took some vocal lessons along the years here and there. Actually, now I'm taking some vocal lessons to keep in shape for tours and the daily use of my voice. I also act.
Tell us about the punk scene in Tel Aviv. Is it big or close-knit? Do you have a DIY venues like 924 Gilman?
Nir Klein: The scene here is very small and intimate. We've actually grown up together in this scene with the same people around us. We've all had previous bands with each other along with some other good friends from the scene. So it's like you've probably played in a band at some point with a lot of the people you see at the shows. Although in the past year or so we're beginning to see more and more people at shows who do not play in bands and are just music fans… and that's awesome. The DIY sort of venue we all grew up in was called the Patiphone (which is "record player" in Hebrew) and that's where most of the punk shows took place around the early 2000's. It was super cool and small along with a practice space in the back. Tel Aviv is a really hard place to run a DIY venue, as Gutzy (our drummer) learned when he ran the Koro — a DIY venue along with other friends from the scene a few years back. Today there is still some stuff going on but, shhh… we don't know anything about that.
I don't typically like to ask these cliche questions, but how did you come up with your band name? It is pretty out of the ordinary.
Nir: In the summer of 2008 (I believe) the four of us were playing in other bands with people who had other bands they went on tour with. We were bummed out because we couldn't play shows so we decided to create this hardcore project while the other shitheads were having the time of their lives on tour, writing fast songs in a really short period of time, trying to play as many shows as possible and then break up before they come back home from tour. So obviously the name for this joke band would be Not On Tour, right? Well, it was a lot of fun and somehow we forgot about the breaking up part, so the joke is still rolling.
A lot of your songs such as "Did You Get Enough" and "Don't Touch My Stuff" rarely make it passed two minutes long and there is so much going on behind the singing between the backing vocals and guitar riffs and fills. Was the band's style of song writing planned out or did it come about naturally?
Nir: We first set out to make a concept similar to the Bad Brains. They play hardcore songs along with Raggae so we thought we could do the same with hardcore and pop-punk. Somewhere along the line these two styles mixed together and so on one side you have these catchy riffs and back vocals, and on the other hand the songs are fast and short. I think another reason for the songs' length is that when we first set out to write songs for this project we wanted to get as many songs as possible done in a really short time. So we would write a few riffs and try to squeeze in as much information as possible and move on to the next. These songs turned out to be a lot of fun and I guess it stuck with us.
I recently came across a video (watch below this answer) of Not On Tour and another band called Kids Insane playing a "battle show" at the Koro where both bands took turns playing songs and covering each other's material. What is the story behind that show?
Nir: So the Koro is the same DIY place run by Gutzy (our drummer) (along with other friends) at the time and we could really creatively do whatever we wanted there. So we planned a show with our good friends Kids Insane in which we both don't play on the stage — it was a floor show in which all of the people were standing on the stage and around us and the 2 bands in front of each other, playing each other's songs and talking shit about each other in between songs. It sure was a crazy one. Also, when we came to play we held a black coffin made of cardboard that Gutzy had made with the names of the Kids Insane dudes written on it. If you guys from K.I. are reading this, we totally won by the way.
Are there any other punk bands from your region of the world that more people should be aware of?
Nir: Sure. I'm sure you know them, but if you don't -- check out Useless ID. Also, Kids Insane and Petey's Dead.
Not On Tour played Punk Rock Holiday this year. From what I heard one of the highlights was your acoustic set. What made that performance special? How does your set list change when you play an acoustic show?
Nir: We were supposed to play an acoustic set around noon the day after our show on PRH, but as we approached the small acoustic stage when this crazy storm began. Wind was knocking the amps, monitors and even fences around and everybody ran for cover as heavy rain began to pour. We were bummed because the rain wasn't going anywhere and we thought that was our only chance to play the show — before the main stage shows started. But then they said we should play in between the main bands while they switched. So we quickly ran to the acoustic stage and it was incredible. People who didn't even know about the show gathered around and soon enough there were around 200 people watching us play acoustic and singing along with is. They were even crowd surfing! The songs we play for our acoustic sets are less of the hardcore ones and more of the melodic-chorus ones. We like it when you sing along.
There are pockets in your band's discography where you dabble in hardcore (like "Journey To The Ocean" and "Modern Slavery"). Do you take a different approach when writing your more hardcore-oriented songs compared to your melodic tracks?
Nir: Not really. Normally we don't set out to write a hardcore song. It usually begins with a riff or two and then we start playing around with it, adding stuff in and changing bits. Slowly it forms into something — sometimes it can go to really sweet areas and other times it can be dark and angry. For instance, I originally wrote "Flip" (off Bad Habits) as a slow kind of sad ballad, but once we played it together we cut the riff in half and played it twice as fast and it just became this fast energetic punk rock song.
The producer of your last album, 2015's Bad Habits , was Useless ID's Yotam Ben Horin. How did you get him to be your producer? What did he add during the recording process?
Nir: We've all loved and known Useless ID since we started going to shows, so we are no strangers. The UID guys really complimented us on our stuff and after we released All This Time, Yotam offered to work with us on our next record. So naturally when we came close to finish writing songs for Bad Habits we called him up. It was a bit scary at first because we never worked with a producer before and weren't sure what would happen to the songs. We invited him over for band practice and he listened to the songs. After a few times of playing the same song he would go, "Stop! Okay, I got it." It's like it took him a few times to digest the song and then he had all these ideas of how to make it better — "break here," "skip that bit," "double the chorus," "drop that solo." Some of the ideas were hard to accept because it's always hard to change a song you wrote and think is great, but we trusted him and after listening to the changes it actually did make the songs better. We're super pleased with the result. As we recorded Yotam mostly worked with Sima on vocals and had great ideas for backing vocals. It was an awesome experience.
I love the song "Different Kind Of Weather" (watch the music video below). What are the lyrics a metaphor for?
Sima: Thanks! Yeah, that actually refers to my mom whom I love dearly, but have a complicated relationship with. She's been very sick most of my life and had a big influence on the way I was brought up of course, which was not an easy thing around a sick parent. So the song kind of refers to the complicated relationship we have and the different type of person she is. That is hard to accept sometimes.
Does Not On Tour plan on playing shows in North America sometime soon?
Nir: Yes, we do! I believe around late 2018 hopefully. Can't wait for that.
What else does Not On Tour have planned for the future?
Sima: A tour in Europe is definitely happening in late April to mid May. We're doing a few festivals and some exciting supporting shows in the summer. We might do a short visit to Russia, the UK and Greece, too later this year. We're also working on shows in North and South America which we're looking forward to. And for now, we're working on a new album which will probably be out by Spring 2018. Super excited about that!
Thanks so much for taking the time for this interview Nir and Sima. Do you have anything else that you would like to add?
Nir: Thanks for interviewing us.
You can follow Punknews editor Ricky Frankel on Twitter at @DesertBurst92.