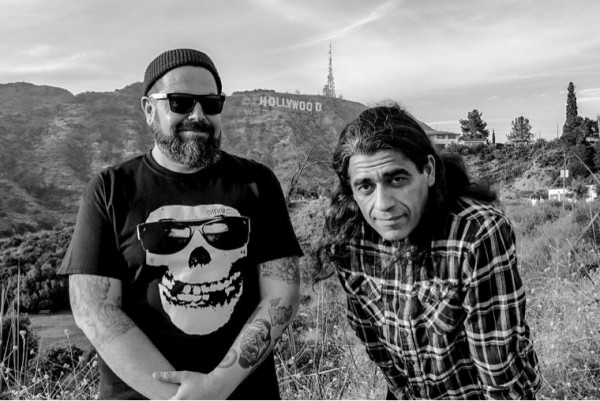 Canadian musician and advocate Ben Rispin (Saint Alvia / Rules) and LA-based punk frontman Efrem Martinez Shulz (Death By Stereo, Voodoo Glow Skulls) have launched a new season of their Into The Weeds podcast with co-host and cannabis market expert Bubba Nicholson. The interview show features guests from the music, arts, and sports worlds to shed a new light on what a cannabis user looks like in an increasingly destigmatized and legalized world. Their new season is dubbed The Hollywood Sessions and features, among the guests, Greg Hetson (Circle Jerks / Bad Religion), Opie Ortiz of Long Beach Dub All-Stars, pro-skater Derek Fukuhara, veteran hip-hop star Mellow Man Ace, and Dan Jacobs of Atreyu.
The 18 episodes recorded in southern California will be made available one-per-week, posting every Monday through getintotheweekds.com and through iTunes, Spotify, and wherever else you get your podcasts. The show's produced by creative agency Puff Digital with the intent of presenting a stylistic and mature approach to cannabis-related content that doesn't rely on showing visual consumption.
Other guests on the Hollywood Sessions include Tommy Chong, NBA All Star Al Harrington, UFC fighter Ashlee Evans-Smith, cannabis advocate Eddy Lepp, J-Dog & Funny Man of Hollywood Undead, comedian Ally Beardsley of College Humor, adult film star Aaron Smallhands, and Jon Cappetta of High Times Magazine.
This season of the program also saw co-host Bubba Nicholson forced to leave shooting early in the process due to a recurring back injury. He's since appeared hosting a new spinoff series titled Eat Up with Toronto chef Chris Brown. That show will appear on the new subscription-based service The Upside.
This story is part of a reporting partnership between Punknews.org and Some Party, a weekly newsletter covering independent Canadian rock music. Subscribe at someparty.ca.