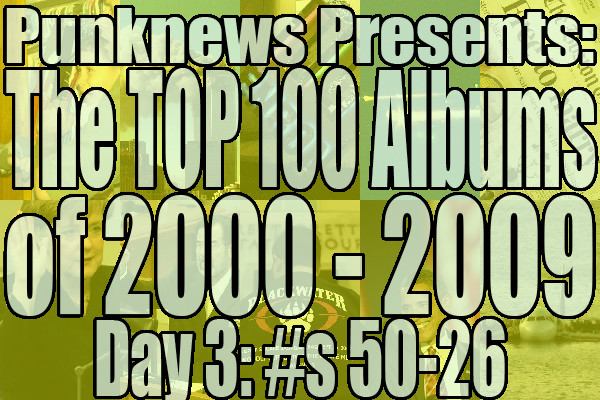 Now we're getting somewhere. You've seen the back half of the Punknews Top 100 Albums of 2000-2009, now we're getting into the juicy stuff.
Left and Leaving, the 2000 sophomore album by The Weakerthans, finds the band pretty much out from under the shadow of John K. Samson's time with Propagandhi. While keeping a hold of the revolutionary mindset, L&L is a bit more of a personal and introspective album. Tracks such as "Aside" and the title track "Left and Leaving" speak more to a general audience and can be appreciated as such.
That doesn't mean The Weakerthans completely abandoned their progressive mien. "My Favorite Chords" neatly ties the activism of petty vandalism to the connection and comparison our narrator feels towards his subject. The acoustic start and the larger fill halfway through this song are simply brilliant.
If the album has a fault, it likely lies in the bombastic sound. The Weakerthans have always been a band that strives to create beautiful and often intricate compositions, many of which is lost in an overly noisy "wall of sound" production that detracts from the album's merits. Still, taking that into account, the musicianship is still discernable when you pay attention to it, and the growth on L&L foreshadows what would come next for the band: the almost universally acclaimed Reconstruction Site. -Jeff Sorley / thewhitedrewcarey
48 (tie). Johnny Cash - American lV: The Man Comes Around (2002)
All six of the American records that Johnny Cash recorded with Rick Rubin toward the end of his life were excellent, but The Man Comes Around was the one that seemed to strike a chord with the most people. It was largely do to the powerful cover of Nine Inch Nails' "Hurt", which may have been his most important track since "Ring of Fire". That says a lot when talking about an artist whose career lasted more than 50 years. There was something magical about this collection of songs. Like a lot of Johnny Cash's music, The Man Comes Around has aged like a fine wine. -Tom Crandle>
You could say it's the album in which Ted Leo and the Pharmacists found themselves. You could say it's the album that leans most heavily on guitar heroism. You could say it's the album that establishes the band as the aughts American answer to Elvis Costello. You could say it's the album that pushes Leo's interest in repetition as far as it could go. You could say it's the album with the closest thing Leo has to a traditional "hit" on it. You could say it would provide the template for the direction of the band's output for the next three albums.
You could say all that and still miss the searing anger, the righteous indignation. For every "Me and Mia," there's a "Walking to Do" or a "Counting Down the Hours" or a "Little Dawn," raw, smart, spiteful rock for the end of the first Bush Administration. Shake the Sheets was Leo's first and best truly political document. If all we got from it was "Little Dawn," it'd be worth remembering. Shake the Sheets is a gateway drug for protest music, a sleeper-agent that turned indie rock a little more dangerous while making it a little more tuneful. -Churchill Downs
47. Against Me! – As The Eternal Cowboy (2003)
Before Against Me! inspired a healthy debate on transgenderism and sexual identity (that has no doubt ruffled some feathers) they were simply known as one of Florida's most exciting and original bands. Their acoustic country and folk-inspired rock quickly gained them many friends across the world, so the jump from No Idea to a larger label (and greater audiences) was inevitable. As expected, there was a lot of pressure on Against Me! for their sophomore release: do you carry on down the same path or do you try to mix it up for the sake of experimentation?
Thankfully Against Me! decided to ignore these false dilemmas and from the very first song they triumphantly reassure the listener that while the sound may shift a bit, the spirit and passion is very much the same. Just make sure you have your dancing shoes on, because they do not intend to compromise or slow down the party. Songs like "Cliché Guevara", "Slurring The Rhythms" and "Turn Those Clapping Hands Into Angry Balled Fists" even turn the focus on the band and their scene, without hesitation or missing a beat, proving that you truly can have your cake and eat it. -Ioannis Pelegrinis / Fox82
46. Fucked Up - The Chemistry of Common Life
One of the best hardcore albums of the decade begins with a 30-second flute solo. You just can't make this stuff up. It's like the ghost of Jethro Tull, out for revenge, reincarnated in a Canadian sextet bent on destroying everything (including popular conceptions of what hardcore is and should be). Acoustic guitars? Keyboards? Synthesizers? Congas? Yeah, they got that. Not to mention a bevy of big-name guests ranging from the Vivian Girls to Death From Above 1979's Sebastien Grainger and Alexisonfire's Dallas Green. What really seems to set The Chemistry of Common Life apart is the ineffable melding of abrasive hardcore punk and backing pop melodies that exist in harmony like if Jekyll and Hyde could coexist and present simultaneously. Of course such a combination can at times be chaotic and overwhelming (which is very much true in this case), but there's no doubt that's what Fucked Up had in mind. -Tyler Barrett
System of a Down's Toxicity is another high school banger for me but what struck me is how it appealed to so many different music lovers and also, ethnicities back home in the Caribbean. Rap, rock, black, brown and white… whatever… everyone banged to this album and a huge part comes down to Serj Tankian's emotions and his blood, sweat and tears pouring into songs like the title track, "Aerials" and "Chop Suey". There's something in this record that injected a global awareness into our veins, politics and such, as you really understood what went on in countries like Armenia, encouraging you to peer deeper beneath the surface. The fact this album went mainstream also helped the cause and honestly, fans like me who listened to them way before weren't even pissed. This was a good kind of selling out and also, since then, SOAD has actually made records just as good, if not better, so it's definitely a nice note to see they caught the popularity wave at just the right time. This album is riveting, dramatic and thoroughly mosh-worthy anytime, anywhere. -Renaldo Matadeen
44 (tie). The Weakerthans - Reunion Tour (2007)
On their fourth and final studio album, 2007's Reunion Tour, The Weakerthans put down a solid LP. The only downside it really has is that it follows previously released Reconstruction Site, a tour de force from front to back and considered by many to be their best album. As such the bevy of top songs, such as "Civil Twilight," "Tournament of Hearts," and "Night Windows" are weighed down a bit by some of the more average (by Weakerthans standards) on the album. The lyrics are still top-notch, and a step above most anyone else, but some of the songs are just a bit too straight-forward… missing that spark that Weakerthans songs usually possess.
One of the biggest exceptions is the mind-blowing tearjerker "Virtute the Cat Explains Her Departure." A follow up to "A Plea from Virtute the Cat" from the previous album, the song (which is now part of a trilogy) foregoes the upbeat tone of the its predecessor and instead starts with a slow, somber, stripped down gentleness that eventually builds into a crescendo of pain and loss. It is, arguably, one of the most powerful songs The Weakerthans ever made. -Jeff Sorley / thewhitedrewcarey
Yes, this is Alkaline Trio's "experimental record," their first to embrace flashier elements. "Burn" featured heavily layered guitar effects and "Sadie" took its time with a lengthy, wandering outro. But the band's songwriting had never been better. "I Was a Prayer" and "Smoke" were two quintessential Dan Andriano tracks while "Mercy Me" and "Settle for Satin" teased what the two singers could do together. Lead single "Time to Waste" allowed Matt Skiba to go full blown rock radio, swinging for the fences while remaining true to their gothic, morose selves. Crimson kept most of the same elements from Good Mourning and continued Alkaline Trio's rise into punk's upper echelons. -Nick Poyner
Death Cab broke big with their previous album The Photo Album, but this was the album where they really started to rock hard. They took the sparse arrangements and beefed them up, with added punch from new drummer Jason McGerr. Ben Gibbard's lyrics are as touching and poignant as ever, and the title track especially meant a lot to me since my girlfriend (now wife) was off on a semester abroad when the record came out, so the line "I need you so much closer" really hit hard. With other standout tracks like the propulsive "The New Year" and the toe-tapping power pop of "The Sound of Settling," Transatlanticism sits firmly as Death Cab's crowning achievement. -Greg Simpson
Leftover Crack went through a fair share of line-up changes, tragedies and controversies, and soldiered on until the friendship and musical partnership between Stza and Ezra soured. The Crack Rock Steady beat had seemingly gone silent for a while, but just like with Choking Victim breaking up a few years before, Stza was quick to bounce back with a newish group of friends and took his highly popular ska/punk/metal formula one step further with Star Fucking Hipsters.
One of the two main differences between this and the aforementioned bands, is the distinct lack of ska-orientated songs, although the infectiously danceable "Snitch to the Suture" and "Zombie Christ" will reassure their long-term fans that they can still deliver the upstroke goods. The other significant difference is the incorporation of a second vocalist, something which had previously seemed more like a studio-only flourish, like the strings or keyboards. On "Until We're Dead" though, Nico de Gaillo's performance demands equal attention to the Stza, giving the Star Fucking Hipsters a stronger, more epic and layered quality. Look no further than "Two Cups of Tea" or "Only Sleep" for proof on the greatness of this "mature" and soulful approach. -Ioannis Pelegrinis / Fox82
40. Flogging Molly - Drunken Lullabies (2002)
Flogging Molly's Drunken Lullabies is one of the few records that makes me wanna fight. The energy it has is so fucking amped up and it's easily their best album to me. Now, don't get me wrong, I love all the others as well, but this is what inspired me to travel to the US to see them. The Irish has a similar spirit to my region and I'll always remember listening to "What's Left of the Flag" and thinking, fuck, I'd go off to war with this song playing in the background. Songs like "Rebels of the Sacred Heart" and "Cruel Mistress" have a fizz to them that's hard to find, and I've always said if I can catch a long-ass set with them and Dropkick Murphys, I'll die a fucking happy happy man. FM really has something unique here that's gonna be hard to replicate for any other band out there, and while their music has always maintained a high standard, this bar here is the golden one. -Renaldo Matadeen
37 (tie). The Lawrence Arms - Apathy and Exhaustion (2002)
For their third album, Apathy and Exhaustion, the The Lawrence Arms made the jump from Asian Man Records to Fat Wreck Chords. This step invariably helped with the band's exposure to wider audience. Continuing from their previous Ghost Stories, Kelly and McCaughan split vocals duties to great effect, each anchoring their own song that clearly exhibits their sensibilities (Kelly more raw and punk, McCaughanmore clean and melodic), while still working within the whole to make a recognizable TLA album.
Whether due to the jump to Fat, or their first time with producer Matt Allison, the sound on Apathy… is much crisper and more tightly produced than previous (especially the raw Ghost Stories), which came as quite a shock to some earlier fans, but cemented TLA to those who had just discovered them.
Amongst their notable qualities has always been the band's songwriting, especially that of often verbose and densely packed lyrics. There have been few bands outside of Bad Religion who can throw around $5 words as much as TLA does and not sound pretentious, but they pull it off every time, and Apathy… is proof of how well they've managed to stoke their songwriting to new levels. -Jeff Sorley / thewhitedrewcarey
37 (tie). The National – Boxer (2007)
The National hit their stride with Boxer, their fourth album. It catapulted them into indie rock fame and established them as rock's aging statemen. The raw emotion of "Mr. November" was repurposed with a cleaner, sadder sound. But the brothers Dessner and Devendorf are incredible musicians. Drummer Bryan Devendorf propelled The National, his workmanlike drumming often overlooked but always flawless. The Dessner brothers created a tapestry of sound, something they continued to do even more so in subsequent releases. On top of that, Matt Berninger's low baritone made his problems sound adult and relatable. There was a maturity to Boxer that wasn't usually associated with indie music and The National bathed in it. Boxer defined the band and proved they didn't have to adapt to trends to make great music. -Nick Poyner
37 (tie). None More Black - This Is Satire (2007)
Formed from the ashes of Kid Dynamite, New Jersey's None More Black were part of the mid-2000s heyday of Fat Wreck Chords. Their second full-length, This Is Satire expanded on the sharp-witted pop punk of their debut, File Under Blackbut had the band exploring more mature sounds as well. Jason Shevchuk used his growl for much more somber and emotive passages, which allowed for a much needed balance with the bands humor. NMB also took the time here to slow things down at the halfway point, on "I See London" and "Who Crosses State Lines Without a Shirt?", which put off a pleasing southern rock vibe. Perhaps the biggest surprise is the closing "Majestic", a bluesy number straight out of a gin mill on a rural road. Even with the new sounds tried out (very successfully), This Is Satire still did what NMB does best; gave us a whole record of catchy, pogoing pop punk that you'd be hard pressed to shake out of your head any time soon. -Chris Kanner / Xisdc
36. Alkaline Trio - From Here to Infirmary (2001)
Recorded at Pachyderm Studios in Cannon Falls, MN (the same studio as Nirvana's In Utero and Soul Asylum's Grave Dancer's Union), From Here to Infirmary is the Trio's most cohesive full-length. It also served as the band's breakout release after signing to the burgeoning Vagrant Records and videos for their singles "Stupid Kid" and "Private Eye" being the first to receive considerable airplay. The themes are standard Alk3 fare, dark, cynical and lonely, while the music mostly moves forward at a clip just past mid-tempo. It's hook-heavy though, setting it apart just a tad from earlier efforts and spawning fan-favorites like "Take Lots With Alcohol," "I'm Dying Tomorrow," and "Armageddon" (found on the beloved Tony Hawk's Underground soundtrack). It's the only Alkaline Trio record to feature fellow Windy City punk Mike Felumlee of the Smoking Popes on drums, which is probably the most unique thing about this record compared to other Alkaline Trio offerings, although I would argue it's their tightest, most focused and consistent full-length and perhaps best material overall outside of their immaculate split with One Man Army. -Tyler Barrett
In my opinion The Gaslight Anthem's Sink Or Swim, exemplified the pivotal moment of that New Brunswick, New Jersey punk sound of the aughts. Before the band skyrocketed to publications like Rolling Stone, this album is what defined them in the punk sphere, they were covered extensively on sites like this one and many others. Their debut release reins true to the blood of most of my peers as having held this album so near and dear to our hearts. Brian Fallon's talent for creating lyrics and his smokey croons works so well with the noodling of guitar riffs defined what was to come from anthemic punks in the future. -Samantha Barrett
34. Leftover Crack – Fuck World Trade (2004)
I was eighteen when this album came out in 2004, the War in Iraq was just over a year old, and to say I wasn't a fan of the Bush Administration would have been putting it lightly. Naturally, this album spoke to me. I'd enjoyed the first Leftover Crack album, but something about this album felt more cohesive and the band was also first started expanding their sound into black metal here. Songs like "Super Tuesday", "Via Sin Dios", and "Soon We'll Be Dead" would turn up regularly on my weekly college radio show for the next few years; this would result in some less than happy people who didn't tune in regularly calling in to share their views on what I just played. This album endeared itself to me because it was musically diverse, spoke to me topically, and also taught me a thing or two. Go figure, an eighteen year old who grew up in the suburbs of southwestern Ohio needed to buy a punk album to learn what Operation M.O.V.E was. -Johnathon Gallienne / Johnathon1069
The first EP from Off With Their Heads, the 8 tracks on Hospitals arrive under the guise of classic street punk, reminiscent of bands like Bad Religion, Rancid, and the harder side of fellow Minneapolitans Hüsker Dü. To be sure, this is some tightly executed, fast and fun punk rock. But what sets OWTH apart from their contemporaries is frontman Ryan Young's lyrics. His poignant stories of mental illness, abandonment, isolation, and self-medication are painfully honest, yet don't necessarily evoke pity. Young doesn't need you to feel bad for him; he feels bad enough for himself. Rather, he's putting a side of the coin that's grossly underrepresented in the world of punk out there to the masses to do with what you will. From the opening tale of depression's way of talking one out of their responsibilities, "Die Today", and the anti-stigma "S.O.S.", to the break-up themed "Hard To Admit" and bender tale "Heroin In New York City", OWTH don't hold back on the woe. File Hospitals under 'Shit gets painfully real.' -Chris Kanner / Xisdc
32. The Lawrence Arms - The Greatest Story Ever Told (2003)
For The Greatest Story Ever Told, their fourth LP and second on Fat Wreck Chords, The Lawrence Arms took a step further on their evolutionary path. Unlike their previous album Apathy and Exhaustion, which featured mostly stand-alone songs which were primarily mid-tempo (albeit powerful when needed), TGSET follows a general storyline thematically as well as musically. Each song flows into the other naturally with little to no lulls in between.
Upon its release, the LP was a bit poorly received in some circles. While I can appreciate the sentiment, it likely comes from the return to a more raw and base sound, which is a departure of the crisp and clear production on Apathy…. However, like a fine wine, it has "improved with age" or, more to the point, hindsight has allowed fans to see it as representing the continuing growth that the band needed. Without that growth in composition and songwriting on TGSET, its likely The Larrys wouldn't have been able to create their follow-up Oh, Calcutta!, considered by many to be the band's best album to date. -Jeff Sorley / thewhitedrewcarey
The ranking I originally compiled over a year ago may not reflect it, but Scrambles is certainly a contender for my all-time favorite record. Though it consistently exudes Bomb the Music Industry! unique stylistic identity, Scrambles is wildly diverse from track to track. "Fresh Attitude, Young Body" emulates the lofty tenor of a Springsteen anthem, "Wednesday Night Drinkball" is a harrowing ballad with an incredible buildup into the lively mid-album barn burner, "25!," "9/11 Fever!!!" takes on math rock with its intricate fabric of angular riffs in ridiculous time signatures, and "Gang of Four Meets the Stooges" serves as an erratic hardcore divergence to name a few. These are all colored by harmonizing screaming, glitchy synthesizers (if you listen to nothing else from this album, check out the first 20 seconds of "It Shits!!!"), seamless applications of ska, or whatever other off-the-wall element Jeff Rosenstock saw fit to include at any given moment. To put it simply, Scrambles keeps things interesting from a production standpoint, but that's not at the cost of quality of songwriting. Songs like "25!" and "Stuff That I Like" showcase Rosenstock's ear for soaring earworm hooks and knack for writing eloquent, yet deceptively curt, lyrics. –Sean Crawford
30 (tie). Dillinger Four - C I V I L W A R (2008)
For lack of a more stilted evaluation, the reigning kings of Twin Cities pop-punk just do what they do best on Civil War. That's really all there is to it. It doesn't get any more bittersweet than "A Jingle For the Product" or more incisive than "Minimum Wage is a Gateway Drug" while the nostalgia-inducing "Gainesville" is right up there with D4 classics like "Folk Song" and "Doublewhiskeycokenoice." The album rarely wavers, whether it's the sugar beet pop of the Erik Funk-led "AMERICASPREMIERFAITHBASEDINITIATIVE," the trudging Ramones-at-half-speed "Fruity Pebbles" sung by Paddy, or "Like Eye Contact in an Elevator" that toggles between the two with perhaps the band's best one-liner to date: "I'm paralyzed from the neck up." It's like the candy aisle at your favorite corner store where you can get your fill and support the local service industry in one stop. -Tyler Barrett
This album came out in 2005, it was my first year of college and I had a radio show. This album was in our regular rotation, so I had to play it. I soon found I loved the songs as well. A few years later, I was ready to graduate and had a girlfriend; a girlfriend who was verbally, emotionally, and physically abusive. The relationship ended shortly after graduation. Shortly after that I was in my local record store and happen upon this album. I picked it up and brought it home with me, inside I found this in the liner notes, "Dedicated to any young men and women anywhere who live with people who abuse them, with the following good news: you are going to make it out of there alive, you will live to tell your story, never lose hope." It was the most important thing I read that summer. If you are currently in an abusive situation and need help leaving, contact The National Domestic Violence Hotline at 1-800-799-SAFE (7233). -Johnathon Gallienne / Johnathon1069
Everything Goes Numb is one of the most impressive debuts of the 2000s and contains a sizable allocation of Streetlight Manifesto's strongest material. Lead songwriter, Thomas Kalnoky, had already honed his craft in Catch 22 on one of the most iconic records of ska's third wave, Keasby Nights. While Streetlight Manifesto would regularly receive the label of ska-punk as well, their sound borrowed influence from all over the musical landscape, from folk and mariachi to Romani and Klezmer. The only band comparable band of Streetlight's stature in this era I can conjure might be Gogol Bordello, but, even so, their take on punk through similar instrumentation and inspirations yielded wildly different results. At their core, the songs put forth on Everything Goes Numb are far stronger, in terms of songwriting than the vast majority of music at this level of ambition. Kalnoky's rapid-fire vocal deliveries on cuts like "Point/Counterpoint" and the near title track, "Everything Went Numb," make for memorably urgent hooks. The winding and dynamic song structures littering the album, particularly on "A Better Place, a Better Time," keep its runtime, which just spans just under an hour, consistently interesting. –Sean Crawford
27. Converge - Jane Doe (2001)
Call Converge's 2001 masterpiece Jane Doe 'metalcore', call it 'post-hardcore', call it 'something-something-crossover'. Frankly, whatever you call it is going to be wrong. Jane Doe is one of those once-in-a-generation albums that defies definition, that defies genre. You're not meant to understand the chaos of this album, you're just meant to experience it. Even the lyric book is intentionally in disarray.
In an experiment apparently spearheaded by new drummer Ben Koller, Converge pushed every boundary imaginable on this one. Lyrics, arrangement, tempo, engineering…fuck everything you knew and start from scratch. The result is one of the most universally lauded heavy music albums of the 2000s.
As rich in gorgeous melancholia as it is in extreme dynamics, the darkly poetic album revolving around a failed relationship would do just fine to simply assault the listener. But you don't get off that easily. You are challenged by this album. -Chris Kanner / Xisdc < r>
`

Top 100 of 2000-2009: #50-26 Mixtape
Each day this week we'll include a nifty little Spotify playlist for you to check out a track from each entry.
Trivia Nuggets
- 6 albums received a #1 score (100 points), but that was the only vote that album received, and so they didn't make the Top 100.
- NOFX takes the prize for most albums represented in the entirety of the poll with a total of 7 entries. If you take split albums out of the equation, then NOFX shares that distinction with Teenage Bottlerocket at 6 entries each. Interestingly, only one of those TBR albums made it into the Top 100.

Methodology
17 Punknews reviewers, writers, and editors participated in this poll. Each chose their Top 100 albums of 2000-2009, assigning each album a point value with 100 being the highest, and 1 being the lowest. The point values for each album were then tallied and then they were sorted from highest tallied score to lowest. The top 100 albums were chosen to fill out the list.