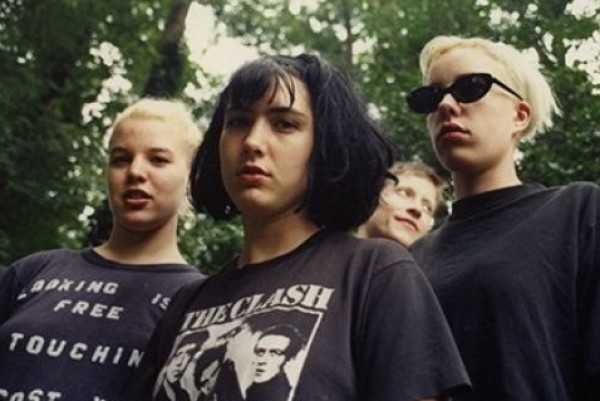 Bikini Kill have announced rescheduled tour dates for North America and Europe. The tour will now take place in 2022 with all previously purchased tickets remaining valid for the rescheduled dates. Refunds are also available if needed. New shows have also been added. A statement released by the band reads,
"We have moved all of our tour dates to 2022 to ensure our fans, our crew, venues' staff, and the band's safety. We know many of you have had your shows rescheduled more than once and appreciate your patience and flexibility."
Bikini Kill will also be releasing a limited vinyl edition of Reject All American on May 7 through Bandcamp for its 25th anniversary. Bikini Kill re-issued Revolution Girl Style Now [2015 Reissue] in 2015. Check out the tour dates below.
| Date | Venue | City |
| --- | --- | --- |
| Apr 29, 2022 | Greek Theatre | Los Angeles, CA (new date) |
| May 02, 2022 | Rialto Theatre | Tucson, AZ (new date) |
| May 04, 2022 | TBD | Albuquerque, NM (new date) |
| May 05, 2022 | Lowbrow Palace (Outdoors) | El Paso, TX (new date) |
| May 07, 2022 | The Mohawk (Outdoors) | Austin, TX (new date) |
| May 08, 2022 | The Mohawk (Outdoors) | Austin, TX (new date) |
| May 27, 2022 | The Ground at Clubspace | Miami, FL |
| May 28, 2022 | The Ground at Clubspace | Miami, FL |
| May 29, 2022 | The Plaza Live | Orlando, FL |
| May 31, 2022 | Backyard Series at the St. Augustine Amphitheatre | St Augustine, FL (new date) |
| Jun 05, 2022 | Locomotiv | Bologna, IT |
| Jun 06, 2022 | Magnolia | Milan, IT |
| Jun 08, 2022 | Trabendo | Paris, FR |
| Jun 10, 2022 | Le Botanique | Brussels, BE |
| Jun 12, 2022 | O2 Academy Glasgow | Glasgow, UK (new date) |
| Jun 13, 2022 | Roundhouse | London, UK |
| Jun 23, 2022 | Cat's Cradle | Carrboro, NC |
| Jun 24, 2022 | The Jefferson Theater | Charlottesville, VA |
| Jun 25, 2022 | Orange Peel | Asheville, NC |
| Jun 27, 2022 | The Mill & Mine | Knoxville, TN |
| Jun 28, 2022 | Headliner's Music Hall | Louisville, KY |
| Jun 30, 2022 | Marathon Music Works | Nashville, TN |
| Jul 01, 2022 | The Eastern | Atlanta, GA (new date) |
| Jul 03, 2022 | Mosswood Meltdown | Oakland, CA (new date) |
| Jul 08, 2022 | Rooftop at Pier 17 | New York, NY (new date) |
| Jul 11, 2022 | The Fillmore Silver Spring | Silver Spring, MD |
| Jul 12, 2022 | The Fillmore Silver Spring | Silver Spring, MD |
| Jul 13, 2022 | Franklin Music Hall | Philadelphia, PA |
| Jul 15, 2022 | Boch Center Wang Theatre | Boston, MA |
| Jul 16, 2022 | Higher Ground Burlington | South Burlington, VT |
| Jul 18, 2022 | M Telus | Montreal, QC |
| Jul 19, 2022 | Danforth Music Hall | Toronto, ON |
| Jul 20, 2022 | Danforth Music Hall | Toronto, ON |
| Jul 22, 2022 | Agora Theatre | Cleveland, OH |
| Jul 23, 2022 | Royal Oak Music Theatre | Royal Oak, MI |
| Jul 24, 2022 | Riverside Theater | Milwaukee, WI |
| Aug 07, 2022 | Astra Kulturhaus | Berlin, DE |
| Aug 08, 2022 | Gruenspan | Hamburg, DE |
| Sep 08, 2022 | Crystal Ballroom | Portland, OR |
| Sep 09, 2022 | Crystal Ballroom | Portland, OR |
| Sep 11, 2022 | Capitol Theater | Olympia, WA |
| Sep 12, 2022 | Capitol Theater | Olympia, WA |
| Sep 15, 2022 | Distrikt Victoria | Victoria, BC |
| Sep 17, 2022 | Marymoor Park | Redmond, WA (new date) |