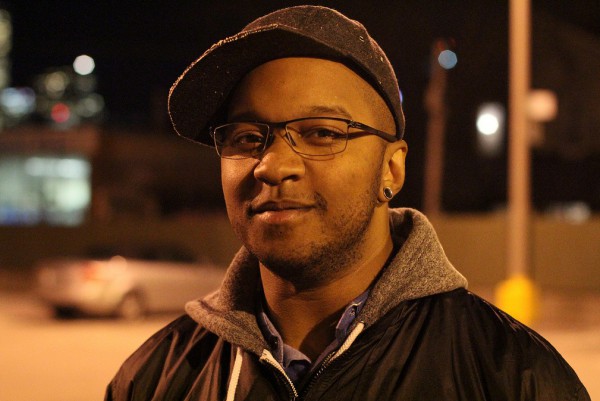 Whether falling of the stage or falling off his bike, P.O.S probably puts a little too much of himself into everything he does. His live show is machine–gun patterns, flailing, and giggles. Occasionally a bloody lip. Usually his, sometimes yours. His production is like a field recording of a drunken blacksmith. Disjointed but compelling, because yo, what is dude making–
Much has been made of P.O.Ss punk rock past; the tattoos and piercings, the skater fashion, the high school pictures of young P.O.S. sporting a frohawk. Fact is, P.O.S is not a cross–over artist. He has been rapping as long as hes been thrashing. His punk sensibility doesnt make him less of a rapper, it makes him more of a musician. P.O.S fuses the angst and sincerity of punk rock with the bass, wit, and lyricism of underground hip–hop. On his first album, P.O.S raps, We went from lower–lower class to lower class to upper–lower class. And he is living his own tongue–in–cheek rags–to–sportier–rags story.
Ipecac Neat, P.O.Ss debut full–length album, was self released to unanimous praise in 2004. Recognizing P.O.Ss raw energy and talent Rhymesayers Entertainment, the reigning princes of the underground quickly signed P.O.S and re–released Ipecac Neat. Since then P.O.S has been around the country three times performing with Atmosphere and has gained an increasingly enthusiastic fan base with every pass as he prepares for the release of his sophomore album, Audition on January 31st, 2006.
What forces conspired to create P.O.S– A chance encounter one day at a cousins house, seven year old Stefon discovered a bass guitar. Allowed to take it home, he banged the hell out of this old hobby bass for two years without realizing he needed an amp. The bass guitar led to stef unearthing the music of punk rock. It was easy to learn and had the right aggressive energy. He now had an outlet, music. Not just any music but punk rock. He knew this was for him but didnt always feel the same open arms from the scene as a black punk.
Body surfing at a festival, a thirteen–and–a–half–year–old Stefon kicked a kid named Kai in the face. Two weeks later while moshing at a friends house party, he kicked Kai in the face again. Theyve been friends ever since. The two started the punk band Om and recorded a couple tapes with album titles like, Themes for Young Lovers. P.O.S also drummed for Cadillac Blindside before founding Building Better Bombs, who still tours today.
Punk Rock was P.O.Ss first love, but after being introduced to rap by Crescent Moon (Oddjobs/Kill the Vultures), BAMF (Mike Mictlan), Company Flows Funcrusher album and Rhymesayers Headshots cassettes he began rapping as a hobby. Back in 1996, at fifteen years old, P.O.S joined his first rap experiment, Room 237. Based on the hotel room from The Shining, this initial experiment generated nothing more than piles of cassette recordings but Hip Hop had taken hold of him. In 2001 P.O.S along with rapper Syst, and DJ Basis founded the group Cenospecies. The crew was short–lived, releasing only one album: Indefinition. In 2002s City Pages Best of The Twin Cites issue, Cenospecies received Best Band To Break Up In The Past 12 Months. The kid even falls apart pretty.
Enter Doomtree. Remember the perpetually black–eyed Kai– Well along with Kai, P.O.S regrouped and formed a production duo known as Doomtree. Over the next couple of years, the duo grew into a formidable crew of rappers, producers and djs, including: Mike Mictlan, Sims, Dessa, Cecil Otter, Marshall Larada, Bobby Gorgeous, Emily Bloodmobile, Lazerbeak, Paper Tiger, Turbo Nemesis, and Tom Servo. Heading up this collective P.O.S delivered their first full–length album, Ipecac Neat. Boasting innovative production, and an emcee that managed to be clever and earnest at the same time Ipecac received much critical accl..