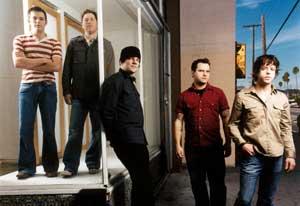 In an interview with Phoenix New Times, Get Up Kids frontman Matt Pryor has revealed that the deeply influential and recently reunited band have recorded nine new songs:

"Um, there's new material. We've written and recorded 9 songs, and they are being mixed right now. We're not really approaching it in the traditional "we're gonna put out a new record and do the touring cycle" way. We're gonna [do] more fun stuff, like good vinyl and limited edition releases. Cool shit, not just "here's the new CD." Everyone has so much going on it really works better for us that way."
The band had been posting photos from the studio via their twitter page. No other information is currently available, but we'll keep you posted. The Get Up Kids are currently on the American leg of their reunion tour, coming off the heels of the 10th anniversary reissue of their seminal 1999 full-length, Something To Write Home About.