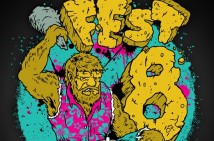 The folks behind The Fest 8 have announced another batch of confirmed bands for this year's Halloween weekend shenanigans in Gainesville, FL.
Newly confirmed acts include Sakes Alive!!, We Are the Union, Defeater, Hostage Life, Fallen From The Sky, One Win Choice, Anchor Down, Make Do and Mend, American Armada, After the Fall, Captain We're Sinking, L'antietam, Prolly, Dig It Up, Turkish Techno, Gnarly By Nature, P.S. Eliot, Sharks Come Cruisin', FATAL, American War, Dude Jams, Get Laid, Safety, House Boat, Bent Left, Consular, Colossus, and A City Safe From Sea.
This year's Fest-ivities will be happening October 30-November 1 and will be headlined by the likes of Snuff, 7 Seconds, Less Than Jake, Youth Brigade, Dillinger Four and Samiam, among many, many others.