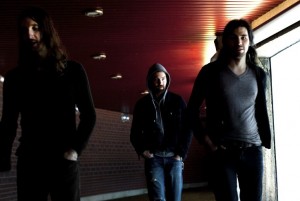 Russian Circles have launched a stream of their new full length, Geneva. The record is due out October 20, 2009 and follows Station in 2008.
Check out the stream here.
The band has also confirmed the tour in support of the album which will see the band sharing the stage with Coliseum, Young Widows, Red Sparrowes, Helms Alee, Git Some and Phantom Family Halo. The band will also be stopping by The Fest 8.
| | | | |
| --- | --- | --- | --- |
| October 28, 2009 | Covington KY | The Mad Hatter | Young Widows, Coliseum |
| October 29, 2009 | Atlanta GA | The Earl | Young Widows, Coliseum |
| October 30, 2009 | Gainesville FL | THE FEST 8 | Torche, etc |
| October 31, 2009 | Orlando FL | The Backbooth | Young Widows, Coliseum |
| November 2, 2009 | Birmingham AL | The Bottletree | Young Widows, Coliseum |
| November 3, 2009 | Baton Rouge LA | Spanish Moon | Young Widows, Coliseum |
| November 4, 2009 | Little Rock AR | Juanita's Cantina Ballroom | Young Widows, Coliseum |
| November 5, 2009 | Denton TX | Rubbergloves | Young Widows, Red Sparrowes Coliseum |
| November 6, 2009 | Houston TX | Rudyard's British Pub | Young Widows, Red Sparrowes Coliseum |
| November 7, 2009 | Austin TX | Fun Fun Fun Fest | Git Some Waterloo Park |
| November 8, 2009 | Oklahoma City OK | The Conservatory | Young Widows, Red Sparrowes |
| November 10, 2009 | Albuquerque NM | Launchpad | Young Widows, Red Sparrowes |
| November 11, 2009 | Tempe AZ | The Clubhouse | Young Widows, Red Sparrowes |
| November 12, 2009 | San Diego CA | The Casbah | Young Widows, Red Sparrowes Helms Alee |
| November 13, 2009 | Anaheim CA | Chain Reaction | Young Widows, Helms Alee |
| November 14, 2009 | Los Angeles CA | The Echoplex | Young Widows, Helms Alee |
| November 15, 2009 | San Francisco CA | Bottom of the Hill | Young Widows, Helms Alee |
| November 17, 2009 | Portland OR | Doug Fir Lounge | Young Widows, Helms Alee |
| November 17, 2009 | Portland OR | Doug Fir Lounge | Young Widows, Helms Alee |
| November 18, 2009 | Seattle WA | Neumos | Young Widows, Helms Alee |
| November 19, 2009 | Boise ID | Neurolux | Young Widows, Git Some |
| November 20, 2009 | Salt Lake City UT | Kilby Court | Young Widows, Git Some |
| November 21, 2009 | Denver CO | Marquis Theatre | Young Widows, Git Some |
| November 23, 2009 | Kansas City MO | The Riot Room | Young Widows, Git Some |
| November 24, 2009 | Sioux Falls SD | Nuttys | Young Widows, Git Some |
| November 25, 2009 | Minneapolis MN | Triple Rock Social Club | Young Widows, Git Some |
| November 27, 2009 | Detroit MI | Magic Stick | Young Widows, Phantom Family Halo |
| November 28, 2009 | Buffalo | NY Soundlab | Young Widows, Phantom Family Halo |
| November 30, 2009 | Milford CT | Daniel Street | Young Widows, Phantom Family Halo |
| December 1, 2009 | New York NY | Bowery Ballroom | Young Widows, Phantom Family Halo |
| December 2, 2009 | Cambridge MA | The Middle East | Young Widows, Phantom Family Halo |
| December 3, 2009 | Washington DC | DC9 | Young Widows, Phantom Family Halo |
| December 4, 2009 | Philadelphia PA | First Unitarian Church | Young Widows, Phantom Family Halo |
| December 6, 2009 | Montreal QC | Il Motore | Young Widows, Phantom Family Halo |
| December 7, 2009 | Toronto ON | Lee's Place | Young Widows, Phantom Family Halo |
| December 9, 2009 | Kalamazoo MI | The Strut | Young Widows, Phantom Family Halo |
| December 10, 2009 | Cleveland OH | The Grog Shop | Young Widows, Phantom Family Halo |
| December 11, 2009 | Louisville KY | Skull Alley | Young Widows, Phantom Family Halo |