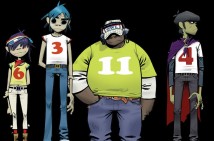 A full album stream and new video have been posted for the critically acclaimed Gorillaz project. The band is a project of Damon Albarn (Blur, The Good, the Bad and the Queen) and the record features high profile guests including Lou Reed, Mark E. Smith of The Fall, Mos Def, Snoop Dogg and many others. Of particular note is that Albarn has enlisted Mick Jones and Paul Simonon of The Clash for their first recorded performance together in many years. Albarn and Simonon previously collaborated on The Good, the Bad and the Queen.
The full album can be streamed via NPR. The track with Mick Jones and Paul Simonon is "Plastic Beach."
The first video for "Stylo" features the Gorillaz members in a high speed desert chase with Bruce Willis chasing them. Check out the video via YouTube.