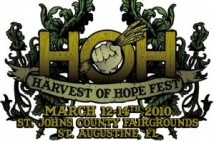 Sunday at the second annual Harvest of Hope Fest was, as most final days of festivals are, bittersweet. Saturday's awesomeness was going to be difficult to top, but the bands on Sunday rose to the occasion.
Harvest of Hope Fest, Day Three
The last day of a three day festival can be a difficult one, especially for someone's who partied or 'worked' all weekend. Feeling a little tuckered out, it's harder to get out of one's hotel bed or sleeping bag on the final day not just because of an unbalanced sleep-to-party ratio, but because in the back of your head, you're sort of dreading that the weekend will be over soon; it feels like every Sunday of your childhood before school starts up again on Monday.
When I got out of bed a little after 10 AM this morning, I was feeling the effects. I was still sore from my near-death experience at Dear Landlord's set on Friday night, and with no time to recover and a solid twelve hour day of festing on Saturday, this day would prove to be a test of my own fortitude, of my drive and desire to bring you, humble Punknews reader, the best Harvest of Hope Fest coverage I can. We sure are lucky to have each other.
We actually took the morning and early afternoon 'off,' and went into St. Augustine's historic district to do some touristy stuff. Climbed Castillo de San Marcos, read exhibits about how the natives were forced off of their land way back when, pretended to fire cannons into the harbor, and generally didn't think about much else or have to worry if I was missing a band or if my pictures came out okay, which was nice.
The weather, on the other hand, was anything but nice. The sun was out, thankfully, but much like Saturday it was extremely windy and unseasonably cold -- not exactly prime conditions for an outdoor event, especially for a guy who only owns two pairs of jeans, both of which had been rendered unbearably filthy after the events of HOH's first two days. Shivering, we arrived at the fairgrounds at approximately 2:30, just in time to see Chris Wollard hop on Stage 5 with Jon Snodgrass for a rendition of "No Exception," which Snodgrass's Drag the River covered on a recent split 7" with Wollard's Ship Thieves. Shortly before that set ended, however, we had to scurry all the way over to Stage 2 to catch Broadway Calls, who did a nice job despite a somewhat tepid crowd. "Midnight Hour," "Be All You Can't Be," "Call it Off" and "To the Sheets" highlighted the 45 minute set.
Back to Stage 5 we went to catch some shade and check out Gainesville's Greenland is Melting. The band had some equipment issues, but handled them with aplomb, largely in the form of excellent vocal harmonies. The kick drum made from a suitcase was a nice touch. The band's new album, Our Hearts are Gold, Our Grass is Blue, is free here. Try it.
Stage 3 was next on the agenda, with Spanish Gamble keeping the Gainesville theme going for us. This band improves every time I see them, and it seems like folks are starting to take notice. And speaking of free downloads, their new record It's All Coming Down is available to download on this very website. Just look for the banner to the right, then click.
O Pioneers!!! were next, which on this tour consisted of Eric and three members of New Bruises. The dudes did a nice job, hardly sounding like a slapdash band. "Dead City Sound" sounds killer in a live setting.
Bomb The Music Industry! were having serious equipment problems over on Stage 4, to the point where they started their set twenty minute set ten minutes late, which is never a good thing at a festival with such rigid set times. Due to prior commitments we could only stay for one song, but both band and crowd immediately went apeshit once the music started. I imagine this behavior continued throughout the remainder of the performance.
I was pretty stoked to see The Loved Ones as they hadn't been to Florida in some time (put it this way: the last time they were here, The Gaslight Anthem opened for them) and they didn't disappoint. Most impressive were the vocals of Dave Hause, who had excellent command and was hitting pretty much every note, a huge improvement from when I last saw them. The band played all the hits ("Suture Self," "Louisiana," "Pretty Good Year," "Distractions"), a reworked take on "The Bridge" that's faster and better than the album version, an uptempo new song of which I unfortunately didn't catch the name, and, oddly, a beefed up cover of Conor Oberst's "I Don't Want to Die (In The Hospital)."
More Philadelphia bands were lined up over at Stage 3. The Wonder Years were first, drawing a sizable crowd of stoked younger kids who stage dove, crowd surfed and hardcore danced to the band's brand of bombastic, catchy pop-punk. The band fed off the energy and played a pretty wonderful set; their new full-length The Upsides had failed to really grab me but after today, I'm going to have to give it a few more listens.
The Menzingers matched the energy of their fellow Philadelphians, opening with "Sunday Morning" which unsurprisingly yielded loud chants of "Don't worry brother, this will blow over" from most of the audience. In addition to the infectious chorus of "A Lesson In The Abuse Of Information Technology," another highlight of the set was "I Was Born," a new song that will be part of the band's upcoming single of the same name as well as their new full-length, Chamberlain Waits. The song is a little more straightforward than a lot of the band's other material, with less emphasis on dual vocals, but sometimes less is more. I can't wait to hear the studio version, and I'm sure many of you echo that sentiment.
After a break for some greasy food, we headed back to Stage 2 for Small Brown Bike. When arriving about ten minutes before the band was scheduled to begin, I was shocked by how few people were there. But, sure enough, once they started there seemed to be a very strong crowd present. The band seemed to have more energy when performing their newer songs -- both "Hourglass" and "When We Run" sounded huge -- but the set was pretty well-rounded with material both new and old.
At this point, I was cold and tired, but determined to check out forgetters over on Stage 4 before calling it a weekend. It was a good choice on my part, as the band ripped through most of the tracks that have been circulating on various bootlegs such as "1982" and "Vampire Lessons," while a moderately-sized crowd looked on, interested but mostly unfamiliar with the material. Thankfully, everyone seemed respectful and I didn't hear anyone drunkenly yelling out Jawbreaker song titles whenever momentary moments of silence arose. The band wrapped up at roughly 9:10, and I was ready to head home, take a shower, and use a faster computer.
And that's that. Another Harvest of Hope Fest is in the books. Money and awareness was raised for a great organization, a lot of bands had shining moments and for the most part, everyone was respectful and refreshingly cognizant of their reasons for being there. I'm already looking forward to next year. Click any picture to enlarge, and be sure to keep an eye on my personal flickr account as well as the Punknews.org flickr pool for even more photos later this week.
Broadway Calls
Greenland is Melting
Spanish Gamble
O Pioneers!
Bomb The Music Industry!
The Loved Ones
The Wonder Years
The Menzingers
Small Brown Bike
forgetters