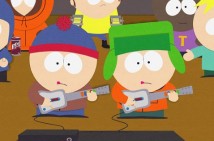 Activision has announced another batch of licensed songs for the upcoming sixth Guitar Hero game. Titled Guitar Hero: Warriors of Rock, the new game is expected in the fall and promises a "story-driven component" to be narrated by KISS' Gene Simmons. The latest additions include a number of bands covered on this site including Ramones, Atreyu, Bad Brains, Five Finger Death Punch, Rise Against, Strung Out, Sum 41, The Runaways and The White Stripes.
They join the previously confirmed track listing which includes tracks by Avenged Sevenfold, Buzzcocks, Dethklok, DragonForce, Foo Fighters, Jane's Addiction, Metallica Muse, My Chemical Romance, Silversun Pickups, Slayer and The Cure.
Along with the music, the game incorporates the legendary CBGB venue as a playable stage in the game but are removing playable musicians from the game after the controversial placement of Kurt Cobain and No Doubt in the 5th iteration of the series.