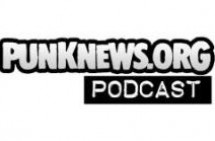 The Punknews podcast rolls on this week with editors Bryne Yancey and Rich Verducci (as well as sound guy Nariman) fighting off Fest AIDS while fellow editor Adam White ridicules all of them for not heeding their own advice from the previous week's show. Plus, a round up of the hottest stories from the past week including the upcoming Fun Fun Fun Fest appearance as well as the new album talk from Descendents, the brutal honesty of Senses Fail frontman Buddy Nielsen and several other tidbits.
On top of that, we've got music on the show from One Win Choice, The Demics and Shinobu, the latter of which is available for free download from Quote Unquote Records.
You can click Read More to stream and/or download the show, or subscribe via RSS or iTunes. Don't forget to give us your feedback in the comments section or via e-mail. And if you'd like to catch up on past episodes, you can do so right here.