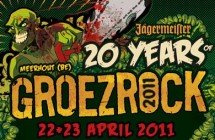 The 2011 Groezrock Festival continues to confirm high profile acts, with the latest including a reunion from melodic hardcore outfit Civ as well as Snapcase, Dear Landlord, Hatebreed, Cancer Bats, The Black Pacific and Senses Fail.
The event is set for April 22nd and 23rd and already includes NOFX, Millencolin, Further Seems Forever, Dashboard Confessional, Piebald, Teenage Bottlerocket, August Burns Red, Every Time I Die, No Friends, Asking Alexandria, Shai Hulud, Brotherhood Foundation, Miss May I, Grey Area, Dead to Me and many more.
The Belgian festival is celebrating its 20th anniversary in 2011 and coming back after a environmentally challenged 2010 edition.