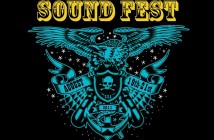 The 2011 Seattle Sound Fest has posted a full schedule of bands for the three day, multi-venue festival. The event will be happening August 19-21 in Seattle, WA. Bands slated to perform include Stiff Little Fingers, The Blasters, US Bombs, Lucero, Cro-Mags, Zero Boys, The Dickies, American Steel, Swingin' Utters, Angelic Upstarts, Reagan Youth, Drag the River, Tim Barry, Austin Lucas, Filthy Thieving Bastards, Unfun, The HollowPoints and a slew of others.
You can find all the lineup /scheduling information here
For the long-weekend, the promoters are also running a discount on tickets. Find those here.