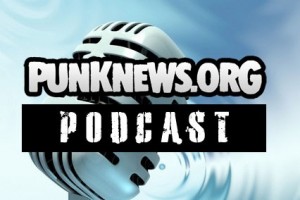 WE DID IT! This week the Punknews Podcast celebrates its 52nd show and one-year anniversary with reflection on podcasts past, hints of podcasts future and still the same barely adequate product you've grown accustomed to ignoring. Bryne Yancey, Adam White and Rich Verducci also tackle the Coheed and Cambria mess (while Rich openly campaigns to join the band), Gallows' gaping hole at vocalist (ditto), and Hot Water Music's one minute of new music. Plus other bits on Alkaline Trio and Against Me! (natch), as well as nuggets on MxPx, None More Black, Sharks, Blink 182 and more.
On top of that, we have new music from Jeff Rowe, Basement and William Elliott Whitmore.
You can click Read More to stream and/or download the big show, or subscribe via RSS or iTunes. You can always send us your feedback in the comments section or via e-mail. Past shows are available right here.