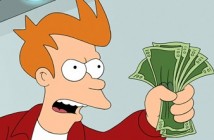 Seattle Weekly is reporting that there have been some serious problems with last month's Seattle Soundfest. The event boasted a lineup including Stiff Little Fingers, Jello Biafra and the Guantanamo School of Medicine, Lucero, Cro-Mags, Zero Boys, The Dickies, American Steel, Swingin' Utters, Angelic Upstarts, Reagan Youth, Drag the River, Tim Barry, Austin Lucas, Filthy Thieving Bastards, Unfun, The HollowPoints and a slew of others.
According to the report, many bands are still unpaid and noted:

It's a problem promoters Medrano and Benny Early, a pair with limited experience putting together a large-scale, multivenue festival, didn't anticipate. They cite lack of walk-up business and larger-than-expected flight costs among their excuses. Unlike most punk festivals which start small and grow organically, Medrano and Early had no previous festival experience to draw on or financial figures to go by. The duo dreamed big, gambled big, and ultimately lost big. "We knew going into it that all festivals don't make money in their first year," Medrano said. "But we didn't suspect that it would be this bad."

When word of Sound Fest made its way to Shawn Stern, founder of punk stalwarts Youth Brigade and the organizer of the annual Punk Rock Bowling Tournament in Las Vegas, he sent an e-mail to bands and agents warning them against playing. "After witnessing his disastrous attempts at promoting concerts around L.A.," he said of promoter Lou Medrano, "my friends and I felt it was important to warn others against working with him."
Check out the full report here.