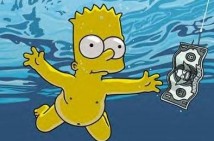 Kerrang! has put together their own tribute to Nirvana's Nevermind. This, the second track-by-track cover album, is being included with this week's issue.
It features all the original songs from Nevermind plus "Sliver" and "Endless, Nameless" and songs are performed by Arcane Roots, Framing Hanley, Deaf Havana, Rise To Remain, Francesqa, Young Guns, The Dillinger Escape Plan, Kids In Glass Houses, Evile, The Blackout, Frank Turner, Spycatcher, Dangerous! and We Are The Ocean. You can check out Frank's cover of "On a Plain" via YouTube or the Dillinger Escape Plan's version of "Territorial Pissings" here..
A deluxe reissue of Nevermind is also being released today.