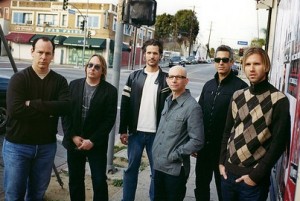 The promoters of the Australia and New Zealand-focused Soundwave Festival have announced the second batch of bands for the forthcoming Australian and New Zealand festival. First, promoters have noted that the Courtney Love-fronted Hole have dropped off the bill due to a dispute about their placement among the headliners (i.e. below System of a Down, Limp Bizkit, and Marilyn Manson)
As a replacement, the lineup has added Bad Religion, Strung Out, Staind, Wednesday 13, Unearth, The Pretty Reckless, Cathedral, Shadows Fall, Tonight Alive, Motionless In White, Break Even, Heaven Shall Burn, Your Demise, A Rocket To The Moon, The Ready Set, The Menzingers, Dream On, Dreamer, Kittie, Dredg, Attack! Attack!, The Smoking Hearts and The Summer Set.
(It's also worth noting that in August, Bad Religion expressed some polite but thinly veiled frustration with Soundwave promoters after the cancellation of their Australian dates due to the lack of Van Halen in a separate iteration of Soundwave.)
They join the existing lineup which includes (in order of billing): System Of A Down, Slipknot, Limp Bizkit, Marilyn Manson, A Day To Remember, Machine Head, Lamb Of God, Trivium, Alter Bridge, Lostprophets, Angels and Airwaves, Unwritten Law, Thursday, Dillinger Escape Plan, Mastodon, Saves The Day, Steel Panther, Zebrahead, Four Year Strong, Hatebreed, CKY, Street Dogs, Dragonforce, Kvelertak and Cro-Mags.
Tickets go on sale October 20 and can be found here.