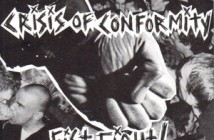 Early last year, Saturday Night Live aired a sketch featuring Fred Armisen, Dave Grohl (Foo Fighters, Nirvana), Ashton Kutcher and Bill Hader where they played middle-aged men doing a reunion set for their 1980's hardcore band, Crisis of Conformity. The song in the sketch, "Fist Fight in the Parking Lot," was written as a nod to Armisen's teen years and the bands he was listening to while growing up.
As it turns out, Armisen took a trip to Washington DC this past spring to record that song for a 7-inch, as well as a b-side called "Kick It Down and Kick It Around." He recently told Paper Mag that the latter track was inspired by Black Flag's "Gimme Gimme Gimme." Despite the all-star cast of the sketch, he plays all instruments on both tracks, which were recorded by Brendan Canty of Fugazi.
You can currently purchase the Fist Fight! 7-inch from Drag City, or if you aren't familiar with the Saturday Night Live sketch that spawned the recording, you can view that here.
Though Armisen is best known these days for both Saturday Night Live and his sketch show Portlandia with Sleater-Kinney's Carrie Brownstein , he was a member of Trenchmouth and also drummed on Les Savy Fav's Let's Stay Friends.