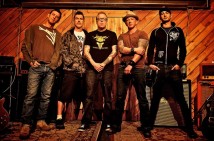 Reformed Boston hardcore band DYS has launched a stream of their new single, "Sound of Our Town" on AMPMagazine.com. The song is also available on iTunes, Amazon.com and B9Store.com.
The band says the song is their "love letter to Boston's passion for all forms of hard music." The track, produced by Andrew "Mudrock" Murdock, was recorded at his Hobby Shop Studio in Los Angeles, and features the band's new lineup: vocalist Dave Smalley (ex-Dag Nasty, ALL, Down By Law) and bass player Jonathan Anastas (ex-Slapshot) are joined by guitar player Franz Stahl (Scream, ex-Foo Fighters), drummer Al Pahanish Jr. (ex-Powerman 5000) and guitar player Adam Porris (ex-Far From Finished).
You can check out the song here.