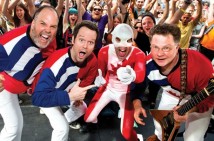 Nardwuar the Human Serviette has released The Evaporators new video for the song "I Hate Being Late (When I'm Early)" featuring immortal partycore rocker Andrew W.K.. The video, directed by Jason Margolis and Rob Wenzek, features footage of the musicians tearing through the University of British Columbia's CiTR radio studio.
The song appears on the new compilation Busy Doing Nothing, a Vancouver themed set which will feature the Evaporatos and a number of guests performing cover songs, new originals and collaborations. Guests on the record include the aforementioned Andrew W.K., along with The Cribs, Kate Nash, Franz Ferdinand, Faud & the Feztones, Sage Francis, Xual Zan, Megan Barnes and Jill Barber. The collective covers songs from influential past Vancouver acts such as Cub and the Pointed Sticks. Busy Doing Nothing will arrive in stores on March 6th via Mint Records and Nardwuar's eponymous label.
For good measure we've also linked up Narduwar's 2011 interview with Henry Rollins below. Check it out.
Busy Doing Nothing
The Evaporators and Andrew W.K. - "I Hate Being Late When I'm Early"
The Cribs - "Death In The Family" (Dishrags Cover)
Kate Nash - "My Chinchilla" (Cub cover)
Franz Ferdinand - "Real Thing" (Pointed Sticks cover)
Fuad & the Feztones - "Welcome To My Castle" (The Evaporators cover)
The Evaporators ft. Sage Francis, Xual Zan, Megan Barnes - "Hot Dog High"
The Evaporators - "Busy Doing Nothing"
The Evaporators ft. Andrew W.K., Jill Barber - "Bring It On Home" (Doug Rutledge cover)
The Evaporators - "Milkshake Murder"
The Evaporators - "Bunk"
The Evaporators - "Pig War"
The Evaporators - "All The Bad Girls" (Pointed Sticks cover)
Nardwuar vs. Franz Ferdinand (2004 interview)