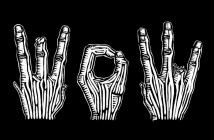 Way Out West Fest has announced their lineup for 2012. The festival will take place in Tucson, AZ from April 13th - 15th, and currently has over 60 bands confirmed.
The lineup includes: The Well, Beside Myself, Bobby Joe Ebola and the Children MacNuggits, Allout Helter, The Mighty Fine, Shovel and Gun, Static Thought, The Loss, Come On Die Young, The Plurals, American Lies, Why I Hate, Hands Like Bricks, Horror Squad, Dudes Night, Samuel Caldwells Revenge, Bonsai, The Shell Corporation, Plainfield Butchers, Rumspringer, Prosthetic Arms, Civil War Rust, News From The Front, Seas Will Rise, Said Gun, Fort Worth, The Angry Lemons, Abolitionist, French Exit, Margate, Tuck & Roll, Radio Crimes, Young///Savage, Tin Horn Prayer, Holding Onto Sound, Yulia, Perdition, The Sky We Scrape, Advocate, Lenguas Largas, Success, The Anchor, Arms Aloft, Gunner's Daughter, The Maxies, Bastards Of Young, The Slow Death, Tiltwheel, Turkish Techno, BOATS!, Reverend Loose Morals, Rossi H., New York Taxi, International Dipshit, Jefferson Deathstar, Heroes For Hire, Flatwheeler, Pretty Boy Thorson, Joey Briggs of the Briggs, Jeff Rowe, Jason Kutchma of Red Collar, Lizzie Huffman, and The Bertos.
More information and 3-day passes (on sale for $25) are available here. The festival has also posted a sampler of bands playing that weekend, which you can download here.