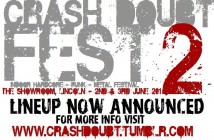 The line up for this year's Crash Doubt Fest has been announced, with more bands to follow in the coming weeks. As it stands, there are sixty bands on the list, for the two day punk, hardcore, and metal festival. Crash Doubt Fest is returning to The Showroom in Lincoln UK, across Saturday the 2nd of June and Sunday the 3rd.
The organisers invite you to keep track of developments via Tumblr or the Facebook event. You can get hold of tickets (£22.50 a day, or £40 for the weekend) here.
Please note that the order of the list as it stands has no bearing on the stages or running order of the event itself.
Brutality Will Prevail, Last Witness, Legend (USA), Silent Screams, Heart In Hand, Polar, Hang The Bastard, The Plight, Hildamay, Demoraliser, Bastions, The Elijah, Departures, Tides Of Virtue, The Cold Harbour, Brotherhood Of The Lake, Fall Against Fate, Spires, Hospitals, Giants, Desolated, The Departed, The Long Haul, The Rivercard, Never Cry Wolf, The Deceiver, Fights And Fires, Archetype, Lower Lands, We Pharaohs, The Skints, No Trigger (USA), Heartsounds (USA), Sharks, Tellison, Random Hand, The JB Conspiracy, Crazy Arm, One Win Choice (USA), Apologies, I Have None, The Arteries, Astpai (Austria), Above Them, The Human Project, Smoking Hearts, Our Time Down Here, Bangers, ONSIND, The Cut Ups, Pacer, The Living Daylights, Caves, Great Cynics, Without Fire, As We Sink, Watch Commander, Uniforms, Shields Up, The Stay Frees, Broken Window Effect…