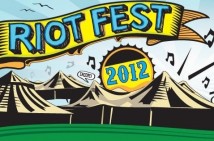 The organizers of Chicago's Riot Fest have announced what appears to be the full list of bands that will be playing the festival. Some of the new confirmations include: Pegboy, Andrew W.K., Minus The Bear, Fireworks, Hot Water Music, and The Adicts.
They join the previous lineup which includes including Iggy & the Stooges, Elvis Costello, Descendents, The Jesus & Mary Chain, The Gaslight Anthem, Coheed and Cambria, Dropkick Murphys, NOFX, and a reunion from Chicago ska-punk act Slapstick, among many others.
The festival will take place September 14th - 16th, at the Congress Theater and Humboldt Park. Tickets are on sale now.