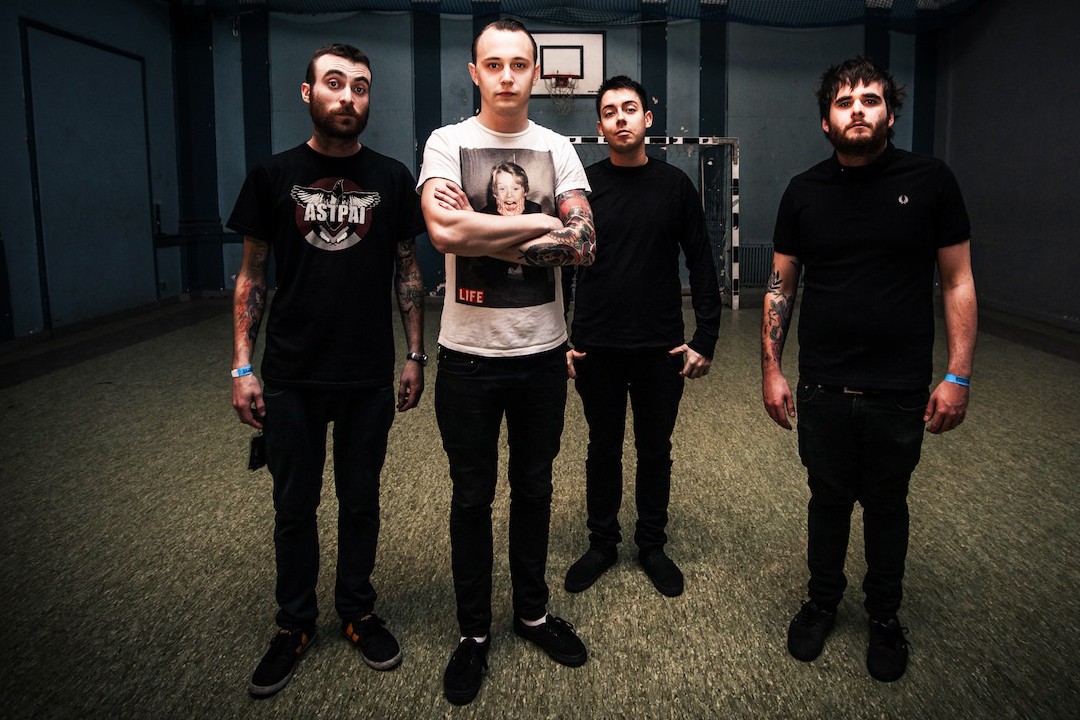 It has been a busy year for Toronto-based The Flatliners. This year they will hit the road once again while putting out their fourth full-length album entitled Dead Language. A full three years since their last release, Dead Language will be released on September 17, 2013 on Fat Wreck Chords. Punknews interviewer Samantha Barrett spoke with vocalist Chris Cresswell about tour and the new album.
You just wrapped up a tour with the Holy Mess and Astpai. Share with us how that tour went?
The tour with The Holy Mess and Astpai was awesome! It was fun because we know those bands and those people from different walks of life, as far as The Flatliners life goes. We met Yosco from the Holy Mess years and years ago, when we did a tour in Canada with Bigwig, Death by Stereo and Big D and the Kids Table. Yosco was playing in Bigwig then. He has always been like a rock, so cool and a huge help with our band. When we started touring, at 17, we were taken under the wing of some punk rock dudes that really wanted to show us what really was happening, the good and bad, the real and the dumb. I think our barometer was really defined early on by guys like Yosco.
The Astpai dudes are just an incredible band. We met them in Austria at our very first European tour, in 2007 or 2008. I remember the first interaction we really had with Astpai…we played in Austria with so many bands and there was really one backstage catering room. European hospitality is really crazy they have all these snacks all night long, one room for seven or eight bands, to hang out in all night. One of the Astpai guys was drinking a bottle of booze that belonged to one of us. Scott was like "Hey dude are you gonna drink the whole bottle or are you gonna give it back?" or something like that. I am just paraphrasing, but I am sure that is how it went down. I just thought it was funny that years later, we have seen their band evolve and progress so much. At the beginning we watched them play and we were blown away. It has only gotten gnarlier to watch. They have become such close friends of ours and its cool to bring your friends' bands from Europe to the US to do some shows together, it was a great group of people. The shows were all killer, no complaints. All the shows were super-hot, it was perfect. It just reminded us of shows in Europe. Most shows in Europe are really hot, so I think Astpai brought the heat.
You just started a tour with A Wilhelm Scream and Such Gold, what are your looking forward to with this current tour?
We're two shows in. We drove straight from Toronto to Denver to make the show yesterday and the show last night was killer. It's a cool mix of bands again. We have just been getting lucky with mixing it up in a cool way. We have known these A Wilhelm guys for years, which is amazing. We all started out as fans of the band. I remember hearing "Famous Friends and Fashion Drunks" off of Mute Print years ago and showing the dudes in the band. We were like listen to this fucking band, it's incredible. So catchy, but so heavy. It's not all this screamo stuff that was around at the time, and I never liked that kind of stuff. They stuck out because they weren't playing that kind of music. It was heavy but it was punk rock. Our friendship with those guys over the years bloomed into something really really cool and we toured in Australia with them already this year. I saw them when I went to Pouzza Fest in Montreal earlier this year. A couple days later we were in Boston playing with The Holy Mess and Astpai, all these dudes were hanging out, and now we're spending three weeks with them on the road. It's cool, it's one of the coolest things and one of the reasons we feel so lucky to be in this band. We somehow made friends with some bands we really love and respect as people and as musicians. A Wilhelm Scream are the epitome of that. There are some shows on this tour we play after them and I'm really afraid. It's crazy watching them play guitar, bass, sing and play drums. All those guys are so talented, it's very intimidating to play after them on a few shows on this tour.
Your touring schedule this year seems pretty epic, I noticed big some festivals that you are playing including Rockfest in Canada, Rebellion Festival, Scream it loud festival, WROS festival and Fest. Which festivals are you looking forward to playing the most and what are some of your expectations?
The Fest is always the best. It's always so fun, that goes without saying. Everyone knows that, whoever has ever been there, and whoever has never been is yearning to go. I am really excited to play Resurrection Fest and Rebellion Festival. We have only been to Spain once before and the whole time we were there we had really long drives. All the major cities you play in Spain are really spread out. We did a show then got in the van and drove a little bit, slept, woke up the next day and drove again. We didn't really spend that much time in Spain. We are going just for that one show, so we won't really get to see much more of it. The shows we played there were crazy. I am really looking forward to playing Resurrection Fest. I have heard of that festival for years, and huge bands play there. It's pretty gnarly.
Rebellion Fest in Blackpool, UK. Is going to be really cool as well. It's a really punk rock festival. Usually, when we play a festival you find yourself in a good mix of genres but this is like punk and dub and reggae, it's really really cool. Looking forward to those.
It sounds totally right up your alley.
It's kind of a perfect storm for us.
With talks of all this touring, what is the driving force to tour so much?
We found a pretty decent balance with being home and being away. It doesn't really seem like it to many people. We always had that mentality that we're gonna be on stage, we want to know when we're gonna be back here, that's always our mentality. So we were touring for ten months out of the year, go home for a little while and chill out, work a job, see our friends, family and girlfriends. We started to realize that we can do chunks (of time), a couple months on and a couple months off. That really ended up working really well in the end, just because it's a big chunk away from home. Now we can just go back and forth.
This year has been super busy for us. We just put out a split 7-inch with Make Do And Mend. We have a new album out in September. We're spreading all this stuff out. We have been in the band for over ten years now, and a lot of people knows us for being a really hard touring band. It's cool that people know us for it; we obviously love to play shows. It's more fun than sitting at home. After you're on tour for a few weeks, sometimes you feel like going home. Even if the tour is great, let's do a good job and get out when it's good. It's like when George Costanza tells a joke and leaves the room right away.
Exactly, short and sweet and then you go back out. Having covered the band Rocket from the Crypt, you're playing with them for Riot Fest in Toronto, how excited are you that you are finally sharing a stage with them?
Words cannot properly describe the feeling that resides among us. It's pretty crazy. When we were in Europe a few months ago, we played Groezrock festival in Belgium. There is always crazy reunions at Groezrock. This year there was a Kid Dynamite reunion, which was awesome. We were playing on a Sunday and they were playing on Saturday. We were like this sucks. We were pretty sure Rocket From The Crypt was getting back together, we heard grumblings on this. When they announced they were playing Groezrock the same day as the Kid Dynamite reunion, we were all bummed, we were one day away. Such a bummer for us, but at the end of the day, all we have to do is wait a little longer. It's gonna be pretty awesome, none of us can wait. Waiting a little longer will just make it a little crazier, I am just giggling right now about it. We all love that band so much; we all got into them right before they broke up. We were all like they are our favorite band, EVER!. That show is going to be super crazy, not only are we playing with Rocket From The Crypt, we're playing with the Replacements, I can't believe that. I never ever thought our band would play a show with The Replacements. I don't think anyone ever thought their bands will ever play with The Replacements.
The Riot Fest line up is legit.
Oh yeah, we played the Chicago one a few times and they always took such great care of us. You can tell that everyone is having such a blast. Now they're doing a crazy carnival thing, we haven't seen that yet but it's gonna be wild.
Are there any other band that you have not played with that you are really excited to be playing with?
The band playing right before us, called Single Mothers. They're really fucking cool, they're from London, Ontario. Sometimes you watch them play and you're totally digging it, this is awesome, this is a wicked punk show. Then sometimes you get afraid that you're gonna get the crap beaten out of you at this show. It's crazy; it's a very old school vibe in the show. They're such a cool band. I think a lot of people already know about them or a lot more people will find out about them soon but they're killer. I am really looking forward to playing a show with those dudes.
With the announcement of a new album, Dead Language, tell us a little about the new album? What should listeners expect? Are there any shifts in sounds from your previous records?
It's always been interesting for us to see what people think of it. For us it has never stopped, if you look at this as a timeline for a band. The band members are the creative force, they're involved in the whole thing, whereas fans of the band get a little blip of the timeline which is recorded onto a record, and you listen to it and that is the era of the band that you have appropriated into the timeline. We didn't notice a shift between The Great Awake, our second record, and Cavalcade, our last one. There was definitely an obvious shift between the first record, Destroy to Create, and the second record because not all the songs on the second one were ska-punk songs. That was definitely a stark difference. Between the last two, we didn't notice much of a difference but other people did. With this one, I can't really say it is much different, it might be. I want to see what people think about it. I'll say that the split that we put out with Make Do And Mend, it's only two songs and there is 13 more songs on the album. It's a good indication where the record is going or coming from. There are a few heavier tunes on the record as well. It's not as conceptual as how Cavalcade ended up going, I suppose.
Cavalcade was all about being away, comparing yourself to people of a different era going through a different struggle and stuff. Dead Language just kind of, seems to be a little conflicted. I only mean that in the subject matter, like I said earlier, we found a pretty good balance of being away and being home but you gotta remember this record was basically written about the last three years of my life and the people's lives around me. Within the last three years, there are big changes in my life and other people's lives, like there always are. It's because of those big changes that happen through those years, I feel like it's why the album is so conflicted. It's me literally figuring out my life and me writing lyrics about it. If you get hurt by someone, any musician does this, you're gonna take that pain and turn it to a song or a hundred songs. There is always changes, the lyrical landscape is basically the last three years of my life and it's a little gnarlier than the other records lyrically.
We hope you like it. Were stoked on it and we are just really super happy to have a new record coming out, it's been a long time. We never want to rush it. Our routine is to put out a record every three years or so.
So, you are continuing to work with Fat Wreck Chords - how is that going?
We have been with them since 2007. They're awesome, it's like working with friends, it's so easy. We all feel the same way with stuff, if there was ever any discussion or debate about something, it's cool because it's like "it's your band" but it's like "you're involved in this too" but, "it's like, your band."
Do you have mostly full creative control over what you put out and they just help you put things out?
Pretty much, the last record Fat Mike did some production with us on a few songs and that was cool. He took us under his wing in a cool way when we signed to Fat Wreck Chords and we spent a couple of years on tour with NOFX. We worked out some songs with Mike but it was still up to us. Any ideas he would bring to the table as far as altering a song of ours or a pointer, the guy knows about writing a melodies and it was always up to us. There was never any overruling, which is great. We didn't start a band to have someone tell us what to write about or how to write songs. You live through it and you learn. We started as kids and we're still learning, it's exciting to see how people gauge our records one by one every three years.