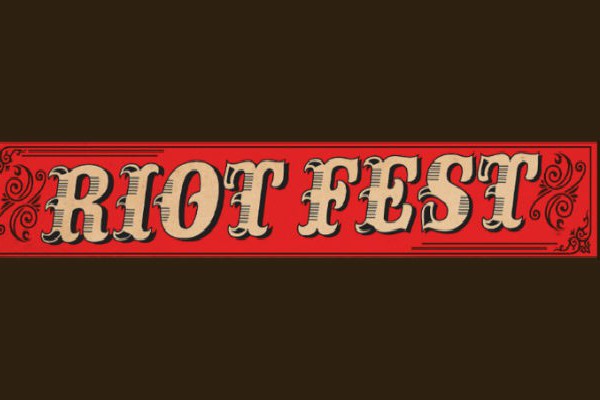 Aha! Riot Fest Chicago is upon us, and it is impossible to deny just how perfect this weekend should be. As a fourth-time fest-goer and local Chicagoan, I've found few weekends in this city that compare to this one. Not only do I get to see a plethora of my favorite bands, I get to hang out in the stellar September weather, have quality time with friends and get much needed exercise. And while there are very few drawbacks to Riot Fest, there is one glaring issue: How to successfully navigate the weekend. With such an incredible lineup of bands, it's easy to forget that there are smaller, up and coming bands playing the festival too, and a good deal of them are worth checking out.
I won't lie, I had never heard of some of these bands before see this years Riot Fest lineup. But, after detailed research I actually ended up finding some new favorites, and the hope is that after going through this you will too. There are a few lulls in the schedule each day, but a lot of the bands on this list fill those voids.
Friday:
Friday is interestingly enough one of my favorite days schedule wise. Riot Fest did a really nice job of letting the smaller acts get their time without having to compete for a crowd with the bigger bands. Though the draw to Riot Fest is the myriad of incredible headliners and sub-headliners, they did a nice job incorporating up-and-comers this year (unlike last year, which my friend called a "nostalgia fest"). While it may seem like NOFX, The Offspring, All, GWAR, Slayer and Rise Against are the only "redeeming bands," there are an insane amount of unknowns playing that will surely impress you.
3 p.m., Revolt Stage: Somos
These Bostonian pop-punkers released the solid debut LP, Temple of Plenty , this past March. Though freshmen in the scene, Somos has crafted the perfect equation to write catchy songs, incorporating hooks that swell up and explode. You only have to hear the first chorus to be able to sing along to the rest of the song. Even if you don't get the chance to listen to them before the set, you'll probably be enthused at how easily accessible their songs are. Their live sound stays true to the album, so if you like what you hear, you'll most likely enjoy watching them.
4 p.m., Revolt Stage: Plague Vendor
Of all the younger bands at Riot Fest, Plague Vendor is one of the few that you can call punk rock without someone scoffing at you or saying, "Um excuse me, it's actually pop punk, because (insert Pitchfork-like sarcastic response here)." There isn't much going on with their music, just standard linear songs with an overly enthusiastic vocalist employing his love for every '80s vocalist. You can jump to it, you can dance to it and you can convince yourself that just because you don't want to watch All, that you're still somewhat punk rock.
5 p.m., Revolt Stage: The Hotelier
Admittedly, The Hotelier is quiet melodramatic in their lyrics, but their music is straight-forward early 2000s emo/rock. Their most recent album, In The Scope of All This Rebuilding, received high praises from various music blogs. Their time slot is perfectly placed during a bit of a lull in the festival. Your other choices are Sense Fail, Emarosa and Failure… While Failure is a pretty sick band, if you're not really into that sound, your only other option is screamo, so why not check out a solid up and coming band?
5:30 p.m., Radical Stage: Wounds
Do you like Every Time I Die, but get distracted by all the riffage from the guitarists? Do you want to listen to straightforward and aggressive music? Do you need something to pump you up right before NOFX plays Punk In Drublic in full? Well then you should find yourself at Wounds' set. They're not pretentious, they're not experimental, and they're not trying to be anything but fast and utterly explosive music which blurs the lines between rock and roll and hardcore.
6:30 p.m., Radical Stage: Radkey
Without a doubt, Radkey has spent their teenage years listening to a ton of The Misfits. Radkey utilizes the charm of Danzig's horror movie-esque vocals, but distances themselves from being total clones of The Misfits by writing catchy, mature pop-punk songs that are entertaining and will get you moving.
7:30 p.m., Radical Stage: Red City Radio
Red City Radio is one of the best bands playing Friday. The melodic punk rock being spewed out of them is vigorous, and their throaty vocals over catchy music will incite a eruption of elation in you. Red City Radio's music is impossible not to bang your head to. The band is mixture of everything you've ever loved, and their set will be one that will stick in your head throughout the weekend. It isn't mandatory, but having a few beers in you before the set is probably a good idea. It'll be a party, and you might as well party hard.
8 p.m., Revolt Stage: Pity Sex
Pity Sex's shoe-gazey sound is charming and relieving, and after a full day of punk, heavy metal and beer, you'll most likely be looking for a bit of relief before you go watch Slayer play Reign In Blood. Pity Sex isn't too fast, isn't too distorted and isn't at all screamy, so they'll be a nice break from the standard sound of Riot Fest. There is also the added bonus of Pity Sex having an angelic voiced female singer, so you'll get a break from the excessive male vocals.
Saturday:
Saturday revolves around the main acts a lot more than showcasing any new bands, but there are a few bands sprinkled in whose set times don't conflict with much.
12:20 p.m., Roots Stage: Wavves
While not necessarily in a contemporary sub-genre of "punk," Wavves still pumps out fun, pre-'80s surf rock tunes, incorporating mammoth-fuzzed guitars, with an upbeat tempo and reverbed and doubled vocals (think Beach Boys meets Tokyo Police Club). The musical party they invite you to will surely start out your Saturday on a positive note and keep you smiling from the first note to the last, and besides, afterwards you'll most likely watch Anti-Flag preach anti-establishment views, so get those smiles in before you have to remember how backwards our country's political situation is.
1:45 p.m., Radical Stage: Ex-Friends
Tried and true fast, throaty three-chord punk rock. Ex-Friends have a good reputation for good reason, and it's always nice to see a band staying basic and keeping their integrity. With a back to the basics approach, Ex-Friend's set will most likely be worth a stop by to get in some nostalgia. Their set won't be too packed, so you can stretch your moshing muscles without too much effort.
3:45 p.m., Radical Stage: The American Scene
The sadness The American Scene bleeds out of their amps weighs a ton, but they've done a nice job countering it with thick guitars and mid-tempo choruses. Their last album, Safe For Now, was a perfect memento of heartbreak, so if you're lovelorn, you'll find a friend in their music. They also just released a new album, Haze, but I didn't know that until just now, so I won't attempt to comment on it.
Sunday:
Sunday is a funny day. I think there are actually the most bands playing that day, and they're all over the spectrum. It'll be a day of, "Wait, what year is it? Are you sure I'm at Riot Fest? Why am I watching Cheap Trick while I hear New Found Glory in the background?" The Menzingers kick Sunday off though, so who cares.
12 p.m., Revolt Stage: Chumped
Do you think female vocalists are cool, but hate that every band with one is trying to be like Paramore? Well, you're in luck, because Chumped sounds like any punk-esque band with a drunk dude singing about dude things, just with a girl taking over vocal duties and singing about girl things. They're sound is still in its infant stage, but they've got enough charm and are generic enough to keep you focused if you're not into The Menzingers (who parallel their set).
1:30 p.m., Radical Stage: Team Spirit
Fast indie rock that's a little cheeky, a little calculated, but incredibly entertaining. It's dancing music, not moshing music, and while they aren't the type of band Punknews would normally cover, at their core, they're a punk rock band due to being fast, straight forward, distorted and a touch manic.
2 p.m., Revolt Stage: PUP
It's futile to try and describe PUP's sound, not because it isn't possible, but because they're just too good to confine to a simple genre write-off. PUP are their own little thing, and don't have a standard adjective that would do them justice. They are a must see for the weekend, and their time slot is perfectly placed where you won't miss anything too notable. During that time slot, your choices are Billy Bragg, The Hold Steady and Silverstein.
7:30 p.m., Radical Stage: Archie Powell and The Exports
Archie Powell and The Exports is the type of band whose music is better live than recorded. I've seen them twice, and their energy and aggression is much more pronounced than on their record. The retro '50s rock blended with a quick pace is much heavier live, and Archie himself is much more of a yeller than singer on stage.