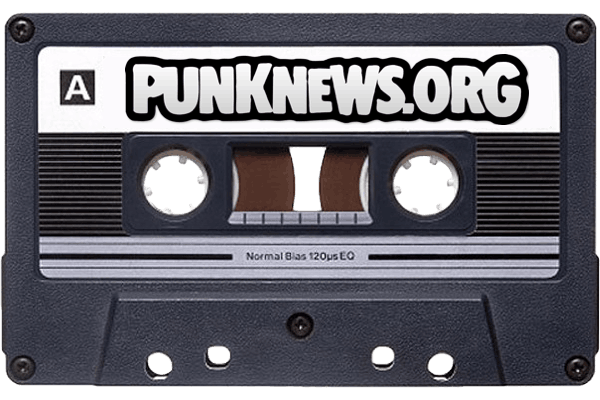 UPDATE: You can BUY IT RIGHT HERE!
Punknews is absolutely psyched to announce the release of the My Org mixtape. Seriously, we are stoked.
The tape includes 42 bands, runs for two hours, and is intended as way to give people an idea of the Org's favorite bands and range of sounds! We tried to get a mix of the legends and cool newbies on this bad boy.
Some of the artists appearing include Swingin' Utters, Masked Intruder, World/Inferno Friendship Society, The Dwarves, Pears, Jello Biafra, Ghoul, The Muffs, Integrity, The Dead Milkmen, Crazy and the Brains, Andrew W.K., Hard Girls, Night Birds, KRS-One, Lee "Scratch" Perry, and many, many, many more!
On top of that, the tape features a bunch of rare and exclusive recordings: Mischief Brew covers Flux of Pink Indians! Classics of Love has the rare, non-album single "Pick Your Classics!" The Shaggs turn in a live track! Gnarboots kick out an '80s party anthem! Joel Tannenbaum of Plow United debuts a new project! Even more, it has shoutouts and other drops from a lot of Punknews' favorite bands. Plus, the whole thing is hosted by punk rock's two hottest turntablists, DJ Johnny G and Dynamite Adam White!
Because, if anything, Punknews is ridiculous, this will be strictly released as a cassette tape -- no downloads, no vinyl, no CDs, no digital. That's how we roll, baby! (If you want, you can get a Walkman for a measly ten smackeroonies.)
We'll be putting up the pre-sale next Wednesday, February 25, at 7 p.m. We hope to ship the tape out to you all on April 21, 2015. In the meantime, you can view the cover art and track listing by clicking "read more." Oh boy!
'My Org' Mixtape Comp Tracklisting
Side A:
Blag the Ripper speaks (Intro)
Punknews Comes to Do Battle (Intro)
The Dwarves- "Gentleman Blag"
Crazy and the Brains - "Ice Cream"
Bruce Lee Band with Jesse Michaels - "Generations"
World/Inferno Friendship Society - "Don't Get Me Started, Don't Get Me Wrong"
The Muffs - "Take A Take A Take Me"
Kicker - "Crusty Island"
Pears - "Sycophant"
Ghosts in the Graveyard featuring Joel Tannenbaum of Plow United - "White Love" (Rare, first physical release)
Bad Canoes - "Darcy's Boots"
Jello Biafra and the Guantanamo School of Medicine- "Mid East Peace Process"
The Shaggs - "Radio Jingle" (Mixtape Exclusive)
Swingin' Utters - "I'm Not Coming Home"
Pushin' It 2 the Limit - "Pushin' It 2 the Limit Saves the Fish"
Night Birds - "New Cults"
Integrity - "Systems Overload (A2/Orr Mix)"
Amebix - "Largactyl (2013 Remaster)"
Kepi Ghoulie - "Hey Kepi, Let's Go!"
The Dirty Nil - "Nicotine"
Gnarboots - "Give It Up" (Mixtape Exclusive)
Morning Glory - "O' Where in the World is Alice Baldwin?" (Rare)
Ghoul - "Spill Your Guts"
Vermapayre - "Dungeon of Eternal Night" (Rare)
Side B:
Eat a Sandwich featuring Gnarboots (Intro)
Get Up! (I Feel Like a) Punk Machine (Intro)
Mischief Brew - "Progress" (Flux of Pink Indians cover, Mixtape exclusive)
Rats in the Wall featuring Brad Logan of F-Minus/Leftover Crack - "Your World"
Downtown Boys - "Slumlord Sal (CD version)" (Rare)
Masked Intruder - "Crime Spree"
ACXDC - "Filicide"
Boboso with Morgan Herrell of Hard Girls - "Grown Ass Man" (First physical release)
Franz Nicolay - "To Us, the Beautiful"
Pup - "Back Against the Wall"
The Dead Milkmen - "Now I Wanna Hold Your Dog"
Hard Girls - "Sign of the Dune"
Classics of Love - "Pick Your Classics" (Rare, first physical release)
The Meatmen - "Men o' Meat!"
Yacht Club featuring Ben Cook of Fucked Up/No Warning - "Cold Wind from Fools"
The Disconnects - "California Screamin'
Arnocorps - "Pumping Iron"
KRS-One - "I Do this For You"
Sam Coffey and the Iron Lungs - "Calgary Hill"
Andrew W.K. - "Can You Dance with Me?" (Rare)
The Podcast Jerks - "Masturbation" (Mixtape exclusive)
Thanks and Salutations (Interlude)
Lee "Scratch" Perry - "Rastafari on Wall Street"