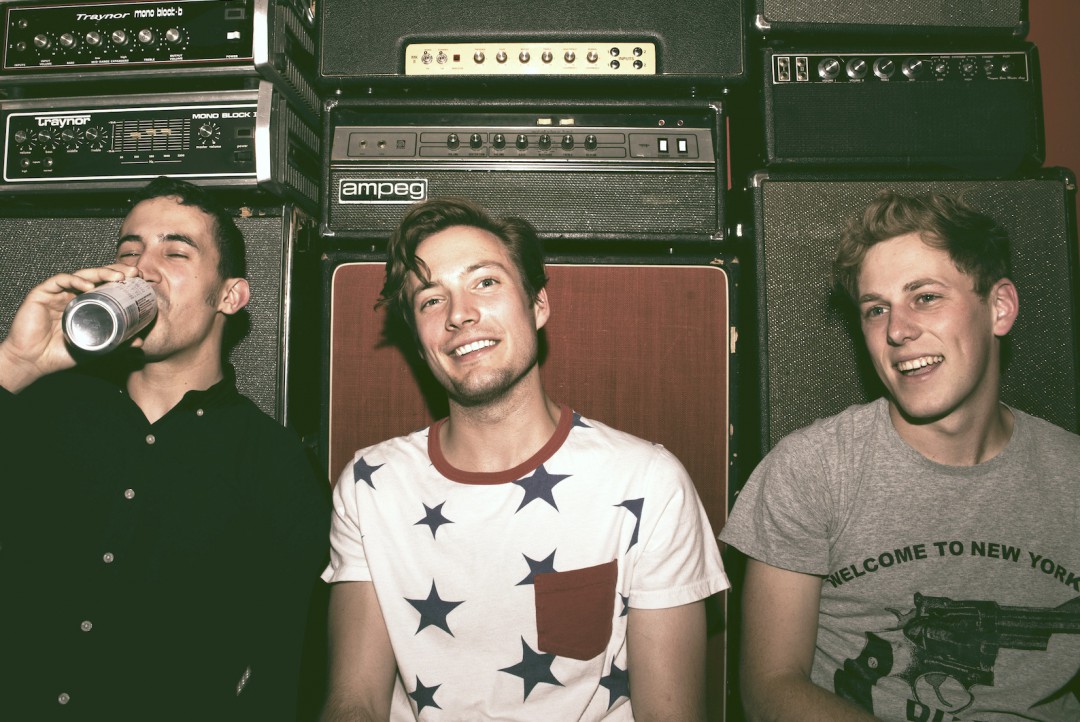 Dundas, Ontario three piece The Dirty Nil have previewed the new song "No Weaknesses" at Exclaim. The track is the A side of the band's new 7" for new label Dine Alone Records and is due in stores on November 6. Head over to Exclaim to check it out. The B side of the release will be a cover of Fugazi's "Provisional."
The band's debut full length is expected on Dine Alone in 2016. The as-yet-untitled album will be mixed by John Goodmanson (Sleater-Kinney, Death Cab for Cutie, Bikini Kill), but that's all we know.
The Dirty Nil are touring right now with Meat Wave and will play at both Fest in Gainesville and at Riot Fest in Toronto.
| Date | City | Venue | Support |
| --- | --- | --- | --- |
| September 19, 2015 | Toronto, ON | Riot Fest | Â  |
| October 13, 2015 | Detroit, MI | Majestic Café | with Meat Wave   |
| October 14, 2015 | Buffalo, NY | The Waiting Room | with Meat Wave   |
| October 18, 2015 | Boston, MA | Great Scott | with Meat Wave   |
| October 20, 2015 | Philadelphia, PA | Everybody Hits | with Meat Wave   |
| October 21, 2015 | New Haven, CT | BAR | with Meat Wave   |
| October 22, 2015 | Baltimore, MD | Metro Gallery | with Meat Wave   |
| October 23, 2015 | Pittsburgh, PA | Cattivo | with Meat Wave   |
| October 24, 2015 | Columbus, OH | Double Happiness | with Meat Wave   |
| October 25, 2015 | Cincinnati, OH | MOTR | with Meat Wave   |
| October 27, 2015 | Nashville, TN | Stone Fox | with Meat Wave   |
| October 28, 2015 | Atlanta, GA | 529 | with Meat Wave   |
| October 31, 2015 | Gainesville, FL | The Fest | Â  |
| November 3, 2015 | Jacksonville, FL | The Birdhouse | Â  |
| November 4, 2015 | Charleston, SC | The Royal American | Â  |
| November 5, 2015 | Carrboro, NC | Cat's Cradle | Â  |
| November 6, 2015 | Washington, DC | DC9 | Â  |
| November 7, 2015 | Brooklyn, NY | Shea Stadium | Â  |
| November 8, 2015 | Long Branch, NJ | Brighton Bar | Â  |
| November 10, 2015 | Lakewood, OH | Mahall's 20 Lanes | Â  |
| November 11, 2015 | Bloomington, IN | The Bishop | Â  |
| November 12, 2015 | Chicago, IL | Cobra Lounge | Â  |