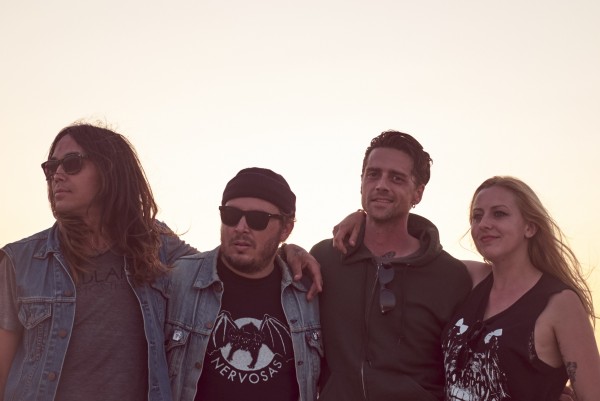 It has been about a year since Punknews Editor Ricky Frankel spoke with Jack Dalrymple. And in such a short amount of time Jack has managed to get so much done. toyGuitar's full-length In This Mess made it on to several Punknews Top 20 lists last year. But more recently toyGuitar released their follow-up EP titled Move Like A Ghost on September 2, 2016 via Fat Wreck Chords — not to mention the band has been doing a solid amount of touring lately as well.
However, just about an hour before this interview took place, Dead To Me announced that they will be releasing the I Wanna Die In Los Angeles 7-inch on October 21, 2016 also through Fat Wreck Chords. So Ricky quickly and jovially scrambled and asked Jack not only about the new toyGuitar release, but also about the new Dead To Me EP, what is going on with the band's upcoming album American Son Of Cholo, playing Fest 15, what he and the other bands that he is a part of have been up to since the last time he and Jack talked and more.
Photo Credit: Joe Leonard , Fat Wreck Chords
I remember when toyGuitar announced that they were going into the studio, you guys finished this EP pretty fast. Were these songs leftover from when you were writing In This Mess? Or were they written later after that was released?
I was talking to Miles [Peck] about this the other day so — I think there was something laying around but the majority were written in (when i looked back at some of the email's sent back and forth) February. So a lot of them were written afterwards, but definitely a lot in February and there are still some that we have that I felt like they could have been on it. We didn't have enough for a full-length but we had enough for EP. I mean we have another four songs I think—no I'd say three rad songs. "Four songs" is bullshit.
Move Like A Ghost — what is the significance of that title (and line in the song)?
Well the song "Move Like A Ghost" —I don't want to get all heavy and shit man, but I get in these weird and funny head spots where like I just don't want to talk to anybody. I just got a little depressed sometimes. So "Move Like A Ghost" sums up what I was trying to say with that. I think we all kind of like that as a name for the EP. It just kind of had a nice vibe to it when we picked up from the song. Other than that it was just basically about (to quote Ian Anderson) "depression and dark circles" -- self-loathing, too.
As a guitar player myself, I found that riff in that song that builds up in the title track absolutely brilliant. I did not expect it to go in that direction at all. What was the process for writing that specific part?
Miles wrote the music for that song. I had that lead-y solo [written], but we could never make it fucking work in a song. It always sounded just lame. So I just shit-canned it. I was like, "Fuck it. It isn't going to work." And then he comes back I don't know how many months later, but he was like, "Hey, check it out! I made it work!" And he fit into the rest of "Ghost" so fucking well. I really love how are you did it, man. The dude is an awesome guitar player. His songwriting I feel has gotten super strong. So all I had to really do was sit there and try to come up with the melody to it. But that guitar stuff is [all] him. He's got good guitar work that guy.
In the song "Peach Fuzz" there is a sample of a man with an announcer-type voice speaking. Why did you decide to put that in there. Where is it from?
It is a public service announcement that Paul found from like the -- I don't know if it was like the 60's, maybe 70's. I think it was like a "know your reifer" or [some kind of] drug PSA. The way that it tales off, like couple of the words at the end fit so well into the lyrical content of the song, which was [about] doing your own thing, exploring your own path in life. I don't know if the whole public service announcement was about not doing drugs, but I don't care about that part, but the tale end was really awesome.
I saw your band photo with Alexander Alcantra-Kouninos of Decent Criminal. Is he toyGuitar's new bassist?
He is in toyGuitar now. So Paul had some stuff. He has gone on to do "Paul stuff." I don't know how to answer that one, man. Well, had you known about Decent Criminal before? Had did you find him?
So Alex and I had a friend in common, this guy Kyle who played it in Dead To Me for a hot second. He did the first Dead To Me tour and him and Kyle and Luke, who is in the Swingin' Utters — there's all these Santa Rosa-heads I kind of grew up together and knew each other. I think Ian [Anderson] knew Alex, too. He was in the circle. I knew who he was and we actually played one of our first shows with Alex and Kyle — it was like house party show, whatever. But I knew he was in a band called Dialectics and we saw them play and then I saw Alex started playing with Decent Criminal, but dude it was almost a no-brainer. I saw him at VLHS and then when stuff happened with Paul I didn't think of anybody else, like I literally just texted him right away and he has been so, so fucking awesome, man. The dude shreds on bass. He's really, really good.
So let's move on to Dead To Me since that announcement happened today. I know you guys were in the studio and you are coming out with the I Wanna Die In Los Angeles 7-inch. How did that go? Did you just record the EP or is all of American Son Of Cholo done ?
So we just picked some songs — I'm not even joking, man — Chicken sent me over what could be a double record. There are so, so, so many songs. There is another song that is not on this 7-inch coming out that I am in love with and I know you'll love it, too. We only recorded three songs, but there are so many songs, man. We did up here in Oakland at Jingletown. We had to finish them up in LA and I'm stoked. They're really, really good, man. He has turned into a — I know that [Chicken] is going to say that he can't sing because I know he always says that, but I love the way he sang, like he sang really, really great on this record.
So just to be clear, the 7-inch is coming out, but what about the album? Those songs are all not recorded, no. Just the three that are on this EP are the only ones that we recorded, but I have demo versions that he sent me is what I'm saying. I have songs, but they are just not recorded in a "nice" place.
Can we expect American Son Of Cholo to be out in like 2017 then?
I would be the wrong guy to ask. If I said something it would be fucking wrong. I feel like that's how it all works, man. The dude that knows is not on the phone with us. I think so? I'll just say I think so, man. We should both corner him and ask him because I don't know either.
Since there are plans to do a new full-length some time in the future, do you guys plan on going back and doing a studio recording version of "Desperate Men?"
Oh my god! I love that song. I don't know. Should we do a studio version of "Desperate Men?" I don't know. Wait, didn't we do one? Isn't it on a comp?
It is a live version from a Fat Wreck Chords comp called Hanuk–Comp: From the Dreidel to the Grave (you can find it here).
You're right. It is a live version, man. It was recorded at Bottom of the Hill if I remember right. I don't know, but we should play that song next time.I used to love playing that song. I forgot about that song. Look at you calling [back] "Desperate Men." (laughs) That's awesome!
When I saw Dead To Me play live in June I noticed that you guys were not a five-piece like you were at the Fat 25 Years Festival in San Francisco. Is Sam Johnson still in the band?
I don't know what is going on with Sam. So there is a history there was Sam and Chicken and Ian and Ken — like when I wasn't around, so I don't really know. There is a dynamic there that they would be able to comment on better. I feel like he is still, but isn't kind of. I only got to play how many shows with that dude? I think two shows. We played one San Diego show at Awesome Fest and then the Fat 25 festival. But I like playing with him. He is a great fucking guitar player and the dude is a great singer. I enjoyed playing with him. I hope that is not over. I just don't know, man. There is a decision regarding him that is not my deal. I don't want to say anything and then it turns out to be not true. You know what I'm trying to say?
*NOTE: According to the Fat Wreck Chords website, it does not list Sam Johnson as part of Dead To Me. See the band's profile here. I noticed at that Los Angeles show that you played songs only from Cuban Ballerina, Little Brother EP, and a couple of new ones, but nothing from the later albums (which I do realize you were not on) even though you played "Undertow" off of Moscow Penny Ante at your performance Fat 25 Years Festival. Do you guys plan on keeping those later songs on the setlist for future shows?
Totally! I love those songs that I am not on. I think there are some really, really rad songs like "No Lullabies." It was weird timing because I had like zero time to learn them. All of those old songs are like muscle memory for me and a lot of Dead To Me songs are in B minor. A lot of those I felt like I could fall back into, but the new ones I had to learn them and I am slowly learning them. But like with Chicken in LA and like we're all kind of spread out and everyone is in a hundred different bands. I think learning those songs has been slow, but it is a plan. I want to play those songs and I think they want to play those songs. I think as we get a little more time we will play those other ones, too. I know that Swinging' Utters reissued some albums on vinyl for the first time recently. Other than some fairly recent tour dates that happened, what does that band have planned?
Nothing so much. There are a couple shows here and there. We are sending music back-and-forth. I know that we want to write a new record. I sent Johnny a song the other day. That is pretty much it. Utters are writing right now. They are all super, super rad dudes and they are all dads so it is cool to be a dad in that band while it is not cool to be a dad in any other band. Not that they are a "dad band" or anything. It is just that they are brothers that I can talk to about life shit that is not music. It's pretty cool. I did notice a post on Facebook that The Re-Volts are possibly in the studio. Can you confirm that?
I can't confirm that, man. I had to stop playing with that band. I have too much shit going on. In the past it has been cool and I was able to do more. It has been so busy these days trying to get the Dead To Me stuff going in the toyGuitar stuff — I'm in love with toyGuitar, I'm in love with the Utters. Dude, my wife may kill me if I try to be in for bands. I can't do that much time, but I did see something about them being in the studio, too. I talked to Spike a while ago and I had the unpleasant conversation about not being able to do much more with them. I think I saw studio shot, too. Whatever. I'm not playing with The Revolts sadly. I love that band. We just never got around to touring. I love that EP a lot.
toyGuitar has some shows with CJ Ramone coming up in October (see tour dates below). How does it feel to know you will be sharing a stage with a Ramone?
It is pretty awesome, man. It is super, super cool. We were stoked. They reached out and asked for us. I think everyone is going to want to play Ramones songs, right? I would love to see him play Ramones songs. I was talking about like if bands that go on tour with him probably cover Ramones songs hoping he would maybe do some with them. I don't know. We got to learn some Ramones songs then. After those shows toyGuitar and Dead To Me will be playing Fest 15. Did Dead To Me ever play Fest when you were in the band?
Yeah we did. I forget what year was though. It was like really early on. Was it 2007 or 2008? It was a while ago. We played and The Gaslight Anthem played. We were on a little tour together and we both played Fest. That is the only one I can remember.
Are you looking forward to pulling "double duty" at Fest? Do you see that as double the fun?
Double the fun, dude! I love toyGuitar peeps and I love toyGuitar peeps. My voice isn't going to love it probably. But are you kidding, man? I did double duty with toyGuitar and Swingin' Utters before. I will do triple duty. I would do Utters, Dead To Me and toyGuitar if I could. But dude I am so stoked. It's like music man. It is always just a party. It is super fun. It's not like "work" or anything. That's what I do during the day and that's not fun.
toyGuitar Tour Dates:

| Date | City | Venue |
| --- | --- | --- |
| 10/14/16 | Portland, OR | Dante's w/ CJ Ramone |
| 10/15/16 | Vancouver, BC | Rickshaw Theatre w/ CJ Ramone |
| 10/16/16 | Seattle, WA | Funhouse w/ CJ Ramone |
| 10/18/16 | Sacramento, CA | The Blue Lamp w/ CJ Ramone |
| 10/19/16 | San Francisco, CA | DNA Lounge w/ CJ Ramone |
| 10/27/16 | Tampa, FL | Tequila's (Inside) Pre Fest 4 |
| 10/28/16 | Gainesville, FL | Cowboy's The Fest 15 |