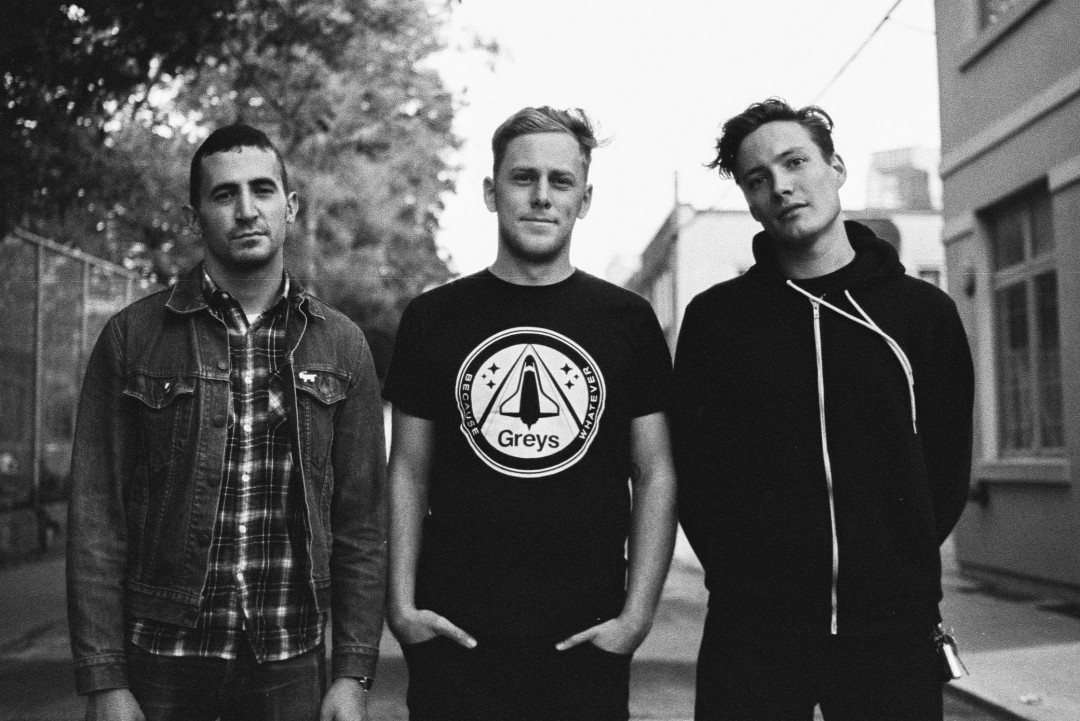 Fresh off their Juno award nomination, Dundas Ontario's The Dirty Nil are set to collect a set of early singles and EP material on a new LP. Titled Minimum R&B, the 11 song set will collect material from the 2014's Smite 10", the Cinnamon single, 2012's Little Metal Baby Fist, 2011's breakout Fuckin' Up Young and a few other places. Fat Wreck Chords will handle the US release while Dine Alone Records will service the rest of the world. Look for Minimum R&B on April 28.
Fuckin' Up Young
Verona Lung
Little Metal Baby Fist
Hate Is A Stone
Cinnamon
Guided By Vices
Nicotine
Beat
New Flesh
Pale Blue
Caroline
The Dirty Nil released their first proper LP Higher Power in 2016. They're touring Canada this month with Billy Talent and Monster Truck and later heading overseas with The Flatliners and The Menzingers.
| Date | City | Venue | Support |
| --- | --- | --- | --- |
| 02/16/17 | Abbotsford, BC Canada | Abbotsford Centre | Billy Talent, Monster Truck   |
| 02/18/17 | Calgary, AB Canada | Grey Eagle | Billy Talent, Monster Truck   |
| 02/21/17 | Edmonton, AB Canada | Shaw Conference Centre | Billy Talent, Monster Truck   |
| 02/22/17 | Regina, SK Canada | Brandt Centre | Billy Talent, Monster Truck   |
| 02/23/17 | Winnipeg, MB Canada | MTS Centre | Billy Talent, Monster Truck   |
| 02/26/17 | London, ON Canada | Budweiser Gardens | Billy Talent, Monster Truck   |
| 02/27/17 | Toronto, ON Canada | Air Canada Centre | Billy Talent, Monster Truck   |
| 03/01/17 | Montreal, QC Canada | Bell Centre | Billy Talent, Monster Truck   |
| 03/02/17 | Quebec City, QC Canada | Centre Videotron | Billy Talent, Monster Truck   |
| 03/03/17 | Ottawa, ON Canada | Arena at TD Place | Billy Talent, Monster Truck   |
| 03/05/17 | Moncton, NB Canada | Casino NB | Billy Talent, Monster Truck   |
| 03/06/17 | Halifax, NS Canada | Scotiabank Centre | Billy Talent, Monster Truck   |
| 04/18/17 | Southampton, UK | Talking Heads | The Flatliners, The Menzingers   |
| 04/19/17 | London, UK | Koko | The Flatliners, The Menzingers   |
| 04/20/17 | Manchester, UK | Academy 2 | The Flatliners, The Menzingers   |
| 04/21/17 | Bristol, UK | Bierkeller | The Flatliners, The Menzingers   |
| 04/21/17 | Glasgow, UK | Oran Mor | The Flatliners, The Menzingers   |
| 04/23/17 | Derby, UK | The Venue | The Flatliners, The Menzingers   |
| 04/24/17 | Norwich, UK | Epic Studios | The Flatliners, The Menzingers   |
| 04/26/17 | Cologne, Germany | Underground | The Flatliners, The Menzingers   |
| 04/27/17 | Berlin, Germany | Musik & Frieden | The Flatliners, The Menzingers   |
| 04/28/17 | Munster, Germany | Skaters Palace | The Flatliners, The Menzingers (Uncle M Fest 2017 )  |