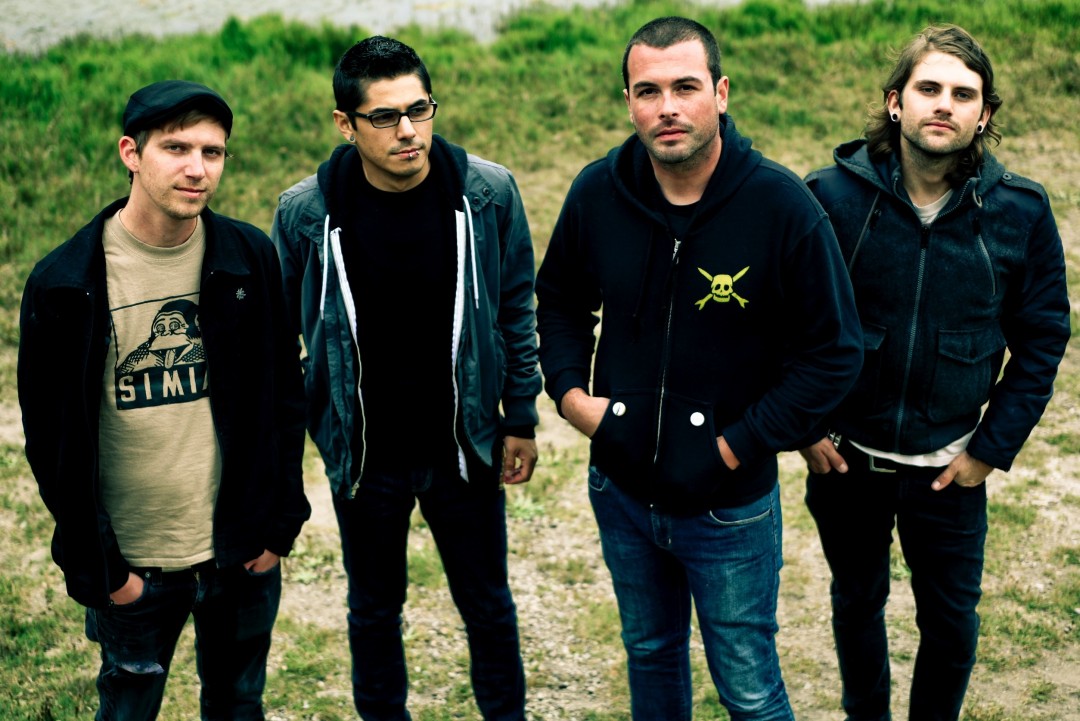 After 5 long years San Francisco's Nothington has returned with a new album. The album is called In The End and was released on Red Scare in February. Along with the new album, the guys will be touring the east coast this week, guitarist/vocalist Chris Matulich and spoke with Editor Samantha Barrett about touring and the new album and turning 10.
You guys seem to have been in hibernation for a little bit. What made you decide to go return with In The End after a 5-year hibernation?
We started working on In The End a few years ago. We didn't intend for it to be 5 years. We did intend to take a little break after the last tour cycle with Borrowed Time, we were spending so much time touring and on the road between the US and Europe. It was really eating up a lot of our time at home. I personally needed some time to catch up my home life and get things in order here. We took some time off and we spent a couple of years writing, tweaking and producing that record, it turned out to be 5 years. Time flies.
Yes, time does fly when you have adult things to do. (Laughs)
Yes, that is the best way to put it.
You have recorded your other records at Popsmear Studios. This album you guys decided to go to Motor Studios to record. Has this decision shifted the direction you guys went with this album?
It did shift things quite a bit actually. We always liked working with Scott Llamas at Popsmear Studios. He is a friend and has put a lot of effort into making our records be as good as they could be. We went to Motor because Toby from Red Scare suggested he could get a good deal there. There has been many classics, many records recorded there. Kind of a famous studio. Steve Rizun offered to come down from Canada to record us, he also wanted to record there so that worked out. Working with Steve, who is a very smart and hands-on producer, definitely shaped the sound of the record quite a bit.
In The End has been out for a little while now. How has the response been?
The response so far has been really good. I mean, obviously, people at shows are not going to come up and tell you they don't like your new record but… a lot of people have told us individual songs they really liked and the reviews seemed to be good. I think it's been a successful release so far.
Tell me about the song "Things We Used to Say"?
The song "Things We Used To Say", I wrote that song about trying to rekindle an old failed relationship and realizing it is not going to work. Just the feeling of getting lost in thinking this was going to work and that it was just as hard as it was back then. People do change and sometimes those things do work out later. Sometimes they don't (laugh), that is just kind of what I was just going through that at the time that I wrote that song.
This is not the first time there is a dying bird on the cover. Was this a metaphor for the lyrical content of the album?
Well, that is funny that you asked that because we have always had a bird theme. First, there was a 7-inch with a bird on it. There was our second record our merchandise have had dying/ fallen birds. Our banner currently has one. (laughs) Yeah, it is definitely a theme that run through things. I think there is a lot of things that people can make their own interpretations on that um.
Tyler Gibson created the album art. Tyler also did the art in 2014, we released a collection of B-sides and 7-inches called Lost Along The Way, Tyler did that one too. I always forget about that record.Tyler basically asked to hear the record when he was creating the album cover. He came up with that and I immediately thought it did embody the record a lot, it's just black and white with just a little bit of color. It's kind of beautiful and sad looking at the same time. If that makes sense?
That makes perfect sense…
Yeah I think he did a great job and I have been getting more and more compliments on this cover over any of our other album covers.
All In turns 10 this year. That's a decade! Doing anything special to celebrate that Achievement?
Well, we actually did, we were not sure if our album was going to be out in February. You have to book tours, Europe specifically, really far in advance. So when we decided to book our Europe tour, we decided to make that our 10 year anniversary tour, All In came out in February 2007. We decided we were going to do this tour to celebrate our 10 year anniversary as a band. Other than that not really. We made a couple merchandise type of things that had "Established 2007" on it to draw a little attention to that.
When you guys were in Europe, for Grozrock, you guys played with Joe McMahon from Smoke or Fire. How is it playing with him?
It has been great! He did the tour in February as well. Joe is going to be doing all of our tours for the remainder of the year. It is awesome! He is an amazing musician, songwriter and just an overall positive force to have in the band, as a person as well. We're hoping we can do as much as possible with him in the future. The only problem is that he lives in Germany so… it's a little harder with distance. We are going to have him come out for this east coast tour.
Speaking of east coast tour. Tell me about this tour?
For the east coast, we are coming out in June. 9 shows across the east coast into the mid-west and it runs from June 22nd to July 1nd. Make War and Joe McMahon is going to be opening for all of the dates as well.
Tour dates
| Date | Location | Venue |
| --- | --- | --- |
| 6/22 | Allston, MA | Great Scott |
| 6/23 | Long Branch, NJ | Brighton Bar |
| 6/24 | NYC, NY | Brooklyn Night Bazaar |
| 6/25 | Philadelphia, PA | Milkboy |
| 6/27 | Cleveland, OH | Now That's Class |
| 6/28 | Cincy, OH | Northside Yacht Club |
| 6/29 | Detroit, MI | Small's |
| 6/30 | Grand Rapids, MI | Corner Record Shop |
| 7/1 | Chicago, IL | Subterranean |