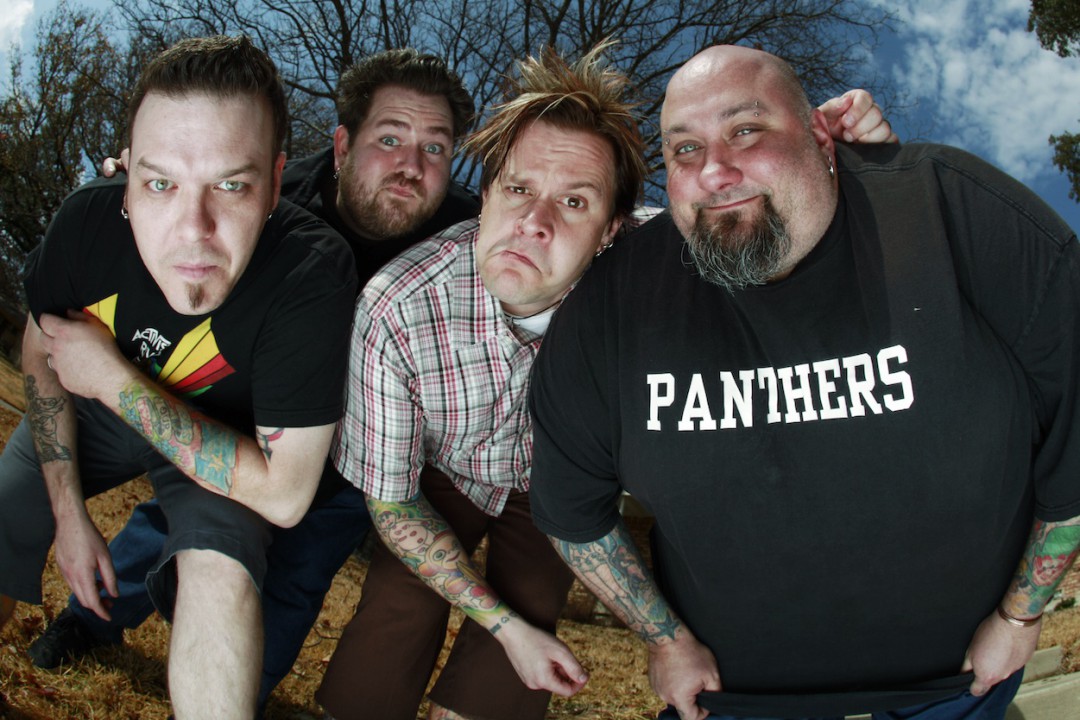 Bowling for Soup have released a video for their cover of The Suicide Machines song "Sometimes I Don't Mind."
BfS will be heading out on a huge tour with Reel Big Fish this coming June, with Nerfherder and MEST joining in at the front and back ends of the tour, respectively. BfS' most recent album, Drunk Dynasty, was released in 2016 on Brando Records/
You can check out their new video, and those tour dates, below.
| Date | Location | Venue | Details |
| --- | --- | --- | --- |
| 19-Jun | Ft. Lauderdale, FL | Revolution | Reel Big Fish/Bowling For Soup/Nerf Herder |
| 20-Jun | St. Petersburg, FL | Jannus Live | Reel Big Fish/Bowling For Soup/Nerf Herder |
| 21-Jun | Orlando, FL | House of Blues | Reel Big Fish/Bowling For Soup/Nerf Herder |
| 22-Jun | St. Augustine, FL | St. Augustine Backyard Stage | Reel Big Fish/Bowling For Soup/Nerf Herder |
| 23-Jun | Atlanta, GA | Buckhead Theatre | Reel Big Fish/Bowling For Soup/Nerf Herder |
| 25-Jun | Silver Spring, MD | The Fillmore | Reel Big Fish/Bowling For Soup/Nerf Herder |
| 27-Jun | Poughkeepsie, NY | The Chance Theater | Reel Big Fish/Bowling For Soup/Nerf Herder |
| 28-Jun | Worcester, MA | The Palladium | Reel Big Fish/Bowling For Soup/Nerf Herder |
| 29-Jun | Portland, ME | Aura | Reel Big Fish/Bowling For Soup/Nerf Herder |
| 21-Jul | Seattle, WA | The Showbox Reel | Reel Big Fish/Bowling For Soup/MEST |
| 22-Jul | Portland, OR | Crystal Ballroom | Reel Big Fish/Bowling For Soup/MEST |
| 24-Jul | Crystal Bay, NV | Crystal Bay Casino - Crown Room | Reel Big Fish/Bowling For Soup/MEST |
| 25-Jul | Berkeley, CA | The UC Theatre | Reel Big Fish/Bowling For Soup/MEST |
| 26-Jul | San Diego, CA | House of Blues | Reel Big Fish/Bowling For Soup/MEST |
| 27-Jul | Las Vegas, NV | Brooklyn Bowl (Craft Beer Event) | Reel Big Fish/Bowling For Soup/MEST |
| 30-Jul | Phoenix, AZ | The Marquee | Reel Big Fish/Bowling For Soup/MEST |
| 1-Aug | Salt Lake City, UT | The Depot | Reel Big Fish/Bowling For Soup/MEST |
| 2-Aug | Ft. Collins, CO | Mishawaka | Reel Big Fish/Bowling For Soup/MEST |
| 3-Aug | Denver, CO | Ogden Theatre | Reel Big Fish/Bowling For Soup/MEST |