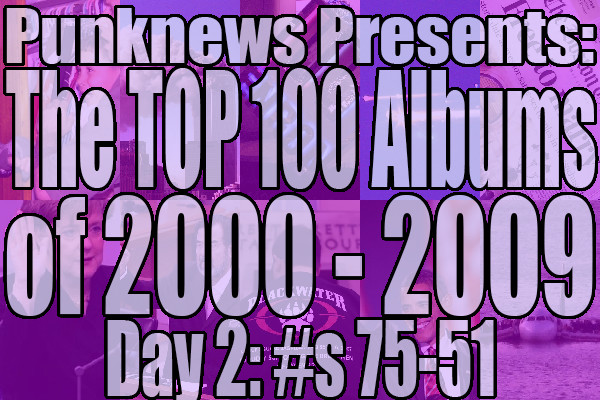 It is Day 2 of the Punknews Top 100 Albums of 2000-2009, and we're going to close out the back half of the top 100. Let's see what we've got!
73 (tie). Bright Eyes - I'm Wide Awake, It's Morning (2005)
Though far from the most ambitious work to come from the high-profile indie-folk outfit, I'm Wide Awake, It's Morning contains quite a bit of songwriter Connor Oberst's strongest work. Though "Lua" and "First Day of My Life" endear as the band's biggest singles (for good reason), every piece of the record's incredibly tight, ten song tracklist feels equally essential. I'm Wide Awake, It's Morning is a choice entry point to anyone unacquainted with the Bright Eyes catalog for its accessible presentation of the band's wistful melodies and colorful lyrical imagery. –Sean Crawford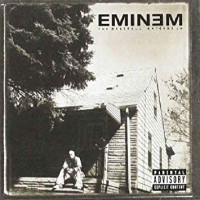 73 (tie). Eminem - The Marshall Mathers LP (2000)
It's difficult to imagine another album ever being as ubiquitous as The Marshall Mathers LP was in 2000. Everyone either owned a copy or actively protested against it. There's some immature shock value and a bit of filler sprinkled throughout (All of the skits should be erased forever) but at its best, it's still a remarkably engaging, fascinating listen. His lyricism is unmatched. This album represents Eminem absolutely firing on all cylinders. He never topped it. -Tori Pederson
73 (tie). The Falcon - Unicornography (2006)
Brendan Kelly has never pushed his voice to further extremes than he has on this album. Unicornography is a short-and-sweet, sometimes ska-inflected punk rock album built for singalongs. The acoustic flourishes and occasionally surfacing background vocals from Dan Andriano helped make Unicornography more than just "The Lawrence Arms, without Chris." This is a weird, rad, truly unique record. -Tori Pederson
72. Propagandhi – Supporting Caste (2009)
Propagandhi have always taken their time to release records and while they are one of the bands that helped define the Fat Wreck sound in the 1990s, they stood out for their impassioned politics and their rather dramatic musical progression over the years. Moving on from the poppier punk of their early releases, Supporting Caste finds Propagandhi confidently and effortlessly splicing together hearty doses of thrash and heavy metal with their anarchopunk leanings for what one could argue is the true shape of punk to come: a monumental, sound-melding musical diatribe against all the bullshit of this world. -Ioannis Pelegrinis / Fox82
70 (tie). Dead to Me - Cuban Ballerina (2007)
I still remember haphazardly coming across news on MySpace about a new band featuring members of One Man Army and Western Addiction. I had recently acquired a taste for the acerbic hardcore of Western Addiction's Cognicide, and One Man Army had been a favorite of mine all the way back to the first time I heard "S.O.S." (okay, about two years prior). That band turned out to be Dead to Me. The mere concept of fusing the brute force of Western Addiction with the '77 street-style inclinations of OMA was intriguing enough; the apparent ease with which they accomplished it, an arresting display of their adept abilities in the art of crafting punk rock music. Cuban Ballerina is littered with wrenching stories of abandonment and isolation, wartime society, and personal tales of bassist Tyson Annicharico's treatment for drug addiction like the emotive hardcore hammering of "Visiting Day," which recounts in vivid first person: Three weeks passed, then you came back/You picked me up and drove me home/To the city over that bridge/Then you put your hand on the back of my neck, You said, "I'm proud. Proud of you"/And nothing was ever the same again. The last line is included in the lyrics booklet but not audibly articulated in the song, suggesting it's implied. I would explicitly assert the same about Cuban Ballerina. -Tyler Barrett
70 (tie). Smoking Popes - Stay Down (2008)
The first album since the band's 2005 reunion, Stay Down was the Chicago native's fifth album overall. Following in the footsteps of their punk crooning formula, this album does not disappoint those looking for the archetypical Smoking Popes album. It was released in August 2008 by Curb Appeal Records. Although the album has fewer huge stand outs than previous albums did, the album as a whole and the overall demeanor of the band is what draws people into the experience. -Steve Long
69. Anti-Flag – The Terror State (2003)
Pittsburg's Anti-Flag is one of the finer examples of a band with an accessible sound that can help the uninitiated get accustomed to the more esoteric aspects of punk rock. Not everyone can appreciate Crass or the Dead Kennedys at first, but this is not to say that Anti-Flag are yet another "gateway" band. Compared to previous efforts which were noted for a simplistic lyrical and musical approach, on The Terror State Anti-Flag are both inspired and angered by the war on terror, in a more thoughtful and informed way than before to disseminate their anti-militarist ideals. -Ioannis Pelegrinis / Fox82
Let's be real, Streetlight Manifesto is an institution, not just a band. While I'll admit I don't listen to ska as much as I used to as a teen, if it's Streetlight I'm fucking in. Saw them in LA a couple years ago and it was such an experience, especially as they jammed a lot off Somewhere In The Between. It'd always be hard to top Everything Goes Numb, but from the moment I heard "We Will Fall Together" I knew this album would do just that. Energetic, vibrant and shoutalong magic, right here. -Renaldo Matedeen
67. Fall Out Boy – From Under the Cork Tree (2005)
Back before they started making shitty EDM music, Fall Out Boy, the best band to ever be named after a Simpsons reference, used to actually make really good pop-punk. With teen heartthrob Pete Wentz taking over the songwriting exclusively and then handing the lyrics over to be sung by my birthday twin, Patrick Stump, From Under the Cork Tree features some of the most cleverly written lyrics in pop-punk sung by one of the most dynamic voices in the genre. Musically, the album, largely composed by Stump, became the blueprint for pop-punk for the indefinite future, mixing in elements of swing, metal, R & B and more. While a lot of "real" punks love to hate on Fall Out Boy—and, with some of their overproduced later work, that's justified—nobody who's being objective could ever truly see this as anything but an absolute gem. -Julie River / truthbealiar
66. Propagandhi – Potemkin City Limits (2005)
Potemkin City Limits marked the completion of Propagandhi's transformation from political skate punk band to political thrash punk legends. And just as their music became more complex and sophisticated on this album, so did their lyrics, making them completely unrecognizable from the band that had recorded their debut album, How to Clean Everything, 12 years earlier. In fact, the only thing that hadn't changed in those 12 years was Propagandhi's dedication to radical, left-wing politics. Potemkin City Limits finds Propagandhi, at the height of the Iraq War, delivering their most blistering critiques of western capitalist imperialism in a way that's somehow thunderingly hardcore and accessible at the same time. This is truly a modern punk classic and, as great as their 2017 release Victory Lap is, nothing they've ever put out since has rivals this. -Julie River / truthbealiar
65. Propagandhi- Today's Empires, Tomorrow's Ashes (2001)
Propagandhi stormed the cramping Fat Wreck surge of albums with 1993's How To Clean Everything and Less Talk, More Rock in 1996. Two LP's stuffed with aggressive skate punk, adolescent f-word humor, and earnest indie punk from (former) bassist/singer John K. Samson. However, it was the band's original recruitment flyer in a local record store reading "progressive thrash band looking for bass player" that always seemed to be begging to poke through the surface.
The 2001 release of Empires was the moment Chris Hannah, Jord Samolesky, joined by their missing puzzle piece; Todd Kowalski, became the Propagandhi still active in 2019. Fourteen thrashing, politically forward songs dropped out of nowhere, leaving such a crack on the concrete, predictable releases from colleagues like NOFX and Lagwagon, that some didn't even know how to react. Time, and the band's die-hard fan base, have proven that this change was a great change, and paved the way for future punk bands to be true to their artistic visions, punctuating the very punk rock ideals behind "following the rules." -Mikey Elfers
Timelessness and tragedy tend to go hand in hand. Memories arrested in development that we romanticize quickly. It keeps the joy they bring close. The Exploding Hearts' Guitar Romantic is that. From the shout along chorus in "I'm A Pretender" to The Replacements' influence on "Sleeping Aides and Razorblades" to the dark romanticism of "Jail Bird," this album is timeless, and yet tragic. We will never know where The Exploding Hearts could've taken their guitar driven power-pop given the tragedy that struck the band, but we will always have the timeless highs that are Guitar Romantic. -Eric Rosso
63. Leftover Crack – Mediocre Generica (2001)
When I was getting into ska/punk in 1999, I discovered that there were essentially two schools of thought: Less Than Jake's pop punk and Rancid's black-and-white cartoonish grit. Then along came the Crack Rock Steady crew and threw a spanner in the works with satanic imagery, tales of rough living and a controversial split from Hell-Cat Records. Leftover Crack's debut album (released on the day of the 9/11 terror attacks) daringly and intelligently mixed together a wide spectrum of contrasting sounds – from ska to death metal. It is not surprising that Mediocre Generica inspired, polarized and reinvigorated a generation of bands. -Ioannis Pelegrinis / Fox82
The Con is the fifth album by Canadian indie duo Tegan and Sara. The album shows a well developed progression into their more poppier form from their folky indie days. As the album progresses from track to track into almost a narrative of one's emotions and or the ladies state when writing the album. The album was kept simple with emotion emphasised on their evocative vocal progressions in sync with the loops and distortions of the guitar work. You can really sense the darkness reflected in these lyrics, along with sense of anxiousness, longing, and searching for something. -Samantha Barrett
From front to back < i>Career Suici e< i> is the most complete album of the five full length albums the band have put out so far under the A Wilhelm Scream name. The album contains hit after hit that the band still plays live. The lyrical content of this album has aged very well and is still very relevant to this old aging punk. Career Suicide is the best representation of what this Massachusetts band can do. Melodic, technical, fast fucking punk shreddy guitar hooks married to powerful yet raw singing/screaming combos that brings out the fun pit rage. -Samantha Barrett
Although they've since made a comeback, The Woods still feels like the intended final act in the Sleater-Kinney legacy. With an intense, noisy production, the album has a claustrophobic mood, both when it's sprawling and heavy (such as "Let's Call it Love") or twee and minimal (like on "Modern Girl.") Carrie and Corin trade off spacey and complex riffs and searing vocals, which Janet grounds with her fantastic drumming. Although the album's energy is borderline chaotic, the songwriting is able to hone it into well-crafted pissed-off rock songs. It's not hard to hear The Woods' careful balance of mayhem and melody in contemporary acts like Screaming Females, Cloud Nothings and Parquet Courts. -morganmillhouse
Perhaps the greatest grunge record released post-90's. Coral Fang sounds like the record that Hole should have put out between Live Through This and Celebrity Skin, with a bit more punk attitude than that. Brody Dalle's vocals can go from beautiful to brutal in a split-second and the songwriting is top-notch throughout. It's hard to pick just one highlight, but "Hall of Mirrors" is an absolutely perfect rock-n-roll song. -Tori Pederson
58. Rise Against - Revolutions Per Minute (2003)
It's hard to think of another skate punk record since the turn of the century to make an impact as big as Revolutions Per Minute. Though the band's rise in mainstream appeal has coincided with a gradual dilution of their sound, their formative output contains some of the most hard-hitting material in melodic hardcore and Revolutions Per Minute is the apex of that era. Though their debut, The Unraveling, displayed their capacity writing for powerful riffs and melodies, Rise Against's sophomore release sees them refine their sound into twelve killer cuts, documented through the punchy production of the legendary Bill Stevenson. –Sean Crawford
57. Desaparecidos - Read Music/Speak Spanish (2002)
Read Music/Speak Spanish was one of the decade's most overlooked masterpieces. At the very least, it's the most overlooked piece of Connor Oberst's discography, and I'd venture to say his best musical endeavor. At the time of its release, Bright Eyes was yet to break into the mainstream, but Oberst had proved himself in the underground with Fevers and Mirrors. However, Read Music/Speak Spanish was unfairly neglected upon release due to its anti-capitalist themes in the immediate aftermath of 9/11. These messages are relayed, somewhat hamfistedly but potently, over an explosive 31 minutes of lo-fi indie anthems. –Sean Crawford
56. Gallows - Orchestra of Wolves (2006)
Gallows' debut album Orchestra Of Wolves was released in 2006 in their native UK and quickly caught the attention of Epitaph Records' Brett Gurewitz, who released it in the U.S. in 2007. While igniting festivals, film soundtracks, and video games with their edgy metallic hardcore sound, Gallows helped to found the next wave of British hardcore. While touches of their predecessors Discharge, The Varukers, and English Dogs can be heard throughout Orchestra, Gallows, fronted at the time by vastly underrated charisma and skill of Frank Carter, injected a brand new model of complex rhythms, layered vocal timbres, and guitars that are spatial and exploratory. -Chris Kanner
After a decade of releasing lo-fi recordings, complete with the wheel-grinding hum of songwriter John Darnielle's favorite boombox, he released All Hail West Texas, widely considered to be the apex of this period. It culminated the boombox solo era perfectly, and Darnielle clearly agreed, never trying to top himself again in that style, instead moving towards the hi-fi with a full band Tallahassee and never looking back. With perennial crowd favorites like "The Best Ever Death Metal Band in Denton," "Fall of the High School Running Back," "Jenny" and "The Mess Inside," Darnielle perfected his template of 2-minute tales told over a furious acoustic strum and tape-player hum. -Greg Simpson
53 (tie). The Hold Steady – Separation Sunday (2005)
This was the second album I heard by this band… Boys and Girls in America, being first. This album is the one that has always stuck with me though. Largely because when I heard this album for the first time, it was around the time the opiate epidemic hit the Midwest hard enough to make headlines. I had friends who were dealing with a variety of addictions, overdoses, and depression. There were songs about betrayal, redemption, seeking refuge, loss, and failure. While those themes appear throughout The Hold Steady's catalog, rarely did they sound as immediate as they did here. -Johnathon Gallienne / Johnathon1069
53 (tie). NOFX - Wolves In Wolves' Clothing (2006)
The main complaint people seemed to have with Wolves In Wolves' Clothing was that many of the songs had already appeared on the NOFX 7" of the month club. That seems like a silly reason not to like such a wonderful record. It had great serious, sincere songs like "Leaving Jesusland" and "Doornails", and great silly, stupid songs like "Seeing Double at the Triple Rock" and "Instant Crassic". Wolves In Wolves' Clothing is not as cohesive as other NOFX classics, but it's still a solid collection of music. -Tom Crandle
52. AFI - Sing the Sorrow (2003)
AFI's Sing the Sorrow is hands down my favourite album from the band. Sue me. It's a bunch of mainstream ear-wormers, but so what?!! It's another record that got me through university and honestly, there's nothing I can find wrong with songs like "Girl's Not Grey", "The Leaving Song" -- both versions -- and of course, the sleeper in "This Celluloid Dream." Heck, even "Silver and Cold" makes the cut on an album I can play front to back for days on end. Was so glad I got to see them live because they did all these jams! -Renaldo Matadeen
LCD Soundsystem's sophomore effort was made when James Murphy was well into his thirties. He'd seen it all and been there before, which was explored in great detail on previous efforts. Sound of Silver was not reactionary but instead represented the New York hipster boom. "North American Scum" is a singalong that can be as misconstrued as "Born in the USA." The beautiful closer "New York, I Love You but You're Bringing Me Down" ended the album with Murphy's excellently detailed love-hate letter to New York. But it's the near-eight-minute "All My Friends" that proved what an incredible songwriter Murphy was, capturing the moment you aged out of the trends into reality. Sound of Silver is an unapologetic dance album that uses its influences on a whole new generation. -Nick Poyner

Top 100 of 2000-2009: #75-51 Mixtape
Each day this week we'll include a nifty little Spotify playlist for you to check out a track from each entry.
Trivia Nuggets
- At 174 points each The Mars Volta - De-Loused in the Comatorium and The Blood Brothers - Burn, Piano Island, Burn are the lowest scoring albums to make it into the Top 100.
- Out of all the picks, 812 albums received only a single individual vote, including several which were given #1 status. Apparently no one else thought much about those albums.
- Speaking of ties and all of the albums which didn't make the Top 100, The lowest 885 albums are in some sort of tie with other albums. At 101 total points, Manchester Orchestra's Means Everything to Nothing is the first album to not share its score with another release.

Methodology
17 Punknews reviewers, writers, and editors participated in this poll. Each chose their Top 100 albums of 2000-2009, assigning each album a point value with 100 being the highest, and 1 being the lowest. The point values for each album were then tallied and then they were sorted from highest tallied score to lowest. The top 100 albums were chosen to fill out the list.