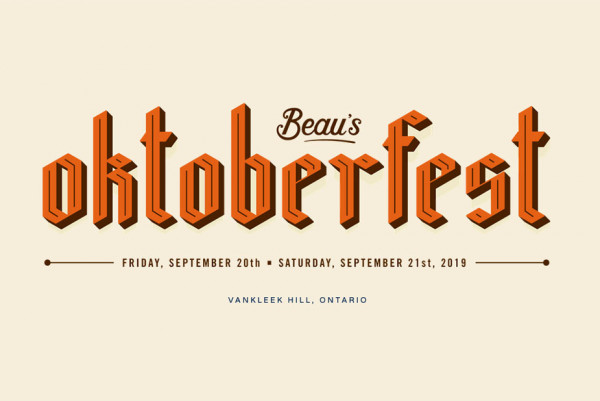 Canadian craft brewery Beau's Brewing Co. is throwing their annual Oktoberfest music festival and charitable fundraiser next week. The event marks its 11th year in 2019 with Vancouver indie rock supergroup The New Pornographers and Canadian hip-hop luminary Shad headlining the main stage. While we're fans of both, most of the time you'll find us hanging at the punk-focused Black Forest Stage, a more intimate bandshell with a half-pipe on one side and a bar on the other. Black Forest this year features the likes of Mobina Galore, Pale Lips, and The Penske File performing amongside a slate of Canadian punk bands you may not yet know. Are you ready for the full Black Forest breakdown? Well grab your stein, tighten the braces on your lederhosen and follow me!
The official word on Black Forest from Beau's goes something like this:
What Oktoberfest event has a whole area dedicated to punk rock and skateboarding? Beau's Oktoberfest. We've built the Black Forest with help from our friends at Birling and Vans, with the goal of paying homage to the music and counterculture that brought so many of us at Beau's together in the first place. A tip of the hat to early editions of Beau's Oktoberfest when the stage was more intimate, the Black Forest is an energetic and exuberant music experience.
Black Forest will raise funds this year for For Pivots Sake, a nonprofit organization founded by the Ottawa-area Birling Skate Shop to engage and mentor youth in the Ottawa community. Since 2012 the organization has refurbished decks from parts donated by skaters in the community to give back to local youth. Last year's overall Oktoberfest attracted over 17,000 attendees and raised $94,323 for local community groups. Since 2009 the event brought in $711,212 in funding. With that in mind, we're more than proud to help sponsor this shindig!
Some Black Forest Bands You Should Know for 2019
The Highdives
Hailing from the Barrie, Ontario, punk trio The Highdives are supporting their recent debut full-length Ocean Blood. The record landed this past January and found the band churning out gruff melodic punk on a late-90s/early-2000s bent: that means big riffs and one hand in the hardcore toybox. Check out the group's recent video for the single "Sophomore," a slow-burning melodic punk tune that builds to a huge crescendo in its final third. The Highdives feature vocalist/guitarist Scott Murray, bassist Matt Galbraith, and drummer Shawn Moreau. The new record follows up the band's 2017 debut EP, Maybe I'll Be Okay?.
The Highdives launch the Black Forest stage this year, playing Friday at 5:30 PM. They kick the evening off followed by sets from Northgang (the new venture from the members of now-defunct Ottawa-area alt-rock group Eagleson) and the very beer-fest appropriate Celtic rock combo The Hallions.
Oakhearts
Montreal's Oakhearts recently premiered a new video through Punknews for the song "Curse." It's from the band's recent self-titled debut, which arrived last December from Little Rocket Records. That song reverberated with the influence of turn-of-the-century emo (before everything went and got all screamy on us). Indeed, the band cites Jawbreaker, Jets to Brazil, and Burning Airlines as major influences. The quartet features guitarist/vocalist Daniel Aubut (Young & Lost, Les Midnights), guitarist Daniel B. Cesare (The Sober Dawn, Powernap), bassist Mathieu Caumartin, and drummer Emilien Catalano (The Nils, The Sangomas, Moving Targets).
Oakhearts take the stage Friday night at 7:50 PM.
L'Affaire Pélican
Hailing from Saint Eustache, an off-island suburb of Montreal, L'Affaire Pélican is singlehandedly representing the francophone punk scene at Oktoberfest this year. The four-piece plays charging skate punk anthems that should make fans of Millencolin (and their late-90s Epitaph labelmates) sit up and take notice. It's been a few years since L'Affaire Pélican put out a new record, with 2017's Le Moins Pire EP being their latest. The band features bassist/vocalist Benoit Bédard, guitarist/vocalist Maxime Leblanc, guitarist Maxime (Olivier) Paquin, and drummer Luc Doucet.
L'Affaire Pélican takes to the Black Forest stage at 8:30 on Friday night.
Pale Lips
Friday night the Black Forest stage will be headlined by Montreal's attitude-driven pop-punk quartet Pale Lips. The group, who emerged in 2014, features guitarist Ilona Szabo, bassist Jamie Radu, drummer Lynn Poulin, and vocalist Jackie Blenkarn. The group's supporting their recent full length After Dark and the infectious first single "You're a Doll." After Dark arrived on January 31 through God's Candy in Canada, Alien Snatch! in Europe, and Spaghetty Town in the States. The new record follows up their 2016 album Wanna Be Bad, and the 2017 EP Should've Known Better.
We recently announced that the band was set to embark on their first-ever U.S. tour. Pale Lips have plans to travel down the east coast on their way to The Fest in Gainesville, Florida following their Black Forest appearance. They'll make their way back up north through the midwest, crossing into Ontario for a few November gigs before heading home in November. Pale Lips are one of a handful of bands this year using Oktoberfest as the kickoff in their journey down to The Fest.
Pale Lips take the stage at 9:15 PM on Friday night.
The Readys
After a late acoustic breakfast with sets from Rob Moir (the former frontman of Dead Letter Dept) and Scott Murray of the Highdives, Saturday's punk slate kicks off in earnest with the raucous five-piece Newmarket punk act The Readys. The group's supporting their 2019 EP Songs That Sound The Same, and while that title's more-or-less true, it's a party-driven sound that's should go a long way with this crowd. The Readys don't stray far from the influence of the Southern California punk heavyweights, but it's a hard sound not to love, particularly with big goony sing-alongs like "Bro Down" in their arsonal.
Look for The Readys at 1:35 PM on Saturday afternoon.
Bussieres
Montreal's Thousand Islands Records has been astonishingly prolific, churning out records from young skate-punk bands and bringing back 90s veterans at a pace that seems to defy reason. One of those recent signings is the four-piece Montreal group Bussieres The band's been touring in support of their recent Thousand Islands EP Sunny Side Up. Fans of speedy, melodic mainstays like Belvedere, Ten Foot Pole, or Pulley will find a lot to love here.
After Bussieres' 2:05 PM Saturday afternoon set the outrageous Ottawa sleaze metal act Thunderkok takes the stage at 3.
Jon Creeden And The Flying Hellfish
I hate to add any credibility to this nonexistent genre, but if you sought to invent a band that was textbook orgcore, you'd the end up with something damn close to Ottawa's Flying Hellfish. Hell, the band even released an EP for Fest with Weakerthans and Hot Water Music covers on it! All kidding aside, Jon Creeden's gruff vocals command some serious gravity. With a tight band charging behind him he can churn out melodic hardcore hits on par with just about anyone. The Flying Hellfish last relaesed Stall in 2017 on My Fingers! My Brain! Records.
Jon Creeden and the Flying Hellfish play Black Forest at 3:35 PM on Saturday afternoon.
Fairmounts
When bands like the Queers or Lillingtons pass through Toronto, there's a good chance you'll see Fairmounts on the bill. The four-piece plays pop-punk like its 1995, hooky, driving and never too saccharine. It's been a while since Fairmounts had a new record out, the last being 2014's Clearview Records LP Kiddo, but they've been teasing new material all year. Chances are you'll hear some of their new stuff on stage at Beau's Oktoberfest.
Fairmounts are on Saturday afternoon at 4:35 PM.
Audio Visceral
Hailing from Beau's home-base in Vankleek Hill, Audio Visceral's a snotty three-piece punk act featuring guitarist Steve Beauchesne, bassist Kevin James, and drummer Gary Doherty. Last year the band's Oktoberfest set was triumphant, and that makes sense given that Beauchesne is the CEO and co-founder of Beau's. This is home turf for the group and I'm betting it's the height of their year. Given that the crowd's packed with family and co-workers, the energy surrounding their set's just something else.
Back in the late 90s, Beauchesne played in Constable Brennan, a band that frequently opened Ontario shows for prominent visiting ska-punk groups like The Slackers and the English Beat. His bandmates have similar roots. Kevin James played in the early-90s Toronto trio Bender as well as the storied Almighty Trigger Happy. Gary Doherty similarly served time in Trigger Happy and earlier performed as part of the Thunder Bay punk/metal act Headcramp.
Audio Visceral's on the Black Forest stage on Saturday afternoon at 5:10 PM.
Lost Love
Montreal pop-punks Lost Love was one of the bands forced to bail on their 2018 set due to the tornado. Since then the band's been relentlessly touring behind the catchy, early-Weezer vibes of their recent LP Good Luck Rassco. They're returning with even more arrows in their quiver this year, with their new EP Glenn Spaghetti Legs still new to the world. Good Luck Rassco came out a year an a half ago on Stomp Records and the French label Guerilla Asso. We interviewed the group about it in the lead up to the previous Oktoberfest.
Lost Love hits the Black Forest stage on Saturday evening at 6:10 PM.
The Penske File
It feels like every time I check in on The Penske File, the trio's playing bigger shows, longer tours, and sharing the stage with some of modern punk's most popular bands. From their roots in Burlington, Ontario, the melodic punk act's been climbing the rungs of the music world through sheer grit and countless hours in the van. The band just released "Copper Sky," their first new single since their polished 2018 Stomp Records full-length Salvation.
The Penske File features guitarist/vocalist Travis Miles, drummer Alex Standen, and bassist James Hall. After Oktoberfest they're sticking to the fall festival circuit, with appearances slated for Brantford, Ontario's Blackout Fest on October 18, and a trip down to the Fest in Gainseville. < p>
The Penske File's playing Saturday evening at 6:45 PM, leading into the penultimate Black Forest set from Montreal celtic punk act The Peelers at 7:25.
Mobina Galore
Saturday night the Black Forest Stage will feature a headling set by Winnipeg punk duo Mobina Galore. The band's new record, Don't Worry, just recently hit stores from New Damage and Gunner Records. True road warriors, the band spent most of 2018 on the road supporting the likes of Laura Jane Grace and Single Mothers, playing all over North America and Europe. The group features the talents of guitarist/vocalist Jenna Priestner and drummer/vocalist Marcia Hanson. The new record follows up 2017's Feeling Disconnected.
Mobina Galore plays at 8:15 PM on Saturday night
The Steve Adamyk Band
That's not all! On both evenings after Oktoberfest-proper turns out the lights, a handful of attending bands will play afterparty shows at some of the local taverns in town. There'll be gigs on both Friday and Saturday night at a pair of venues, the historic Windsor Tavern in Vankleek Hill and at Déjà Vu in nearby Hawkesbury. Those shows feature bands like Ship of Fools, Dead Broke, and Letterbomb. You can find tickets to those gigs, along with various School of Bock classroom sessions, at the Oktoberfest tickets store.
As for the Steve Adamyk Band, the Ottawa garage-punk mainstays are playing Saturday night at the Windsor afterparty. The band's supporting their recent Dirtnap LP Paradise.
Oktoberfest Overview
Beau's Oktoberfest takes places in the brewery's rural hometown of Vankleek Hill, Ontario, which sits about halfway between Ottawa and Montreal. Last year's event (despite a slight tornado-based setback on the opening night) attracted over 17,000 attendees and raised $94,323 for local community groups. Since 2009 the event's brought in $711,212 in funding.
This year will bring in Bavarian-style food from local restaurants, 65 different beers to sample (with 14 brewed by Beau's and the local Halcyon Barrel House), "School of Bock" classroom sessions lead by experts from the brewing world, and an array of games, activities, and competitions.
Main Stage
Jenn Grant
Neon Dreams
Birds of Bellwoods
Caravane
John Jacob Magestry
What If Elephants
Walter Ostanek
Hosted by: Taggart & Torrens
Black Forest Stage
Rob Moir
Scott Murray
Hosted by: House of Targ's Remi Royale
Black Forest will raise funds this year for For Pivots Sake, a nonprofit organization founded by the Ottawa-area Birling Skate Shop to engage and mentor youth in the Ottawa community. Since 2012 the organization has refurbished decks from parts donated by skaters in the community to give back to local youth.
Past charities supported by Oktoberfest include Hidden Harvest, Ottawa Riverkeeper, Healthy Eating for Better Learning, Vankleek Hill Agricultural Society, Hawkesbury Rotary, Big Brothers Big Sisters Cornwall, and the United Way Ottawa and Stormont, Dundas and Glengarry.
Round-trip bus transportation for attendees will once again be available from Montréal, Ottawa, and Cornwall to the festival grounds. Ottawa festival-goers can also sign up for a United Way fundraiser bike ride to the grounds. Camping passes are available to add on to ticket purchases. Tickets for the 2019 Beau's Oktoberfest are on sale now at www.beausoktoberfest.ca. Weekend passes are $45, single-day tickets $32. Child (18 and under) passes are $5 when accompanied by an adult.
Punknews.org is a media sponsor of Beau's Oktoberfest this year. This story is part of a reporting partnership between Punknews.org and Some Party, a weekly newsletter covering independent Canadian rock music. Subscribe at someparty.ca.