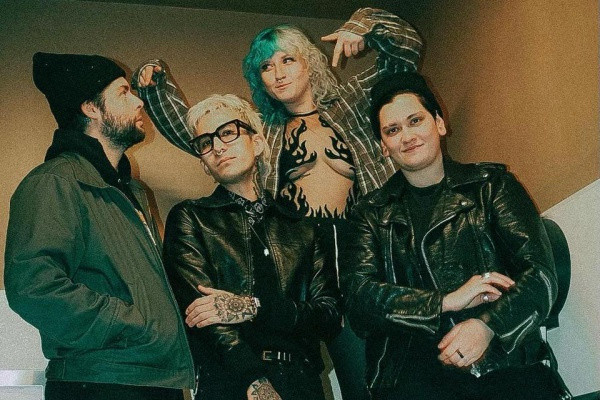 Pity Party have announced that they have cut ties with A-F Records following the allegations against an unnamed singer of a political punk band (who many believe is Justin Sane of Anti-Flag) surfaced on a recent episode of the enough. podcast. The band released a statement on Instagram which reads,

"Hi friends, we want to take a second to address the horrible news that came out earlier this week about a band that we once looked up to for many years.

First and foremost, we want to speak directly to the victims of this monster and any one else who is a victim of Sexual Abuse: we SEE you, we HEAR you, we BELIEVE you. We will continue to show up for you and continue to police our scene in order to keep you safe, to keep ourselves safe, to keep our community safe. We only have one another, so we have to lookout for each other.

We wanted to also update you on our affiliation with A-F Records. While we do know that the fine people who run the record label had nothing to do with these acts and we have never dealt with the abuser himself directly during our time on the label, we feel it isn't right for us to continue to associate with a label affiliated with this individual and are no longer an A-F artist.

We were due to announce a new record out through A-F in the coming days and unfortunately have already started the pressing process. The announcement will still come and the record will be put out through SBAM alone, instead of as a joint release. We will be donating profits from the A-F share of records directly to Sexual Assault prevention and recovery organizations in both the Bay Area and Pittsburgh. More details to come.

Lastly, we just want to express how heartbroken this entire ordeal has left us. As we said before, we have all looked up to this band for most of our entire musical careers. Unfortunately, monsters come in all shapes and sizes, and can be quite easy in charming you into thinking they are someone they're not. People (predominantly men) like this get away with these heinous acts because we don't want to believe that someone we have been inspired by, or look up to, or get along with, or have a good time with, or share similar tastes or hobbies, could be capable of doing such things.

WE HAVE TO DO BETTER. WE HAVE TO LISTEN TO VICTIMS. WE HAVE TO BELIEVE VICTIMS. WE HAVE TO ENCOURAGE THEM TO SPEAK UP. AND WE HAVE TO FIGHT BACK AGAINST THESE TYPES OF PEOPLE. KEEP EACH OTHER SAFE, ALWAYS."
Anti-Flag broke up suddenly the night of July 19. Wolves & Wolves & Wolves & Wolves, Hanalei, Darien Gap, and Celebration Summer have since parted ways with the label and American Television and Reconciler have released statements about their involvement with the label. See the band's statement below.