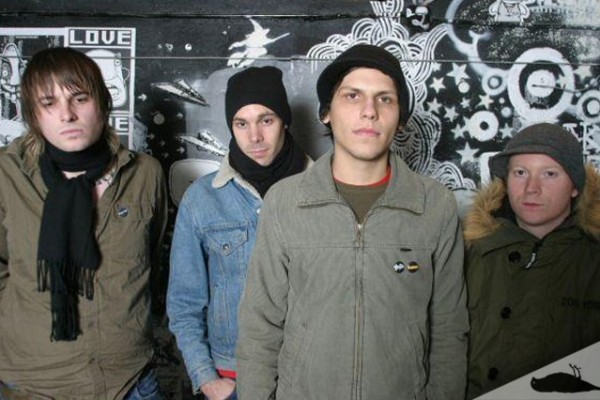 Give Up The Ghost (American Nightmare) are one of the most important and influential hardcore/punk bands of the last two decades.

Their volatile mix of traditional American hardcore, English influenced attitude, and emotional lyrical prose set a new creative standard for the worldwide hardcore community. In their brief existence their sphere of influence was far reaching. Serving as the bellwether to the giants of punk (AFI, New Found Glory, etc.), metal/hardcore (Hatebreed, GlassJaw, Converge, etc.), and even contemporary popular music (Fall Out Boy, My Chemical Romance, etc.).

American Nightmare was formed in Boston by Wes Eisold and former Ten Yard Fight member Tim Cossar. After the dissolving of Ten Yard Fight they both searched out to create something with more emotional substance than the stereotypical traditional hardcore bands of the day. Along with founding members Azy Relph (Panic) and Jesse "Standhard" Gustafson (Right Brigade), they recorded their now classic four song Demo Tape (later released as a 7"EP on Malfunction/Deathwish).

After a ton of classic shows and as many frequent member changes, American Nightmare recorded their "Self Titled" 7"EP/CDEP for the respected Bridge 9 label. This groundbreaking record was released in 2000 and was later released as part of their "Year One" Compilation (Bridge 9/Reflections Records). This absolute classic hardcore release marked a true beginning for the band. Six months later, American Nightmare recorded and released another classic 7"EP/CDEP, "The Sun Isn't Getting Any Brighter" on Bridge 9. Considered by many as the time period where they really came into their own as a band. It was this release that was the first to feature the renowned "Angel" illustration by artist Linas Garsys. An image that soon became synonymous with the words "American Nightmare" and later "Give Up The Ghost. This recording session is also featured on the aforementioned "Year One" Compilation.

Soon after the release of "The Sun Isn't Getting Any Brighter", American Nightmare signed a recording deal with Equal Vision Records. With a core lineup of Wes Eisold, Tim Cossar, Brian Masek, and some drumming assistance from friend Jarrod Alexander (The Suicide File), they began writing their first proper album, "Background Music".

American Nightmare's "Background Music" album was originally released by Equal Vision Records on June 12th, 2001. Produced by Tim Cossar and Dean Baltulonis, "Background Music" is anything but what the title implies, standing the test of time as a true hardcore classic. From the machine-gun like snare roll of opener "(we are)" into Wes' cry of "this is the soundtrack to saying goodbye…" the atmosphere around American Nightmare is emotionally electric. Setting an tone that rings through anthemic songs like "am/pm", "hearts", and "your arsonist". These and the rest of the songs on the album blend a youthful violence and vulnerability into something rabid, hopelessly romantic, and refreshingly real. After almost ten years, "Background Music " continues to resonate as loudly and potently as ever.

After the release of "Background Music", American Nightmare hit the road with friends Converge and The Hope Conspiracy on one of the most talked about tours in contemporary hardcore. This tour also marked the formal introduction of bass player Josh Holden (Right Brigade, later Head Automatica) to their lineup. This incarnation of the band continued touring well into 2002 while also working on new material, before all things American Nightmare came to a complicated legal halt.

At that time, legal representatives from a Philadelphia area rock band with the name "American Nightmare" made contact, accusing the band of trademark infringement. Though the real American Nightmare also held some legal rights to the name, they had little/no financial resources to fight the accusation. Ultimately the ugly out of court legal battle ended with American Nightmare having to abandon their name for good. Disillusioned and strained by the ordeal, the nightmare finally ended and a ghost was born for the band. After a year of touring under temporary names like "A.N." and "American Nothing" (a playful dig at the grim situation) they decided on the name "Give Up The Ghost". A lyrical reference as well as a literal reference to giving up the vessel of "American Nightmare".

Along with the name change came the introduction of permanent drummer Alex Garcia-Rivera (Shelter, Piebald). Alex, along with Wes, Tim, Masek, and Holden created a definitive lineup and consequently ushered in a new "stable" era for the band. Soon touring and writing commenced, and in 2003 Give Up The Ghost recorded and released a preview of their growth in their "Love American" 7"EP/CDEP (Equal Vision/Bridge 9). "Love American" showed the band refining themselves and moving toward a new, but equally engaging direction. In the EP's title track Give Up The Ghost injected subtle hints of melody and sonic control into their otherwise volatile sound. And in a bold move, they even featured a cover of the Archers Of Loaf staple "You And Me". Without a doubt, with "Love American" it was apparent that Give Up The Ghost had weathered the storm for the better and were capable of making waves far beyond the hardcore community that they were born from.

"We're Down Til We're Underground" by Give Up The Ghost was originally released by Equal Vision Records on September 23rd, 2003. Produced by Jim Siegel (Blood For Blood, Slapshot) and Tim Cossar, "We're Down…" is true milestone of a hardcore album. Encapsulating the personal growth, strife, and struggle of the band members that helped to create it. From the first strummed notes of opening instrumental "(It's Sometimes Like It Never Started)" the album feels intensely personal and thematic. In many ways, it is as if we are listening to the beat of the open heart of the creators. Because of this, it's difficult to pinpoint any high point in the music and lyrical content. Every song on "We're Down Til' We're Underground" effortlessly carries intense emotional weight in all it's layers. After all, it's an album born out of pressure and pain more so than most hardcore records (past or present) will likely ever be.

After the release of "We're Down Til We're Underground", Give Up The Ghost continued touring relentlessly, sharing stages with an extremely diverse group of bands all over the world. Though they were finally beginning to attain the respect and notoriety they deserved, it wasn't enough to keep them from breaking apart. In mid 2004, citing the grind of the road, band business, health issues, and even the pitfalls of the scene they called home, the band met an abrupt end. Give Up The Ghost played their last set in front of an unassuming crowd at a benefit show in a Wallingford Connecticut Knights of Columbus. Both the band and crowd were unaware of the significance of the performance at the time. They were all simply there, selflessly attempting to raise money for a friend who fell on hard times.

A long time ago, Wes once told me that "nothing is sacred", and in some ways I agreed with him. However their music and presence was a friend to many of us in our darkest of days, and personally I'll never forget that. As a fan, friend, confidant, and one of the visual artists for the band, I feel honored to have been around them to experience it all. I'm grateful to call the members, past and present, friends to this day.