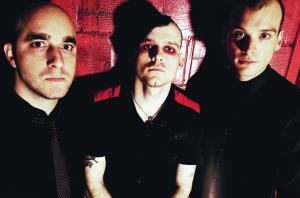 You're the lucky reader of the tenth edition of the Punknews.org Vinyl File. This column aims to keep you informed with upcoming releases as well as spotlighting interesting releases, your favorite band's own collections and labels with an history of vinyl releases worth talking about. As always, Vinyl File is brought to you by Ben Conoley.
This week we are pleased to continue our in–depth look at Alkaline Trio's career in all it's vinyl glory. They have released a whole bunch of records since joining forces with Vagrant, and we've got them all for you. We've also got new release info from NOFX, the Draf, Foo Fighters and more
Click Read More for the full article.
VINYL FILE SPOTLIGHT
Last week on Vinyl File we took a look at Alkaline Trio's vinyl releases up until their move to Vagrant Records in 2001. This week we're going to continue on with the rest of the band's vinyl releases, of which there are many.
From Here to Infirmary was Alkaline Trio's first release on their new home. Released in April of 2001, Vagrant pressed it i still in print and easy to find. All pressings have been done on black vinyl.
While there were no 7"s released in support of From Here to Infirmary in North America, there were two pressed for release in the UK, a practice that Vagrant has maintained. The first was for the song 'Stupid Kid.' It was released as a limited edition 7" picture disc. The release was one-sided, meaning there was no b-side to accompany the title-track. While indeed limited, Vagrant did not release specific pressing information, as has been the case with most of their releases. The image on the 7" is of the band's classic "heart/skull" logo.
The second single to be pressed on a 7" was 'Private Eye.' Again, Vagrant issued it as a picture disc. The artwork features the same image found on the cover of From Here to Infirmary. While also limited, it can still normally be found for under $10.
On Halloween of 2002, Alkaline Trio played a show at the Metro in Chicago. To celebrate the event, the band partnered with Asian Man to provide concert-goers with a souvenir. Everyone through the door was given, amongst other items, a 7" featuring Alkaline Trio covering two Misfits songs. All copies came on orange marbled vinyl and were hand-numbered /3000. For over a year after the show these would fetch high amounts for people selling them on Ebay. However, the band announced in the spring of 2003 that they had left over copies that they would be giving to people who signed up for their just-launched dan club, The Blood Pact. Some copies, although how many aren't publicly known, didn't come numbered.
When Good Mourning was released in the spring of 2003, it was, and still is, available on vinyl. All copies are on black.
Once again, Vagrant offered a number of 7" picture disc singles in support of the album, but only for the UK market. The first single was for 'All in Black.' It featured an acoustic version of 'This Could be Love' on the b-side.
Following up 'All in Black' was a picture disc for 'We've Had Enough.' Featuring the image of graveyard on the a-side, it was backed with a demo version of 'Blue in the Face,' which differed significantly from the the version on the album. Both albums, although now out of print, are still relatively easy to come across.
Alkaline Trio's only release for BYO Records came in April 2004. Part of the label's split series saw them teaming up with One Man Army, It was released as a 12" with the first 500 being pressed on red vinyl and all remaining copies on black. Black is still available.
Alkaline Trio's most recent full-length was 2005's Crimson. It was released initially on a limited "crimson" read pressing as well as black. While no numbers are available, the red version is still easy to get ahold of and does not appear to be out of print yet.
The singles for Crimson were more than a little confusing, with most of them being pressed in pairs. The first was 'Burn' which came came in a gatefold sleeve (part one) and also on red vinyl (part two). While each version had 'Burn' on the first side, they featured different b-sides.
Following up 'Burn' was a pair of 7"s for 'Mercy me.' Much like its predacesor, one version came in a gatefold sleeve that made room for the second version. An acoustic version of 'This Could be Love' is found on the b-side of the first one while 'Crawl' appears acoustically on the second version's b-side, which is on white vinyl.
The last single in support of Crimson was for 'Time to Waste.' Things were made easier on this release, as it was only pressed in one version. It came on red vinyl and was backed with 'Don't Say You Won't.'
Some sources say that all these singles are out of print, and while they mostly are, they pop up from time to time through online distro sites as copies get returned from retailers, so do a little digging around and exercise some patience before shelling out big bucks.
To celebrate New Year's Eve this year, Alkaline Trio and Smoking Popes co-headlined a show at the Metro in Chicago. Available only to show-goers, it featured the Trio covering 'Off My Mind', originally by the Popes with the Popes covering Alkaline Trio's 'Blue Carolina.'
What is perhaps Alkaline Trio's most confusing release is the double LP, Remains. In addition to carrying a hefty price tag, it was pressed on a number of colors, some of them remarkably similar to each other. In addition to black, there are also copies on turquoise marble, green/grey marble, yellow (available only at Hot Topic) as well as some very limited variants on blue (/20) and clear green (/70). It's said that the total number of copies presses is 5,000.
A new version of the Hell Yes 7" has also been printed. While the packaging is different, the tracks remain the same.
We might as well get things off to a start with news of a chance to win some free records. Alternative Press has teamed with Vinyl Collective to offer someone a chance to win what the magazine claims are the 10 most essential punk 7"s still in print. For more info, visit Alternative Press's website.
The Foo Fighters have a new album out and certain websites are offering a free 7" featuring the songs 'The Pretender' and 'Bangin' to those who order the CD. Order the 2xLP and you get nothing. Strange, I know.
Far Wreck Chords has been having some good luck with their online pre-orders. This past week they put up American Steel's Destroy Their Future up for pre-sale and in less than 24 hours all 200 copies on white vinyl were sold out. In other label news, they have announced that the recently reported Me First and the Gimme Gimmes' 7" will no be available for pre-order. Furthermore, NOFX's upcoming live album, They've Actually Gotten Worse Live will be pressed as a double-LP.
Equal Vision Records have confirmed that they will be releasing the new Chiodos record, Bone Palace Ballet on vinyl.
For all those who neglected to pick up The Falcon's debut Unicornography, which was pressed on orange vinyl and limited to 500, can stop worrying about how to get one for under $50. Red Scare Records will be doing a repress in the new year.
Norman Brannon, who played guitar for the highly influential Texas is the Reason has announced a number of charity auctions coming up which will support ongoing fundraising efforts for J. Robbin's son Callum, who was born with a genetic motor neuron disease called Spinal Muscular Atrophy. According to Brannon,

In case you didn't hear, I will be approaching friends in bands and with record labels over the next couple of weeks to donate whatever interesting or rare items they might be able to find in their personal collections. I'll be auctioning off as much as I can on a special eBay site, to be announced here in the coming weeks, in order to raise even more money for Cal Robbins. And I'm also putting my money where my mouth is: I've already dug out the test pressings for Texas Is The Reason's Do You Know Who You Are? and the Ressurection/Shades Apart split EP from Anti-Matter 6, as well as a ridiculously rare — maybe only two in existence? — rejected test pressing for the first Texas Is The Reason EP on 7-inch vinyl. And I'm just starting to dig.
Chunksaah has recently put up a pre-order for a split between The Measure (SA) and Off With Their Heads. The 7" will be shipping in November.
The Draft have announced that their new 7" should be available for their next tour. It features the songs 'We'll Never Know' and 'Hard to be Around.' Call it Arson has been spending time in God City Studios recording a new 7" with Converge's Kurt Ballou. It should see an early 2008 release.
Household Name Records have a couple of new releases out. While preparing to re-release More Than a Machine from Milloy on CD, the label has done a limited vinyl pressing of the album. 210 copies have been pressed on red splatter vinyl with 140 on black with hand-numbered sleeves.
If you have any vinyl news, please give Vinyl File a shout by emailing ben (at) punknews (dot) org.