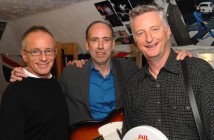 Two members of the The Clash reunited in the studio for the first time in 27 years this week. Guitarist Mick Jones and drummer Topper Headon joined Billy Bragg for a recording session at Steve "Smiley" Barnard's studio (Smiley was a member of Joe Strummer and The Mescaleros). The musicians are promoting Bragg's Jail Guitar Doors campaign, an initiative aimed at supplying musical instruments to prison inmates to aid with their rehabilitation. Bragg, Jones and Headon were backed by a band comprised of former inmates Leon Walker, Jonny Neesom, Kevin Hawkins and Jon Smillie. They fittingly recorded a cover of the Clash's 1978 song "Jail Guitar Doors."
Topper commented:

"To see it all come to fruition is absolutely beautiful. It was great to meet these guys. When I was in prison myself, many years ago, I was lucky enough to have access to a guitar, which belonged to the prison vicar! I know how much it helped me get through it.
The recording session was filmed for Alan Miles' Breaking Rocks, an upcoming documentary about the Jail Guitar Doors initiative, which will premiere as part of the Raindance Film Festival in Camden Town on October 1st. The screening will be followed by performances Bragg, Jones, the MC5's Wayne Kramer, Chris Shiflett of the Foo Fighters, Get Cape Wear Cape Fly, Night Of Treason and Jail Guitar Doors graduates Leon Walker, Jonny Neesom, Louise Wells and Theone Coleman. More details and video of the performance are set to be posted at breakingrocks.co.uk.