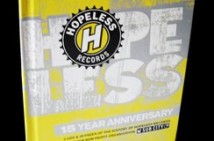 Hopeless Records celebrates its 15th anniversary with a special double CD+book compilation featuring music from the label's catalogue and that of their non-profit arm, Subcity Records.
To that end the CD contains music from All Time Low, Anarbor, There For Tomorrow, Nural, The Dangerous Summer, The Human Abstract, Ever We Fall, Amber Pacific, Mêlee, Kaddisfly, Mike Park, Avenged Sevenfold, Thrice, Stairwell, Common Rider, Atom And His Package, Scared Of Chaka, Selby Tigers, Samiam, The Weakerthans, The Queers, Fifteen, Dillinger Four, Against All Authority, Mustard Plug, Heckle, Digger, Nobodys, Falling Sickness, 88 Fingers Louie, Funeral Oration, Schlong and Guttermouth.
The set is packaged in a hardcover and is available here.