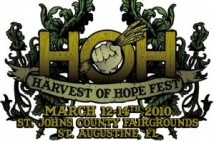 The second annual Harvest of Hope Fest has announced a third round of confirmed acts for this year's festivities. New additions include High On Fire, Kid Sister, Gringo Star, Port O'Brien, We Are the Union, Cheap Girls, Avi Buffalo, The Dig, Yelawolf, Young Brother, Barnaby Jones, The Duppies, Umoja Orchestra, Sunbears, Liquid Limbs, The Takers, Glorious Johnson, Bent Left, No More, Cassette, Antarctic, Toby Foster, Paleface, The Pauses, The Attack!, Premadonnasaurs, Scum of the Earth, Towers of Hanoi, Company Man, Lighthouse Music, The Ones to Blame, The Cougs, The Ex-Boogeymen, Superfish, 3rd Stone, Made of Hemp, Mindrise, BLORR, and Christina Wagner.
The festival will be happening at the St. John's County Fairgrounds near St. Augustine, FL from March 12-14, and serves to raise funds and awareness for the Harvest of Hope Foundation, a charity organization that assists migrant farmworkers all over the country. Bands slated to perform include Billy Bragg, 7 Seconds, Anti-Flag, Leatherface, The Mountain Goats, Small Brown Bike, Coalesce, forgetters and a slew of others.
Ticket information is available here.