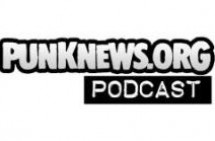 It's Friday? Oh shit. After much delay this week's episode of the Punknews Podcast has gone live! This week news editors Adam White and Ben Conoley bring in videographer Chris Moran for his inaugural Podcast appearance. The trio discuss stories like Milo Aukerman of the Descendents recent interview, Glassjaw's innovative (and piping hot) new method of record distribution, and the Rx Bandits' reaction to their unwanted vinyl reissue.
On top of that, we've got music on the show from Smoke or Fire and Falklands.
You can click Read More to stream and/or download the show, or subscribe via RSS or iTunes. Don't forget to give us your feedback in the comments section or via e-mail. And if you'd like to catch up on past episodes, you can do so right here.