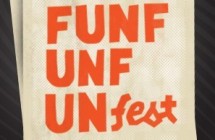 The promoters have confirmed the rest of the lineup for this year's Fun Fun Fun Fest in Texas. The event takes place November 4th,5th and 6th.
The event features notable reunions from Hot Snakes, Hum, Kid Dynamite, Zero Boys, Murder City Devils and Negative Approach.
It will also include Danzig Legacy, Architecture In Helsinki, Bane, Black Milk, Blonde Redhead, Boris, Cave In, Ceremony, Clap Your Hands Say Yeah, Defeater, Doomriders, Earth Crisis, Eyehategod, Graveyard, Heartless Bastards, Henry Rollins, Lemuria, Mates Of State, Mind Spiders, Okkervil River, Paint It Black, Public Enemy, Russian Circles, Slayer, The Damned, Thee Oh Sees, The Girls, The Joy Formidable, Touché Amoré, Trash Talk, We Were Promised Jetpacks and Youth Brigade, You can find the entire lineup here and ticket information here.