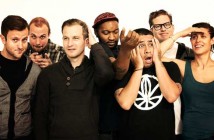 Hip hop collective Doomtree have released another new song from their forthcoming group album. The release will be titled No Kings and will feature Doomtree members P.O.S., Dessa, Sims, Cecil Otter, Lazerbeak, Mike Mictlan, and Paper Tiger. The album is scheduled for a November 22, 2011 release.
Members of Doomtree released Wugazi's 13 Chambers, a mash-up between Fugazi and Wu-Tang Clan, earlier this year.
Check out "Beacon" via Spin.