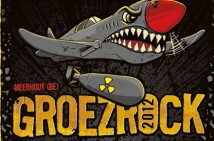 Belgium's Groezrock Festival has announced another batch of confirmations for 2012. The list includes Hot Water Music, The Bronx, Billy Talent, Anti-Flag, Yellowcard, Unearth, Versus the World, Make Do and Mend, Trigger Effect, Hazen Street, Verse, Such Gold, Belvedere, Banquets, Garret Klahn of Texas is the Reason, Dave Hause of The Loved Ones and more.
They join the previously confirmed lineup which includes Rancid, Lagwagon, Simple Plan and Parkway Drive, 7 Seconds , Alkaline Trio , Authority Zero , Bouncing Souls , Cobra Skulls , Gorilla Biscuits and many more.
It all takes place in Meerhoot, Belgium on April 28th and 29th 2012.