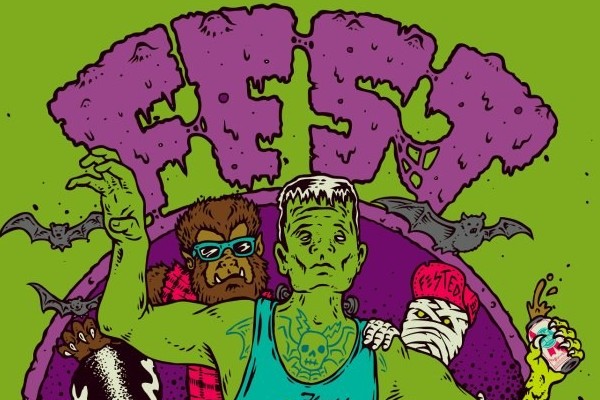 The Fest 12 will be happening Oct. 31-Nov. 3 in Gainesville, FL and will feature performances from The Bouncing Souls, Braid, Boy Sets Fire, A Wilhelm Scream, The Dopamines, The Flatliners, Mean Jeans, The Menzingers, Mustard Plug, No Trigger, Off With Their Heads, Teenage Bottlerocket, Torche, Masked Intruder, Big D and the Kids Table, Code Orange Kids, I am the Avalanche, The Copyrights, Banner Pilot, Broadway Calls, Citizen, Calculator, Blacklist Royals, Crusades, Great Cynics, Heartsounds, Look Mexico, Luther, Restorations, Red City Radio, Smith Street Band, Elway, Sundials, Broadcaster and a bunch more, including reunion sets from The Draft and Ann Berreta. You can see the full lineup (so far) by clicking below.
In addition to the extended schedule in Gainesville--this will be the first year Fest is four days long there--the organizers have announced a special pre-Fest event in Ybor City, FL near Tampa on Oct. 29-30. More info on that is here. Fest passes go on sale May 4; you can read about those here.
A Wilhelm Scream
Address
All People
Ann Beretta (Reunion!)
Arliss Nancy
Arms Aloft
Aspiga
Astpai
Banner Pilot
Best Practices
Between Brains
Big D & the Kids Table
Blacklist Royals
Bouncing Souls
Boy Sets Fire
Braid
Broadcaster
Cain Marko
Calculator
Candy Hearts
Captain, We're Sinking
Cayetana
Cement Matters
Citizen
Code Orange Kids
Crusades
Crybaby
Devon Kay & the Solutions
Direct Effect
Direct Hit!
Divided Heaven
Edmonton
Elway
Frameworks
Great Cynics
Greys
Gunner's Daughter
Heartless
Heartsounds
Heartwell
Hold Tight!
I Am the Avalanche
Itto
Kill Lincoln
Late Bloomer
Lee Corey Oswald
Little Big League
Look Mexico
Lovely Bad Things
Low Cloud
Luther
Ma Jolie
Mark McCabe
Masked Intruder
Mean Jeans
Mockingbird Wish Me Luck
Museum Mouth
Mustard Plug
No Trigger
No Weather Talks
NONA
Octaves
Old Flings
Paul Baribeau
Perdition
Pity Party
Plow United
Prevenge
Recuser
Red City Radio
Restorations
Rob Huddleston
Rob Lynch
Save Ends
shores.
Signals Midwest
Snakehealers
State Lines
Sundials
Survay Says!
The Copyrights
The Dopamines
The Draft (Reunion!)
The Exquisites
The Flatliners
The Future Now
The Hotel Year
The Menzingers
The Mighty Fine
The Resonants
The Sky We Scrape
The Smith Street Band
The Stereo State
The Young Leaves
Timeshares
Tiny Empires
Tiny Moving Parts
Too Many Daves
Torche
Wank for Peace
War Tempest
Weak Teeth
Wet Nurse
Whenskiesaregray
Wolf-face
World's Scariest Police Chases
Worn in Red
You Blew It!