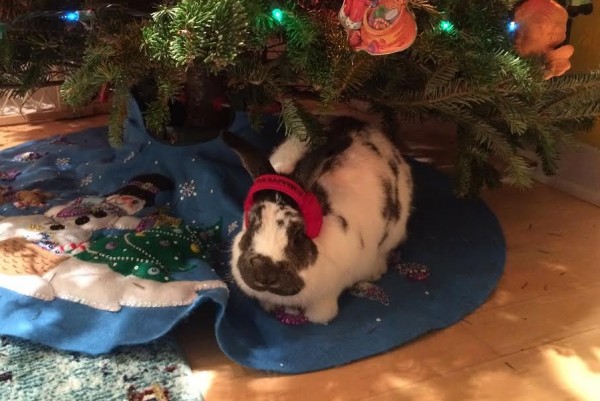 Today we continue bringing you guest year-end lists from musicians, producers and label bigwigs. Today's lists come from Joel Tannenbaum of The Rentiers and Plow United, Jason Hall of Western Addiction and Brian Pretus of PEARS. Today's lists are brought to you by Billie Jean the bunny, who is way cooler than your cat.
Joel Tannenbaum
Joel Tannenbaum is the mastermind behind The Rentiers. They released Black Metal Yoga [7-inch] this year. He also is in Plow United. Also, he is surprisingly tall.
I listen to a lot of records. I try to use this annual Top 10 list as a bully pulpit to draw attention to really amazing records that otherwise might go wholly or partly unnoticed by the larger DIY scene. Does it work? In my experience, not really, probably, but maybe, kind of sometimes? In the past I've featured bands that have gone on to do pretty great stuff and while I certainly don't believe their success has anything to do with my dumb list, I do think it's a reminder that there are a lot of amazing people out there making amazing music and it's worth a little bit of time and effort on your part to dig a little deeper and try to find them. The age of Pitchfork and of social media seems to have imposed a kind of critical uniformity on our taste and I'm pretty sure that's the opposite of what we are supposed to be doing with this whole punk thing.
Feeding Tube
Fucking fucked up noise. I love this record. If you miss the days of unapologetic AmRep insanity, this record wouldn't be a band place to hang out for awhile. And yes, before anyone points it out, the album went out on Bandcamp in 2014 but the vinyl came out in 2015, so it counts, ok?
Self released
I don't know what "punk" means any more than you do but my gut tells me that this Portland, Maine-based band's EP is the punkest record anyone made this year. Spontaneous, simple and self-lacerating songs roar to life and lurch to a halt. Moments that seem accidental upon first listen seem more deliberate with repeated lessons, and melodies and turns of phrase stick in your head long after the record has ended.
Self-released
I'm excited about Dollar Signs because this Charlotte-based folk-punk band gets that this is supposed to be entertainment and if you're not going to entertain people you might wanna think about just staying home. There's a message and they clearly mean it and I'm interested to see where this will go next.
Bloated Kat
No one can crush up pop culture references into crystal powder quite like the Headies. Every song is funny, every song is catchy and every song is impossibly concise. Plus, one-sided records rule.
Self Released
This Philadelphia band's debut EP is "hardcore" in the traditional sense - punk, but faster and angrier. This is a band with a lot to say and a rapidly increasing repertoire of ways to say it. A full-length seems in order.
SRA Records
Whether or not you choose to believe the incredibly improbable origin story of this record, the songs from these two stalwart Philadelphia legends- one of which had their moment of fame a quarter of a century ago and the other of whom never had it all- are dope. And the record itself is a feat of creativity. Read up on it if you don't believe me.
Self released
Mindtroll is a band from Brooklyn who rarely play live, expend zero energy on self-promotion and only seem interested in getting together sporadically to home-record brilliant, withering critiques of whatever is going on around them at any given moment, set to lo-fi, no wave-y, vaguely dance-y music. "Buff for the Summer" is the only song they released in 2015 and as, the name would suggest, it's about getting buff for the summer. Hopefully a follow-up to their 2013 full-length And That's Just Some of the Good Ones isn't far off.
33 Forever
There used to be a band called the Crash. They wrote brilliant pop songs and played them faster than any reasonable person could or would play fast pop songs. They made one full-length and a few EPs. Hardly anyone bought their records but- and I guarantee this- pretty much everyone who bought a Crash record went out afterward and started a band. Satellite Go is the sequel to the Crash and they are absolutely not fucking around. Get Delawared.
Self Released
Self Released
Once upon a time there was a band called Red Collar who played massive, massive music. Imagine The '59 Sound, but with more emphasis on story and character, punctuated with blasts of note-y chaos between the memorable choruses that hinted at a distinct love of the Minutemen. They broke up, as bands who are too smart for their own good tend to do. That's the bad news. The good news is that the band's two key members released separate records in 2015 that both plunge confidently over the cliff of early 2000s punk rock into something both dense and infinite. Blue Highways is a concept-heavy slow burn full of strings and low-tech ambient noise. Unions is a festive ragnarok of Americana that might make sense to fans of Houndsmouth, maybe. The love is palpable. Feel it.
Divers are a Portland-based band who play anthemic, driving rock music that might run the risk of being a bit cliche if it weren't peppered so aggressively with moments of dissonance and irrationality. They absolutely kill live and have all the makings of a band that might go all the way -so to speak- if they had the right industry connections, which I suspect they do not. Chances are no one is going to tell you this, but Hello Hello is the record of the year. It's an epic diary of missed chances and roads not taken. Bathe in it.
Jason Hall
Jason Hall is the singer and guitar player for Western Addiction. The released I'm Not The Man That I Thought I'd Be [7-inch] this year.
B&S are in my top 5 favorite bands. They never disappoint. Stuart is a master of vocal melodies.
Ramseur Records
This is blasphemy to Elliott Smith purists but I think this record is solid. They have incredible voices and they change some tempos effectively. You can tell when somebody is showing heart.
Bella Union
I love this band from Manchester. I feel like they are a super-cool, super-tough lady-gang with haunting grooves. They always seem like they are having so much fun.
One of my favorite Fat bands of all time. Masters of hardcore punk AND love songs. "Washed Away" is a magnificent song. They properly channeled the Descendents.
Hardcore dudes are probably pissed at this record because they completely shed all the raging rockers but this is heavy in a different way. It's dark, wonderful and moody. I welcome the similarities to their influences. It's a modern take on something comfortable. You have to listen closely but it has edge and it's very nuanced.
New Wave
Rarely does comedy make my top 10. His voice alone cracks me up. When he says, "What happened to people?" or "gluten," I can't stop laughing.
 
 
The Flenser
2015 is the year I finally understood black metal. This record makes me so anxious that I feel my mind could cave in. It's terrifying and intricate and interesting. I love it.
Bedroom Suck Records
I really don't know anything about this band but they made a solid chill-pop record.
 
 
Razor & Tie
This is more 70s mustache metal than "modern stoner" but I love the riffs. Our drummer Chad says it's a perfect Sunday afternoon rock record. He's right.
 
Milk!
Similar to Totally Mild in what I know about her but I know this record is good. Simple pop-rock from Australia.
 
Honorable Mentions
Joyful Noise
This cover absolutely rips. It;s already a great song and now it's sped up properly and that lady can SING.
Listenable Records
My current favorite metal band. This band lives riffs. This is too new to put in the top 10 though. The singer/guitarist rips so hard that he can't even bother with the simple things in life, like a shirt.
They keep making solid, weird, pop records. They may get lost in the major label world but good songs are good songs. They deserve more.
I'm biased because every member of this band is a wonderful person. Jack could be one of the best singers I've ever heard live, in all of punk AND music.
People are going to lose their minds that I included this. But, I'm an objective listener and I know this is a good record. I don't like the "metal for people who don't like metal" label. It's unfair and it shows when people aren't judging music objectively/correctly and do not have the confidence to state what is good, even if they don't like it or it/s somehow uncool. Hate all you want, there is excitement around this band and they made a really good record.
Self Released
This is not out but I think these guys made an excellent pop-rock record. It reminds me of Elvis Costello. I'm envious of bands that can use normal, approachable language and themes but not sound cliche mainly because I cannot do this as a lyricist. You're gonna love it.
Brian Pretus
Brian Pretus is the cool guy that plays guitars in PEARS. The released Letters To Memaw [7-inch] this year.
Hi. I'm Brian Pretus. I play guitar, sing harmonies, talk to the crowd and use the internet in PEARS. This list isn't exactly in any particular order. But yeah, Do yourself a favor; get comfy, take a deep breath, and try to keep up. This is gonna be weird.
Thou is ALSO (kinda) from New Orleans, and i can't actually believe there's 3 New Orleans bands on this list. That fucking rules. Way to go, hometown. Thou consistently makes the heaviest most brutal sounding music I've heard to date. And just last year I got turned on to The Body, who is also just about as intense, except the vocals are there sonic opposite of Thou's vocals, and both bands play on all the songs, which makes for the scariest album maybe of all time. But like, imagine, 2 full doom bands, playing the same thing in purpose, and one has a big scary demon man who works at the Loyola library for a singer, and the other has a little scared shrieking ghost/ghoul for a singer. I know, Right? Heh-veeeee. But seriously, calm down, you're out like out of control right now. I'm never letting you drink soda at the movies again.
COMMUNITY RECORDS, EXPLODING I
More New Orleans friends. John from Woozy lived with Zach, our singer, for a while, and during this time I was forced to realize that there isn't really a band in the world that makes more beautiful epic music than Woozy does. I never want to actually say "so many feels", but I really don't know what else to say about this album. It'll give ya da chills a whole bunch.
D wolf is from New Orleans, and we've been pals with them forever. Their singer Neil sent me this album months before it came out and I literally listened to it, only, for like an entire month. Genre - wise it's all over the place in such a good way. It's mostly like a much more badass Weezer, if they never even BEGAN to suck, mixed with an even angrier Minor Threat for a song, and doom metal spurts, plus, like, only the 5 or 6 good Pixies songs if they were much better and were written by some tewwwwtally chill bro'z whom I love dearly. I told Neil I wouldn't show anybody, but I did. I showed a bunch of people. Sorry Neil.
One time in Germany I was taking a shit and shaving my face at the same time in a bathroom at one of the shows. We'd been on tour in Europe with Red City Radio for like 3 weeks at that point, and everyone in my band forgot to pack their beard trimmers. Thing is, nobody ever taught me how to shave (thanks dad) and Ryan Donovan looked at my face afterwards, took em under his arm, brought me back into the bathroom and taught me how to properly shave my face. But, FUCK those dudes can sing. Garret Dale sure does know how to write a hook or 2. And Jojo only wears PEARS shirts, and I don't blame him. Their best stuff to date, fa sho.
Heard this first on Ryan Young from Off With Their Heads (just in case you do live under a gigantic rock with no computer) podcast, Anxious and Angry. Every new day where there isn't a new Briefs album I search for bands that satisfy that kind of craving for me, and toyGuitar was the kind of thing that made me not even care that there wasn't wasn't a new Briefs album (at least for at while), because it's so fucking perfect. I don't know if I'm clinically inane or not, but when I listen to this album I'm pretty sure my heart beat syncs up with the 4/4 kick drum, and it's like a religious experience (alone, in my car, while I'm stuck in hot traffic with no A/C sweating through my clothes), if religion wasn't so fucking stupid.
I feel like Swingin' Utters is one of the most underrated bands in punk history. How many more times do they have to write a better album than their last one for you guys to cough it up and give these dudes their millions?! Sheesh! Y'all greedy. But no, really, this album covers a ton of musical ground in such a tasteful fashion, and all the songs are so smart and original, it's truly inspiring.
When PEARS first got together, I was totally into the internet, and looking for new good bands (on spotify. Calm down). Stumbled across Brutal Youth one night when I was sitting on my porch (not my fiance's parents' porch, a different one. With a couch.) All high or whatever, and instantly fell in love with them. It was like the first time I heard Kid Dynamite. But faster. And Patty doesn't sing as sharp as the other guy. Not that being a little off key a lil bit is a bad thing. Anyways, I was feelin confident cuz I'd lost 5 pounds that week from working a labor job in the hot sun and not being able to afford food, so I sent them a message professing my love for them, and desire for our bands to play together. Fast forward to now, they're like some of our best pals on da road. Even though they're from Canada where everyone is known for their mean-ness and poutine burned my tongue. They sent this album to me a long time ago, before it came out, and i put it on my phone. During our live shows we have some clips that come from the same phone, and i just recently realized every night as soon as we ended, the phone played brutal youths unreleased songs for everyone at the club to hear, every night. For months. Kind of a dick move, but hey, like 5 people have asked us who it was and, I got to promote da homieeeez. Side note: Please don't play our unreleased songs as house music at your shows. My bad dudes. It's Dante's fault. And plus. I love hearing it every day cuz it fucking rips.
Self Released
Nick Woods (from Direct Hit) showed this to me some time way earlier this year, along with this other band, AJAX from New York (no relation, just at the same time) and I was able to sleep better knowing this band existed. G.L.O.S.S. is not only totally slammin (and jammin, duh, calm down), but they're a super important entity for punk rock in general. They have a lot to say about shit people dont say enough about, and whether you relate directly to what they sing (i mean 'yell'. calm down.) about, their message, whether its meant to be or not, goes much deeper than whats on the surface, and that in itself is such a fucking huge thing missing from a lot of music these days (in my own opinion, based on 0 facts and vague knowledge of an admitadly, pathetically small number of musical genres…). Not saying it's anyone's job to carry a torch or nothing, because it's not, but its nice to see bands doing their own thing for a change. I haven't been able to see them live because I don't know how to read or tie my shoes, but I'm sure it's amazing, and you should go out and support them, they're music and lyrics are strong as fuck and i can't wait to see what they do next.
This album IS the best pop punk album of all time. In the last year I think we played about 6,7089 shows with these dudes, and I literally watched them every single night. We were with them when they found out the album was in the billboard charts and I remember not being surprised at all, the album is absolutely perfect. Every single song on it is a total banger (no pun intended), and on this album in particular it feels like they really perfected what they do, and they do that pop punk thing as good, if not better than the ramones (based on TBR's "incredible song / stinker" ratio (99 good -1 bad) vs that of the Ramones (1 good -2 bad)). Now, by using the comment section, please try to prove me wrong sans-insults and vague assumptions. And also, please use some from of percent graph or ratios to prove your theory. R.I.P. bran bran. We fucking love and miss you so much.
I spent the majority of my "free time" for the first half of 2014 on my fiance's parents' porch booking the first few PEARS tours and fuh-ReAkINg the fuck out about Night Birds. I didn't ask for this. It's just what happens because Spotify is sooo horribly awesome. I randomly heard the title track on some sort of shuffle thing (cuz I'm poor), and literally didn't move for the entirety of the song, just stared into space smoking a cigarette, accepting the brain spanking, and in 2 minutes they'd become one of my favorite bands. Through touring and being a dork (mostly the latter) we've gotten to know some of the Birds, and Brian graciously sent me this album a month or 2 before it came out, and admittedly, I was hesitant to listen to it, for like an hour. I mean, born to die in suburbia was so perfect, and they'd just signed to Fat (which automatically makes you a total PoSeUr), i'z like 'they betta not fuck this up'. Sure enough, they did not dissapoint. Shits like Adolescents if they were born in a reasonable decade (like the 80s), plus sweeter riffs and if they weren't so freakin serious all the time (sheeeeesh). Fucking buy it. Twice. And get me one cuz i can't afford it.
Honorable Mention
The first time we slept at Nick and Kate Woods' house they'd JUST got new carpet installed in their basement, where we were told we could sleep. We were hanging out eating pizza (Kate taught me that a certain pizza chain has a cheese sauce that you can get to dip your crust in which changed my life), and Nick and I were flipping through his records and talking at eachothers heads about who knows what. I put my beer down on the ledge above us as we sit on the floor. Nick says "pleeeease don't spill that beer on our brand new carpet or my records". I tell him "okay". And not even a minute later, mid-hand-gesture, I bash knock the full beer off the ledge, it lands open side down, flat on top the crate of records, basically using the records as an accomplice while it evacuated beer at an alarming rate, all over all of his records and all over their brand new carpet. This is when I knew we'd be friends forever. Also, Devon is DJ'ing my wedding, Steve made me some cables from scratch. Thanks Steve! Are you really still reading this? Don't you realize I'm not even talking about the album? Get a fucking job and contribute to society you dummy! Gosh bless you all. 4evz. Fa real. Brian Pretus 2017! "Impeach, then get me!" Vote for me for prezdent or fuck you.