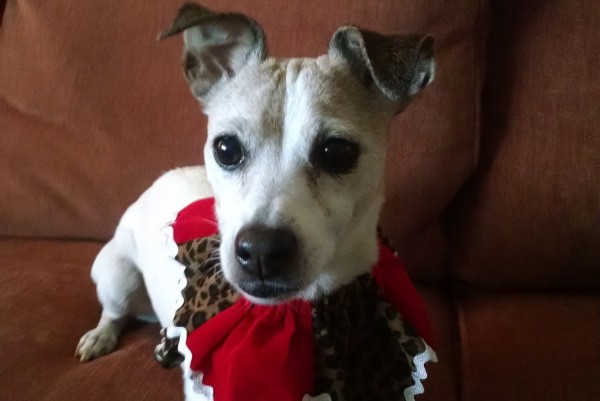 Today we're continuing to bring you year-end lists from artists, producers and label folks. Today's lists come from Hallie Bulleit of Hiccup and The Unlovables, Aaron Rev of Success and Bob Vielma of Shinobu, Phat 'n' Phunky Records and a whole bunch of other projects.
Today's lists are brought to you by Margo, who is perfectly posed for her holiday photo.
Hallie Bulleit
Hallie Bulleit is a non-stop top punk rocker. She's in Hiccup. She's in The Unlovables. She's the leader of the Chris Gethard house band, the LLC.
Jam Eater Records
A great 7-inch, especially the knockout first track, "List of People Buried at Arlington National Cemetery." Most importantly, see this band live. Pierce is up there on my list of Most Electrifying Front People, along with Iggy Pop, Karen O and Ian MacKaye. And you probably think I am using hyperbole here, and I am not.
The songs on this album are so catchy, I had to coin the phrase "I've been Rosenstocked," or, alternately, "You Rosenstocked me." I cannot hear even a snippet of one of these songs without having it stuck in my head for the rest of the day. Which is really ok by me, ultimately, cuz these songs rule.
Katorga Works
A throwback to the days when punk & riff-rock were still on speaking terms… think the Runaways, New York Dolls, Thin Lizzy. Front woman Christina Halladay howls and prowls around the stage like the queen of the fucking world, which she very well might be.
Father Daughter Records
Maybe you think you had your fill of cute, lo-fi, folk-pop back in the '90s… but, trust me, you have room in your heart and your cassette collection for Diet Cig. Singer Alex Luciano is so bubbly, she might actually be carbonated. Irresistible.
You're head-bobbing along to this record, and enjoying it like you have enjoyed Shellshag records for the last almost 20 years…. And then they hit you across the face with huge tracks like "Blowin It" and "Hold You In My Arms," and you're like, "Holy shit, how does this band just keep getting better?"
Father Daughter
This band makes it seem so fun and awesome to be gay that I am disappointed and bored with my own god-given straightness every time I listen to them. If you can listen to "All The Boys" without wanting to dance, you have no heart beating inside your chest.
Salins Records
How does Maryn Jones sing like that? Just effortlessly cool and yet so totally bursting with emotion. Like she's singing just for you, so you can understand something very real about herself, and yourself, and life, and struggle, and heartbreak, and joy…. Did I mention the songs are awesome, too? WTF.
This album is like a punk kid who grew up into a smart, thoughtful adult without forgetting how to have FUN. For feelers, thinkers, worriers and wonderers…. Really great stuff.
Steakhouse Records
Just buy this ok? Thank me later. For fans of Sonic Avenues, Marked Men and everything catchy and good. I am most likely somewhere listening to Cende as you read this.
I loved this album, everyone loved this album, we don't really need to talk about it anymore. But, YES WE DO. This album is crazy good, and catchy and smart. Driving, running, cleaning your room, waiting for the subway… there is nothing that isn't made more awesome by listening to these songs while doing it.
Aaron Rev
Aaron Rev is the cool-as-hell singer/guitarist for Success. They released Radio Recovery this year.
2015 was an insanely fun and rad year for us in Success. Since we put out a record this year, we we're touring non-stop, and had the privilege of playing with a lot of great bands that also put out great records this year.
Xtra Mile Recordings
This record was a creeper for me. It definitely grew on me.
 
I just saw these guys in Seattle a few days ago! They never disappoint, and neither does this record.
 
Dying Scene Records
These folks are some of my best friends, and this is the best thing they've ever done. You need to get this. Its inspiring, fun and a totally new sound. I am so proud of them.
 
I was blown away by this first release from what is practically a supergroup of talented people. It's such a stripped down, to the point, rock and roll record.
 
Def Cow Records
This band has been a west coast secret for too long. I got an advanced copy of this record some time ago, and haven't stopped blasting it. I love these dudes, and I love this album.
The tones on this record are so good it makes me sick, in the best way possible. And the songs are perfectly catchy.
 
 
These big-hearted Canadians killed it with this one. Whenever Travis starts singing, I can't stop listening.
I put this album on and all of a sudden it was 1998 again and I was stoked on life. This album truly took me back to a sound I had missed. These guys have made a ton of great records over the years, and this on's right up there. We we're also lucky enough to tour with them this year, and it's an added bonus that they are amazing people.
This album is great. Need convincing? Check out the song "Buried." That cut slays.
 
Kicking Records
I have no doubt at all that this is my favorite record this year. It's been in constant rotation since I got it, and these guys are absolutely amazing people. This album is perfect from front to back. I can't wait to hear what these guys put out next.
Bob Vielma
Bob Vielma is a modern punk action hero. He's in Shinobu. He's one of the main knuckleheads running Asian Man Records. He owns Phat 'n' Phunky records. He mastered the Punknews My Org mixtape. He also raps under the name Boboso. Shinobu released 10 Thermidor this year.

2015 was a super weird year. Music continues to be my best friend, the lens by which I make sense of my surroundings, the glass of ice-water I chug on a hot day, and poet-laureate for the United States of Bob. I'm eternally grateful to be a part of a thriving, creative punk scene, to be acquainted with many of my favorite musicians, or at the very least, I'm just happy to be aware of the beautiful art that abounds in the musical ether. Keep it up, everybody!
When a band has released a great record (like Awkward Breeds), I'm usually prepared for the follow-up to be a disappointment. Not so with this one! This is grandiose rock & roll with gigantic guitars and soaring vocals, yet it's delivered with the same type of understated modesty behind all of my favorite records. It's cool seeing how well the grandiosity translates when they perform live too. Also, I got to see them play the best cover of all-time, "Material Girl," at a wedding over the summer.
This is exactly the belated coming of age record that weirdos like me need. Ever since I first heard BTMI, Jeff has always managed to capture the twin feelings of wonder and confusion that perpetually follow my/our generation. Listening to We Cool? is like having a bummer of a heart to heart with your best friend, then chillin' and having a great time together the rest of the night. The moment at the end of "All Blissed Out" when the blown out dirge explodes through your speakers has to be the most spine-tingling musical moment of 2015, then "Darkness Records" explodes again just two songs later and you have to put the Ging Nang Boyz on just to get that same feeling again.
Team Love
This is the perfect sad boy / crush punk record. Someone on Bandcamp commented "dean sings the way i feel when i look at the people i love (or want to love)". That about sums it up.
Team Love
Funky, mellow pop that reminds me of a bunch of my favorite guitar pop bands (Aztec Camera, Orange Juice, Flipper's Guitar). This record captures both the wonder and loneliness of life on the road, creating a low-key travel epic that even the most sedentary among you will love. I saw iji play a weird warehouse in San Francisco with a bunch of steampunk people seated politely whilst they played. Next time, I wanna see them with people who wanna dance.
Top Dawg/Aftermath/Interscope
The same thing I said in the Sidekicks' blurb about follow ups applies to this one, but 100-fold, since Good Kid Maad City was my record of the year for something like 3 years running. Kendrick is so bonkers and creatively so beyond his peers, it's astounding. The depth of the narrative about Kendrick's journey from the bottom to "here" definitely puts his closest competition to shame (*cough*Drake*cough*). Plus, the lush, funky production from dudes like Terrace Martin and Thundercat makes these otherwise lyrically dense songs into something that you wanna blast out of your car. Not sure if this one or IJI wins out this year, but they've both been on loop and on loop and on loop and on loop…
Asian Man released a DOA 7-inch with this amazing song called "Flushed" on it, which gets my vote for punk song of the year. It's also on this full length, and the rest of the record is great too, filled with simple hooks and subtly complex details filling out every little corner of aural space. The song "Sun Bleached" has the most triumphant slop-guitar lead I've heard not played by Mike Huguenor. I went to see them play a house show in Oakland last winter and this girl took too big of a hit off a joint and passed out mid-set.
I've never been a fan of this band, so imagine my shock when I heard this playing at my friend Trevor's house and was informed that this really cool, spaced-out punk record was none other than Title Fight. I think having "guilty pleasures" is a cop-out, so I'm trying to own the fact that I like this record as much as a bunch of 16-year olds do. I knew that Hyperview had wormed its way into my mind when I was wishing for everything around me to be drenched in chorus and delay all the time.
Lauren Records/Asian Man
Winter Break's album takes the manic sentiment of Summer Vacation in a dark, dour direction that I really like. "Better Things" is probably the 2nd best punk song of the year after "Flushed," with its crushing intro and stoney mid-section building to the tense climax of this sub 2-minute gem. I'm still waiting for the world at large to catch up with California and acknowledge Winter Break as the best in the game. They're always one of my favorite bands to see live.
Phat 'n' Phunky
Diners are a killer pop band from Phoenix, Arizona (the birthplace of a disproportionate number of great bands), and they continue to explore new territory on this record with lush instrumentation and nimble songwriting, underscoring lyrical themes of love, friendship, and wide-eyed wonder. It's funny that singer Tyler Broderick would sing how "it must be nice to be so good at everything" on the song "Must Be Nice" because that's exactly what I think about Diners when I'm listening to them. If this sounds like ad-copy, that's because this is pretty much exactly what I wrote when I released this record. Being able to work with this band is a treat, and I'm certain that anyone who gives them a listen will immediately fall in love with them as much as I have.
Mass Appeal
Anyone who knows me knows how much I love gatos (in fact, as I was typing this, my cat Animal sat on my arm and now I can barely type). Thus, being able to hear my favorite duo's favorite record re-imagined with cat-based beats is pretty much the best thing I could've ever hoped for. The inherent paranoia and tension in many of El-P's beats is equaled by most of the remixes, with Just Blaze's effort on "Oh My Darling Don't Meow" and Blood Diamonds' "Paw Due Respect" taking high honors. Still, it's the Alchemist's upsettingly happy beat for "Creown" (the album's heaviest song) that really takes the cake. I had a crazy weekend in October where I drove 8 hours to San Diego to see some friends visit from abroad, stopped off in Santa Barbara on the way back home from there just to see RTJ at a festival, then drove another 3 hours afterward in the middle of the night back home to San Jose. At the show, RTJ came out on stage to Queen's "We Are The Champions" and as the song wound down, Killer Mike proclaimed, "Alright, let's fuck shit up!" and no one stopped buggin' out till the set was over. I feel like I'm part of a wild cult when I'm at an RTJ show. There's really nothing quite like it.
Honorable mentions to other music I played incessantly in 2015 (some from previous years): Future Islands, Dogbreth, Stephen Steinbrink, Natalia Lafourcade, Little Dragon, Anderson Paak, Leatherface, Alvvays, The Beach Boys, The Promise Ring, Danny Brown… THE LIST GOES ON!