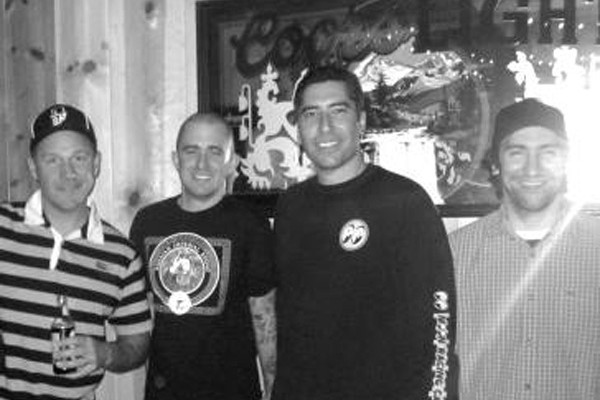 Bracket will release their new album, The Last Page this Friday. So, to celebrate this oft-off kilter band, Punknews Editor Jeff Sorley called up the band and put together a history of their exploits. Check it out below.
Bracket-ology: the evolution of a not-very punk band to a definitely-not punk band
Jeff Sorley
In the summer of 1994, NOFX embarked on a nationwide tour in support of their new album, Punk In Drublic. They brought along Face to Face as support, but also packed something even more important- the first Fat Wreck Chords compilation disc, Fat Music for Fat People. Not only did I get the chance to see the bands play at Chicago's infamous hellhole, The Fireside Bowl, but I was also lucky enough to pick up a copy of the comp, introducing me to a whole new set of excellent bands.
Out of all of the great songs on the album, one particular track stood out from all of the rest. It was less angry, more melodic, and seemed just a bit cheerier. Like many people, "2RAK005" was my first introduction to Bracket, a band who's journey I would follow for the next twenty-two years. Now that they are releasing their 8th full-length album, The Last Page, I have had the opportunity over the past month to engage in several Q&A sessions with Bracket members Marty Gregori and Angelo Celli to discuss their past, the evolution of their music, and what it was like being one of Fat Mike's favorite bands.
"There were punk rockers at my school that I was good friends with, and they were into all of these punk bands, but they were mostly hardcore bands. I really couldn't get into that, aside from maybe Circle Jerks and Minor Threat."
The band started like most bands do. A couple of friends from Forestville, California- about an hour north of San Francisco- would spend the late eighties getting together and playing covers of their favorite music, mostly 60s and early-70s rock. Marty Gregori on lead vocals and guitar, Zack Charlos playing bass and backing vocals, Larry Tinney on guitar, and Ray Castro on drums. Although aware of punk rock in high school, it wasn't until being introduced to the likes of Ramones, All, NOFX and, especially for Gregori, early Nirvana did they realize that "you could be punk AND have songs you can sing." Soon they began writing original music.
Bracket officially formed in 1992 and played prodigiously in and around their hometown. Mixing a mid-tempo, energetic sound with the guitar riffs and solos of their 60s and 70s idols, Bracket created a sound that was fun, fresh, and unique. In 1993 they released their first album, The Giant Midget EP, and began sending copies down to clubs and promoters in San Francisco. Only one of those took the bait, and they soon found themselves in SF playing at Club Boomerang to an audience of about five people.
However the person who booked the gig for them, Lisa Klein, was there. And she was impressed. She offered to manage the band, and was quickly booking them at any and all venues she could. Often these gigs were with acts of a decidedly different style, and some gigs didn't turn out very well at all. But Bracket carried on and the perseverance paid off. Within six months they found themselves playing a showcase gig for TVT Records, the same label that launched Nine Inch Nails. It went well, and they were offered a contract.
At first the band was ecstatic and ready to sign on the dotted line. However Klein expressed concern that TVT was asking for too many albums. She quickly set up another showcase gig, this time for Caroline Records which, at the time, was run by former Minor Threat guitarist Lyle Preslar. He offered them a three-album deal, Bracket agreed, and they were finally on a big label.
"There are some three-part harmonies. We wanted that to be something that we could offer in this "pop punk" type of music. Bad Religion did it, but not many bands did at that time."
On May 24, 1994, Bracket released their first full-length album, 924 Forestville St. Most of the album was financed by themselves prior to signing with Caroline, and they were still figuring out how to record in a studio. Because of this, there was very little experimentation and the album has a fairly straightforward and clean sound, especially compared to some of their later works. The songs are generally mid-tempo and, if the need to classify them as any type of punk is required, it is definitely "pop." With the notable exceptions of "Warren's Song Part 1" and the finale of "Rod's Post," the album is nearly bereft of the multi-layered vocals that Bracket would become known for a few years down the line.
Because Caroline didn't do 7" singles, Bracket was allowed to shop around for a label who would ("Maybe they thought of it as free promotion for their new band." - Gregori). Their new album was sent to several labels, including Fat Wreck Chords, which frightened Gregori, as he thought Fat would tear it apart. But it turns out that Fat Mike liked it so much he quickly jumped on the opportunity. Before the end of the year, Fat Wreck Chords would release two 7" singles for the band, Bs. and Stinky Fingers, the second of which featured all new tracks including "2RAK005."
In between touring the band was working on new material at a furious pace. They returned to the same studio and engineer who recorded 924, but this time around Caroline set them up with veteran producer Don Fleming, who had also worked with such acts as Sonic Youth and Hole. Twenty-one songs were recorded and mixed in a whirlwind two weeks, resulting in 4-Wheel Vibe. The songs were a bit faster, a bit more furious, and had a very raw sound that was much louder than their debut album. An outlier of all Bracket albums, 4-Wheel comes across as the loosest of the bunch, full of rough noise and energy.
Fleming also encouraged the band on the use of multi-part harmonies, which they utilized on several songs on the album, most notably "Trailer Park." In a glimpse of Bracket's style in the future, they included a secret track on the album: an acoustic version of their song "My Stepson," albeit with a much more folky sensibility.
This album also marks the first instance of bringing classical instruments into the mix. Inspired by the old Kinks song "God's Children," piano, violin, and cello parts were composed for the final track "Lazy." Not only was this something that was almost unheard of in punk, but the instruments were not just supporting the band and were, instead, integral parts of the song.
Interesting side note - several years later NOFX would cover this song in their signature "humorous" reggae style but, in an unusual departure, played it fairly straight, keeping the emotion and power of the song intact. Gregori says "It may as well have been Paul McCartney or Brian Wilson covering our song. It would have had the same effect on me… how many people can say that one of their musical heroes covered one of their songs?"
In 1996 Bracket recorded Like You Know, their third full-length album in three years. With a higher budget, the band spent a month in the studio, staying at the on-site house, and began experimenting with different styles and bringing in more unique and unusual instruments, as well as several session musicians. Some joke that this is their "country" album, as several of the songs have the same feel as the secret song on 4-Wheel, and others come across as very twangy. However, by this time Caroline had experienced almost a complete changeover in staff. Preslar was gone, and the current management was pushing more towards electronica. With Bracket's sound moving away from the "punky" style that they were brought on to sell, the label passed on the album.
"The bigger harmonies and the mid-tempo songs are something that a lot of the Fat bands were not doing. We tried to go against the punk rock grain, I guess."
Due to their positive relationship with Fat, plans had already been in place for Bracket to switch over to being a Fat band anyway once their contract with Caroline was complete. After LYK was passed over, Fat Mike purchased the masters from Caroline, picked his favorites from the lot, and released them, along with the previous 7" singles, as E is for Everything on Fat. He then gave the rights to the remaining tracks back to Bracket. Although many of the songs had been released or found their way into the wild, Like You Know, as it was recorded and in its entirety, wouldn't be properly released until 2013.
Now wholly in the Fat stable, in between tours and shows with the likes of NOFX, No Use For A Name, Smoking Popes, MXPX, and SNFU, they began work on a fourth album.
In 1997, Novelty Forever, their first full-fledged Fat Wreck Chords album, was released. With high production values, and Fat Mike and (at the time) Fat-staple Ryan Greene producing at Motor Studios, the album was arguably the cleanest and best sounding Bracket album yet. It was also the first to feature the dual vocals of Gregori and Charlos almost throughout the whole album, along with layering of their vocals for a fuller effect when needed. However, the songs began to take on a darker and sadder tone. Gregori notes that "it just got odd singing about Hot Dogs, Flea Markets, and Trailer Parks." Despite some criticism of not being a cohesive album front to back, each song individually was intricately constructed and, at the hands of Greene, sound incredible even to this day. Yet at the time the album was released, it wasn't strong amongst "Fat fans" but, overall (and over time), the consensus on the album seems to have perked up a bit.
Although they would continue to tour regularly, Larry Tinney began to distance himself from the band, and eventually left permanently after meeting his future wife while on tour. The remaining members thought about their future, and decided to press on. Luckily, Gregori's younger cousin, Angelo Celli, had impressed the band with a cassette tape of himself playing two Bracket tracks and one Mr T Experience song on the guitar. They wanted him onboard, and Gregori had to reassure his aunt and uncle that he wouldn't let his 17-year-old cousin get into trouble. Soon Celli was the newest member of of the band. More importantly, he was accomplished enough vocally to allow the band to increase their range and multi-part harmonies, with Celli's boyish voice contributing higher-pitched vocals to the mix.
By this point Bracket had already recorded four (and released three) full-length albums, along with multiple singles and EPs, since 1993… more than most acts produce in a decade. It was unusual for them to go a year without releasing something new, but it took three for their next album to make it to the shelves.
Released in 2000, When All Else Fails was recorded and mixed in another frantic two-week period, again with Fat Mike and Ryan Greene. It is likely the most high-tempo, high-energy and, many believe, the most "Fat" album they've ever put out. Gregori believes this is probably the favorite among Fat fans. However, he feels that more work could've been done on the songs, including using Celli's voice more. Overall it's stripped down sound isn't what they were aiming for. Add to the mix the fact that Gregori had a cold during vocal recording and wanted to reschedule, but Motor Studios was humming at the time and that was simply not an option. The album is also notable for two tracks with very different styles:
"No Brainer" came about when Fat Mike came into the studio and asked to write a song together. After "bouncing ideas back and forth for about an hour" they had a song and went in to record, and convinced him to play guitar on the track.
More significantly was "Warren's Song Pt. 9," where the band experimented, more than any other track on the album, with multi-part harmonies, a layered sound, and a decidedly un-punk rhythm that is reminiscent of early 60s rock-n-roll. As with so many outlying tracks before, Bracket was taking another big step towards a style inspired more by the 60s music they started with than the early punk that informed them in the early 90s.
In 2002 Bracket agreed to record the second live show in the Live in a Dive series, with Fat Mike personally choosing their set list. No one knew at the time that it would be their last release on Fat Wreck Chords.
"My dad had an abandoned mobile home on his property and we just renovated it. We built a control booth and soundproofed the whole trailer. It was quite a project."
After When All Else Fails was released the band, feeling the desire to be more experimental with their music, and take the time to mix it to their liking instead of relying on the busy schedule of a studio, made the decision to record themselves from then on. Renovating an abandoned trailer on Gregori's father's property took a few years. Once complete they had a stroke of bad luck- Castro's employer relocated him to Denver. Although this didn't stop the band, it did slow them down quite a bit. Gregori, Charlos, and Celli would record scratch tracks and send them to Castro to practice to. When it would come time to record he would fly out, drum his parts, and then go back home.
Due to these factors, it wouldn't be until 2006 when they would finally have a new album in the can, nearly the same amount of time it took them to record five in the 90s. Requiem was sent to Fat Wreck Chords and the band waited several months with no response. Finally they got word when Fat Mike called and told them the label would be passing on the album. Gregori believes that Mike pined for the older Bracket, the less experimental Bracket. They were understandably upset by this, and also felt a bit lost. Despite this setback, Celli began shopping it around and the album was picked by Ben Harper's (Yellowcard) Takeover Records label.
After six years bereft of new material, and the longest "break" the band had taken yet, Requiem was very polarizing. Among fans of the more fast-paced, stripped down Bracket, it seemed like an outlier. Featuring an even more eclectic blend of fast and slow songs, and loaded front to back with multi-part harmonies (include large sections which are almost all vocals), the album was well received by critics outside of the punk scene. Often, and with good reason, it is equated in concept and sound to The Beach Boys masterpiece Pet Sounds. This wasn't unintentional, as the the songwriting was influenced by that album and its contemporaries- a product of that 60s sound that drove the members into music in the first place when they were young.
Although they immediately began writing new songs after the release of Requiem, with Castro living and working in Denver, Bracket went into an unofficial hiatus and the songs were shelved. The other three members formed The Good Life Crisis, an acoustic act consisting of a guitar, mandolin, and ukelele. In this form they would experiment with songs and styles that would not normally have fallen under the Bracket moniker. Although decidedly different from most Bracket music before, the work done on Good Life Crisis would eventually spill over into the next Bracket release.
In 2013, they finally released Like You Know in full as it was intended to be heard, as well as the three volume Rare Cuts, featuring demos, rare recordings, and The Good Life Crisis versions of Bracket songs. These were sold as digital downloads with the funds going towards the cost recording a new album.
Evolving further into melodic pop, 2014's Hold Your Applause overtakes the musical evolution from Requiem and pushes it further away from the style of the Caroline and Fat years. The GLC influence was strongly felt, as the folk instruments are very present throughout the album, more so than any release since Like You Know. By this point Bracket has fully morphed into a Beach Boys-esque power pop band. While the album is favorably-reviewed in general, although several lament the loss of their "Fat" sound, a common complaint is that it seems to have no direction and runs too long.
And now Bracket is prepared to release their eighth full-length album, The Last Page, tomorrow. Constructed from bits and parts of potential songs from the HYA period, the band has decided against developing them into full, individual songs, instead opting to construct them into a single track. Logging in at over seventy minutes long, the album consists solely of the lone song, "Warren's Song Pt. 28". Chock full of the multi-part harmonies which are now the band's bread and butter, the brevity of each section before shifting to another can evoke a dream-like sensation or, at times, suddenly jar you with some of the fastest and hardest music they have ever done. Although firmly rooted in the Bracket of today there are, at points, windows into the Bracket of the past.
Looking toward the future, they have already begun work on new material and plan on a new album. Despite their 16-year penchant for taking their time, cultivating and tweaking their music until it is just right, Bracket may buck their own trend… Plans are to record and mix these new songs quickly and without too much thought or experimentation.
Maybe the Fat fans will be back on board for this next one?